Feature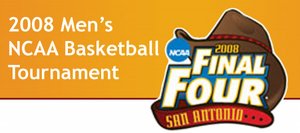 Get your March Madness fix at KUSports.com.
Collins says he's OK: Sophomore Sherron Collins, who has tonsillitis, said he's feeling fine and will play in today's game.
"I feel better," he said. "My temperature has gone down (from 102 degrees)."
¢
Card-game fun: The Jayhawks have been playing the card game of "Spades" regularly this postseason to kill time at the team hotels.
"Me and Mario (Chalmers) are a team," junior Brandon Rush said. "Right now 'Shady' (Darrell Arthur) and (Jeremy) Case are the best team. We've lost the last six or seven times to them."
l
Late night: The Jayhawks didn't go to bed until about 2 a.m., Saturday, following Friday's late game against Villanova.
"Some guys had to do blood tests," Case said of NCAA drug tests. "So they were up later."
¢
Stats, facts: Davidson's mascot is the Wildcats. KU is 3-1 versus teams with the nickname Wildcats this season, with a 1-1 mark against Kansas State and wins over Arizona and Villanova ...This is the first meeting between the schools. KU is 5-0 versus current members of the Southern Conference: 1-0 against Appalachian State, 3-0 against Western Carolina and 1-0 against Furman. ... A Kansas win would make the Jayhawks 35-3 and match the most victories in school history with the 1998 and '86 teams that went 35-4. It would extend KU's win streak to 11 games, second longest of the season ... Bill Self is 19-9 in NCAA Tourney games. He is 9-4 at KU. ... KU is trying to reach its 13th Final Four.
¢
Wright encourages Robinson: Even at a time of disappointment Friday night, Villanova coach Jay Wright had the class to wish KU guard Russell Robinson well.
"I know Jay Wright. He recruited me early. After the game he said, 'Go ahead and take it all the way. You obviously have the team to do that,''' Robinson said.
Informed a TV reporter said Davidson had the nation's best backcourt, Robinson raised his eyebrows and said, "Hmm, I never heard that one before. Honestly I think we have the best backcourt in the country because we can get after you on both ends of the court."
¢
One loss ends it all: Robinson said it's scary to think his career is almost over.
"I was just thinking about it. I said earlier it kind of scares me this could be my last game," Robinson said. "It just makes me work that much harder on each play. That way, when all is said and done, there are no regrets."
¢
Win it all: Rush, asked if he's looking at it as if this is KU's big chance said: "Especially with the class we've got, with all seniors and everybody else that's departing to the NBA, I guess this is our time to shine."
Rush and Arthur are considered locks to leave for the 2008 NBA Draft, while there's a chance Chalmers and Collins also will bolt to the pros.
¢
Blessing in disguise: Rush was asked if he agrees with mom, Glenda, who has told her son his ACL surgery might be a "blessing in disguise" a couple of weeks after the operation.
"I say I agree with my mom there a little bit because you never get to experience something like this, getting to go to a Final Four. Being back with my teammates, being back with my family, I think it was a blessing in disguise," he said.
¢
Self on Curry: Self respects Davidson guard Stephen Curry, who averages 25.9 points a game - 34.3 points in the '08 NCAAs.
"There are not a lot of guys out there playing that have somebody that eats at the same dinner table every night that's probably scored 15,000 points in his NBA career and been one of the greatest shooters in NBA history," Self said of Curry's dad, Dell, who played at Virginia Tech before moving on to the pros.
"There are some things you can teach, but it's hard to teach feel, and he's got feel. I mean, the stroke is beautiful, and I'm sure he learned that at an early age, but he's got feel. I mean the feet, the shoulders, everything. He puts himself in a position to shoot it before he ever catches it. There are a lot of things he does very well.
"I know Bob (McKillop, Davidson coach) has a lot to do with his improvement, no doubt about that. But as far as that stroke, I'm sure he learned that at a very early age."