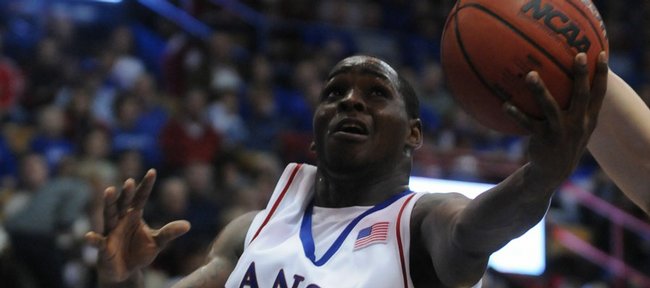 Go figure
12
Points scored by Loyola's Gerald Brown in the first half
1
Points scored by Brown in the second half
10
Points by which KU outscored Loyola from the free-throw line
10
Blocked shots by the Jayhawks
-1
KU's rebounding margin in the first half
+7
KU's rebounding margin in the second half
5
Number of times a KU team has started the season 15-0
1996-97
The last time a KU team was 15-0
Sherron Collins darted through the lane, went up as high as a 5-foot-11, 205-pound guard can sky and flipped the basketball through the hoop with his left hand while getting hammered by a defender.
It was apparent just five minutes into Tuesday's 90-60 rout of Loyola (Md.) College that Collins is finally close to recovered fully from Nov. 12 surgery on his left foot.
"I think that was the old Sherron back with a little more to give : but I'm pretty much back," Collins said after scoring 18 points off 7-of-13 shooting with three steals and two assists in 28 minutes.
He started in place of Mario Chalmers, who suffered a strained groin at practice Monday. Chicago native Collins played 18 minutes the first half, scoring 11 points as KU claimed a 41-24 lead at the break.
"I felt a little winded," said Collins, who had played no more than 24 minutes in a game since returning from a six-game absence on Dec. 8.
"I've still got a lot of conditioning to do. But I feel the strength coming back. I've been working hard to get to this point. By far it's the best I've felt since I've been back."
Collins started his third game of the season, the other two to open the regular season for the then-injured Brandon Rush.
"I found out 30 minutes before the game. Coach said Mario wasn't going to go. After that it was the normal game plan," Collins said.
He admits : "Yes, it's more fun to start, but I will do anything coach wants me to do to help this team."
Collins figures to return to his sixth-man role in Saturday night's Big 12 opener at Nebraska, since Chalmers' groin tweak is not serious.
"It's unfortunate Mario tweaked his groin, probably fortunate for Sherron. I wanted to play him more than I did, but the game kind of got out of hand," KU coach Bill Self said. "It was good to see him out there. He hasn't had the opportunity to play extended minutes. He did fine. He just didn't make shots."
Collins hit three of eight threes.
Chalmers, meanwhile, "landed funny shooting the basketball yesterday," Self explained. "He could have played tonight. I didn't want to play him. We've got a big three-game stretch coming up here on Saturday."
That's Saturday at NU, followed by Oklahoma on Monday at Allen Fieldhouse and Missouri the following Saturday in Columbia, Mo.
"Hopefully he'll be close to full speed by Thursday and be ready to roll Saturday," Self said of Chalmers.
He hopes Collins continues to progress as well.
Collins said that indeed is happening.
"I'm getting strength back in my left quad," said Collins, whose stress fracture in his left foot is completely healed. "My quad is firing. Before it felt like rubber. It's solid now."
He burned rubber down the court hitting a big three with 4:29 left in the first half. His bucket followed a hoop by Russell Robinson, the two starting a 26-4 run that followed a tongue-lashing by Self during a timeout with KU up just 26-22.
"Everything fell in place. I'm glad I'm back," Collins said. "I didn't shoot well. Coach tells me to be more aggressive and shoot when I'm open, so that's what I'll continue to do."
Darrell Arthur and Sasha Kaun had 14 points apiece for the Jayhawks, 15-0 for the first time since the 1989-90 season when the team opened 19-0.
"We don't care who scores. As long as we win it's a happy locker room," Collins said. "Darnell (Jackson, nine points) scored 25 last game (at Boston College). I think it was 'Shady' (Arthur) the game before that. I don't know how many I had tonight."
More like this story on KUsports.com