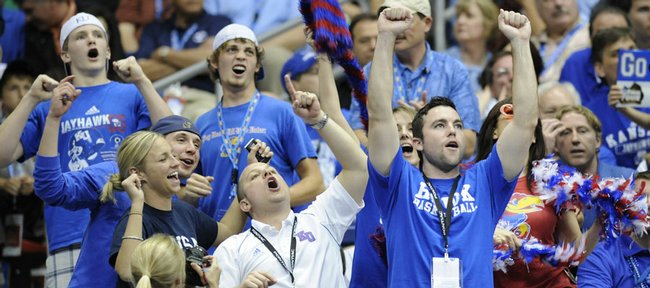 San Antonio — The transition from Roy Williams to Bill Self ended once and for all Saturday night inside the Alamodome, where the team with the better transition game won.
Williams no longer should have to hear anything but thank you for 15 years of exceptional service from anybody who bleeds crimson and blue. As for Self, he no longer must be measured against the man who drove that 15-year run.
The national semifinal scoreboard screamed the only meaningful measure of Self's five years on the job: Kansas 84, North Carolina 66.
Williams, nothing but gracious in defeat, put a period at the end of that sentence he had to serve in the eyes of some KU loyalists for leaving Kansas for his alma mater, and he did so with humble words.
"I apologized to them," Williams said of what he told the players after the loss, "because some way, somehow, I didn't have my team as ready to play as Bill did, and that's not easy to say."
Now Self goes onto the national-title game, bringing the program all the way back to where it was when Ol' Roy packed his bags after a loss to Syracuse in New Orleans. With a victory over Memphis on Monday night, Self can bring the program a national title, an accomplishment that eluded Williams until his second season at North Carolina.
After the buzzer sounded in a game that was like a three-game series - KU dominating the first and third games, North Carolina the middle one - Williams shook the hands of all the KU players and told them, "Go ahead and win it. It's your tournament now."
In blitzing to a surreal 40-12 lead, Kansas put on a nearly flawless exhibition of how Self demands his teams play. All the qualities the Oklahoma-born coach demands his players strive for were on display: toughness, fury, speed, relentless pursuit of loose balls, defensive intensity. Kansas was the far tougher team. At times, it seemed as if some North Carolina players were getting punched in the mouth and waiting for big brother Tyler Hansbrough to come to the rescue as he always does. It didn't happen. Kansas defended him too well and had a wild card in freshman Cole Aldrich playing him to a standstill in the first half.
North Carolina, the No. 1 overall seed, played the nation's best fast-break basketball, or so it thought until encountering Kansas.
"That was our pace," said sophomore guard Sherron Collins, who did such masterful job of steering the ship through rough waters late in the game. "That whole buildup to the game, that whole, 'How you going to stop them? How you going to run with them?' Well, how are they going to stop us? How are they going to run with us? We run, too. That played into our hands. Everybody was worried about how we were going to run with them and we ran them ... "
Into the offseason. But not without some agony, some self-doubt and a blistering Carolina comeback first.
In a sense, the game went as Self's KU career has. In his first year, Self took KU to the Elite Eight, losing an overtime game to Georgia Tech. Then there were the two first-round losses, then an Elite Eight, and now this.
The score of Saturday's three games rolled into one: 1. Kansas 40-12; 2. North Carolina, 47-24; 3. Kansas, 20-7.
It was Collins, as aggressive a player and natural a leader as the team has, a Self-type player to the bone, who triggered the final run, hitting a three-pointer from the top of the key to push the lead that had dwindled to five points up to eight with 5:25 left.
"There was tension," senior guard Jeremy Case said of when the lead was trimmed to five points. "Coach Self did a great job of telling everyone to take a deep breath and just understand that we're OK. We had to keep attacking, and that's what we did, keep attacking instead of getting up on our heels like we were for a little bit."
Collins, Rush (25) and Darnell Jackson carried the Jayhawks (36-3) home, staving off what could have been a loss that would have made Bucknell and Bradley combined seem trivial by comparison.
Afterward, the players credited Self with an inspirational pregame speech.
"The thing is, he hadn't made a pregame speech in a while," Case said. "The games have been so intense he didn't really need to. We were already hyped. But it was great. He talked about the pride that we have and the tradition of both schools, and this was ours, and we've got to go out and take what we deserve."
The uptight play that was evident against Davidson was nowhere to be found when KU came out on fire.
"I think the pressure was on the Elite Eight game against Davidson because we hadn't made it past that before, and that game right there, it really just knocked the shackles off of us and made the team relax," Case said.
Just as in 1988, the year of Kansas' last national title, the road began in Nebraska and then moved through Michigan on the way to the Final Four. Larry Brown, the coach then, was sitting in the Kansas section Saturday night, watching his former understudy beat his U.S. Olympic team assistant coach. Now it's John Calipari, who also trained under Brown at KU and has grown very close to him, against Self for the ultimate prize Monday night.
"I can't believe we're about to play for the national championship," Case said.
Believe it.
More like this story on KUsports.com