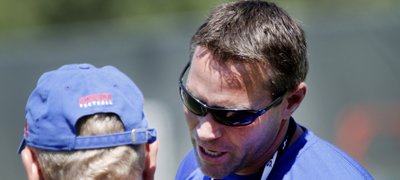 Monday morning, newly named Kansas University interim head football coach Clint Bowen said the KU coaching staff had jumped on board with the transition with great attitudes and incredible energy.
Kansas University football offensive coordinator John Reagan knows Clint Bowen well. Tuesday afternoon Reagan talked about why he is looking forward to working in a different fashion with the new interim head coach, and what kind of changes will come with the program's new direction.
Blast from the past
"Everybody's against coach (Charlie) Weis. We're trying to change that. Everybody's saying he's a bad coach or he's a bad person. It's up to us to change that."
— Kansas football defensive tackle Keon Stowers, on October 19, 2013, following the Jayhawks' 34-19 home loss to Oklahoma. Though outsiders might have been jumping off the KU/Weis bandwagon, Stowers defended his coach, saying Weis gets the players "riled up" before games.
Read the story
.