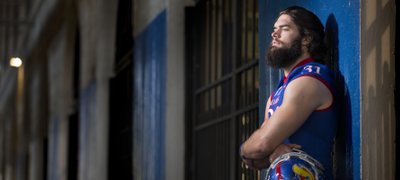 Senior linebacker earns respect from former
KU

greats

Nick Reid, Kevin Kane and Banks Floodman. Mike Rivera, James Holt and Joe Mortensen. All are former Kansas University linebackers who, for one reason or another, won the hearts of the KU fan base during their playing days in Lawrence. And all are names that still make Jayhawk fans think about a style of play more than a team or a time.
Kansas University basketball players Conner Frankamp, Brannen Greene, Wayne Selden Jr. and Frank Mason name some of the team's toughest players.
Blast from the past
"Being named the starter definitely helps you prepare mentally. I'm just gonna prepare like I know how, take the coaching from the coaches and go into (the game) confident and ready."
— Then-Kansas University red-shirt freshman Michael Cummings after being named KU's starting quarterback for the Texas game in 2012. It marked the second week in a row that Cummings started in place of Dayne Crist.
Read the story
.