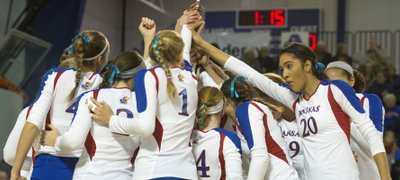 In the weeks and months following their run to the 2012 NCAA Tournament and the best season in school history, the members of Kansas University's volleyball team began to notice a change in the way they were received by the public. By Matt Tait
Highlights from the Kansas men's basketball's open scrimmage on Oct. 19, 2013.
Blast from the past
"I'm fully aware of our deficiencies. I'm fully aware of what they are. In about five seconds, I'm going to be out recruiting to try to plug some of these holes and not have as many deficiencies."
— KU football coach Charlie Weis, talking after his team's season-ending 59-10 loss to West Virginia on Dec. 1, 2012. Read the story.