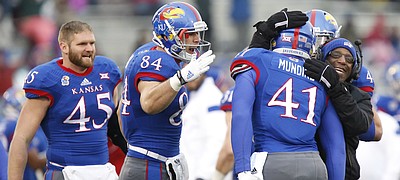 A source close to the Kansas University football program told the Journal-World Friday morning that veteran running backs coach Reggie Mitchell is expected to leave KU to join the staff of Arkansas coach Brett Bielema. By Matt Tait
We caught up with as many members of the Final Four-bound Kansas volleyball team as we could before they got ready to head off to Omaha, to take on Nebraska in the NCAA national semifinals. Find out a little bit about each player — and their head coach — before they face the home-state Huskers Thursday night (8:30 p.m., on ESPN2) at CenturyLink Center.
Blast from the past
"We want to bring more respect to this program. We're tired of being looked at as 'Oh, they're going to be a 6-6, 7-5 team and finish in the bottom of the Big 12.' We don't want that anymore. I think we're going to play like that every week."
— Former KU quarterback Todd Reesing following KU's 52-7 victory over Central Michigan that opened the magical 12-1 2007 season
Read the story
.