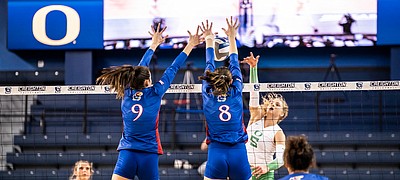 Whatever pressure that is supposed to go hand in hand with playing in the NCAA Tournament was nearly nonexistent for the Kansas volleyball team Thursday, as the Jayhawks swept their way to the second round with a three-set upset victory over No. 19-ranked Oregon, in Omaha, Neb.
Basketball
KU Sports Extra
Football
Blast from the past
"It was an unbelievable game, probably the best game I've ever been part of in the regular season. The Missouri one here (in final meeting in series history) is the only one that comes to mind. I look at their bench, their coaches are smiling, laughing at me and me at them (because of the epic contest). It was ridiculous how well both teams were playing and how many shots went in. I'm so proud of our guys. It's certainly one of the most fun nights I've had here."
— Kansas basketball coach Bill Self following KU's 109-106, triple-overtime win over Oklahoma in a battle between the top two teams in the country on Jan. 5, 2016
Read the story
.