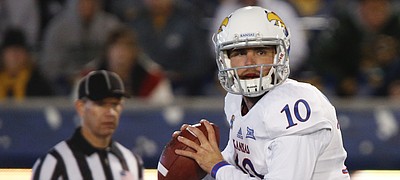 True freshman Ryan Willis may be slated to start Saturday's 11 a.m. game against No. 3 Baylor for the Kansas University football team, but when you're talking about a program that already has lost three quarterbacks this season, it doesn't hurt to be prepared for anything.
After Kansas surrendered 55 points in a home loss to Memphis, junior cornerback Brandon Stewart and junior safety Fish Smithson explain the Jayhawks' defensive issues. Failing to recognize things quickly and drop-offs in fundamentals burned Kansas in the loss, the defensive backs say.
Blast from the past
"We want to bring more respect to this program. We're tired of being looked at as 'Oh, they're going to be a 6-6, 7-5 team and finish in the bottom of the Big 12.' We don't want that anymore. I think we're going to play like that every week."
— Former KU quarterback Todd Reesing following KU's 52-7 victory over Central Michigan that opened the magical 12-1 2007 season
Read the story
.