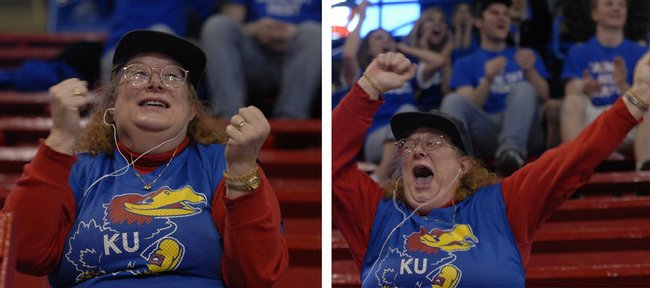 The crowd of thousands that gathered in downtown Lawrence Saturday night to celebrate Kansas University's victory was mostly well-behaved, police said.
"They're celebrating a win and they're celebrating in a fashion I think is respectful to everybody who is a Jayhawk," police spokesman Sgt. Paul Fellers said.
There were some problems. At least two people were arrested, including one for battery on a police officer. It was unclear late Saturday what caused the second arrest.
Police received reports of a few fights and injuries, but no major incidents, Fellers said. When they could, officers confiscated beer cans and bottles from people and poured them out.
"I think you are going to have a few things like that when you get that number of people together," he said.
There were no serious problems on the KU campus or at Allen Fieldhouse, where fans gathered to watch the game on the video screen, KU police Capt. Schuyler Bailey said.
"They drove down the boulevard and then left," he said of campus activity after the game.
About 200 officers were on duty in Lawrence during the game and for a few hours after, Fellers said.
Other departments sending officers to assist included the Douglas County and Franklin County sheriff's offices, the Kansas Highway Patrol, and police from Olathe, Overland Park, Ottawa and KU. Several city and county departments also assisted, Fellers said.
Earlier in the evening police searched for a man with a gun who was involved in a domestic disturbance in the 600 block of Schwarz Road. The man fired one shot into the air before fleeing on foot.
Officers searched nearby neighborhoods for about two hours but did not find the suspect. They were assisted by a helicopter from the Topeka Police Department.
More like this story on KUsports.com