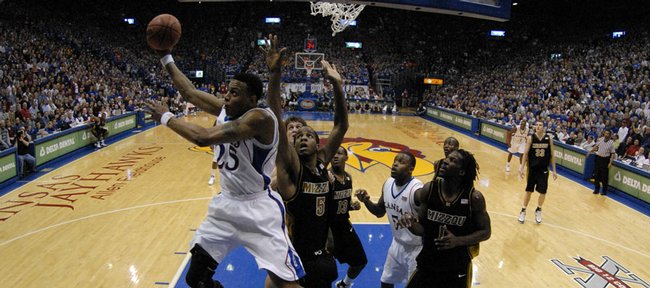 The national anthem ended and Kansas University's basketball players prepared to shake hands with Missouri's Tigers on Monday night at Allen Fieldhouse.
Oops.
The Tigers, who, like the Jayhawks, had lined up on the court for the stirring rendition, wanted no part of the traditional pregame pleasantries.
They turned their backs and headed the other way.
Moments later - before the opening tipoff - MU's players again refused to bump fists with the Jayhawks.
Serious business, this Border War.
"It's always special to beat Missouri. It made it better today because they didn't want to shake our hands at the beginning," KU senior guard Russell Robinson said after KU's 90-71 rout of the Tigers.
"They wanted to set the tone at the beginning, get themselves fired up. It was all a mental thing. They came out with a nice little swagger about 'em. Obviously it didn't work," Robinson added with a smile.
KU swept the season series with MU, on Monday improving greatly on a six-point victory on Jan. 19 at Mizzou Arena.
The Jayhawks, who were led by Brandon Rush's 19 points and had five players score in double figures, grabbed 48 rebounds to the Tigers' 25.
KU's defenders, who forced just eight turnovers, stuck to the Tigers' outside threats, holding them to 0-for-10 three-point shooting on a night MU hit 46.7 percent overall.
Rush, who made seven of 13 shots, including three of seven threes, stuck to Matt Lawrence, who missed five threes without a make.
Rush, like Robinson, was a bit fired up after the handshake snubs.
"No handshake, no nothin',''' Kansas City, Mo., native Rush said. "They do their thing. We do ours."
Rush was in a good mood after beating the Tigers for the fifth time in six games in his three-year KU career. He said after the game he's ready to shed the big, bulky brace he has been wearing at practice and games all season as he recovers from ACL surgery.
"My knee's getting better. I'm going to take it off this week and play without it Saturday," Rush said of KU's 7 p.m. home game against Baylor. "I'll practice without it and get a feel for playing without it. I think it's time."
Monday, KU was able to pound MU despite receiving precious little playing time from leading scorer Darrell Arthur.
Arthur, who had three fouls while playing two minutes the first half, did return the second half to score nine straight points in a 23-9 run that turned a 58-47 lead into an 81-56 blowout.
"It's ridiculous 'Shady' gets three fouls in two minutes. It didn't matter because Sasha (Kaun, 12 points, four rebounds) and Cole (Aldrich, nine rebounds, six points) played so well," Self said, noting Arthur "played really well the second half.
"Offensively we were really good."
Self wasn't pleased with the defense of his perimeter players. KU had just three steals for the third straight game.
"They were quicker than us. I shouldn't say that, but their guards went anywhere they wanted with the ball," Self said. "We have to focus on keeping guys in front of us. We're not sound. We're off balance. We lunge. We challenge in the backcourt, and they dribble past us, and we put the big guys in harm's way. They got the ball where they wanted it. It's frustrating because their guards are quick, but ours could have done a better job."
Mario Chalmers scored 15 points, Kaun and Sherron Collins 12, while Arthur managed 13 points in his 14 minutes.
"I can't catch a break," Arthur said of picking up fouls. "I did a better job the second half of not fouling and keeping my man in front of me. I caught a bad break trying to slide over and take a charge, and then I caught another one early to give me two fouls. I am trying, but the fouls I'm making are stupid fouls. I need to play with my head and my feet."
KU led, 45-33, without him at halftime and outscored MU, 45-38, the second half in improving to 22-1 overall and 7-1 in the Big 12. MU, which brought back suspended players Jason Horton and Darryl Butterfield, fell to 13-10, 3-5.
The Jayhawks were happy after defeating one of their rivals with last Wednesday's loss to Kansas State still in their minds.
"The wins never feel as good as the losses feel bad, at least that's how I've always felt," Self said. "I was happy we won. This doesn't feel as good as that felt bad. It's not just (that it was) K-State. I felt we played poorly that night."
And KU played well Monday. How much it was due to handshake snubs is open for debate.