Irish eyes did very little smiling Friday night in Lawrence.
Kansas University supporters who had spent their day celebrating St. Patrick's Day were disappointed after watching the Jayhawks lose - again - in the first round of the NCAA Tournament.
Fans in the bar at The Eldridge Hotel, 701 Mass., tried to cheer the Jayhawks to a late-game comeback over Bradley University, but to no avail.
"I was hopeful that we'd go far," said Matt Spurlin, a KU senior from Edmond, Okla. "I'm in disbelief really."
Some blamed the Jayhawks' sloppy play in a game that played out much like the team's first-round loss to Bucknell a year ago.
"I really think it's because we had a young team. It's huge playing in an NCAA Tournament," Spurlin said. "Playing in the Big 12 Tournament was different because they had already played all of those teams."
KU alumnus Bobby Olm-Shipman, of Kansas City, Kan., said the Jayhawks' turnovers and poor shooting performance were the reason for the loss - not some first-round tournament curse.
He tried to find a bright side to the loss.
"It was a disappointment, absolutely, but compared to how this team played at the first of the season, if you would have told me they were in the tournament, I would have been a little impressed," he said.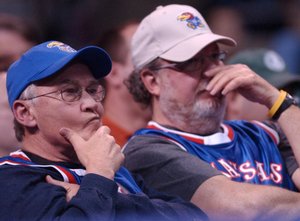 "It's a bummer, but there will be next year. I think (KU coach) Bill Self and the guys did a great job this year. It was so much fun to be a fan this year."
Others showed more of their disappointment.
Even before the game ended, contributors to online message boards at kusports.com were speculating about Self's job security.
KU senior Jordan Bickford, from Salina, was at Free State Brewing Co., 636 Mass., and mentioned the Jayhawks' loss in the NCAA Championship game to Syracuse in 2003 and the Bucknell loss.
"I think they got overconfident," she said. "They don't think about little teams like Bradley or Bucknell."
More like this story on KUsports.com