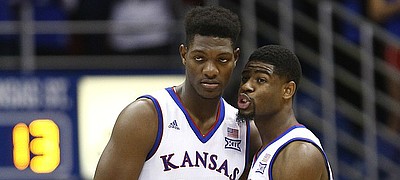 After the table session ended and the players were rising from their chairs, third-year sophomore guard Malik Newman imparted a simple message to freshman forward Silvio De Sousa after Kansas dominated Oklahoma, 104-74, Monday in Allen Fieldhouse: "I'm proud of you, young fella'."

The breakthrough moment for Kansas freshman Silvio De Sousa came a little later than many people had hoped for and expected. But it was hardly out of nowhere. How two months of bonding with teammates and putting Kansas basketball first put De Sousa in a position to finally deliver. By Matt Tait

Eighty minutes before game time Monday night in Allen Fieldhouse, Kansas senior point guard Devonte' Graham sat in a chair on the Oklahoma bench, eyed his target and launched a shot toward the basket. Swish. By Tom Keegan

Kansas freshman Silvio De Sousa stole a little incentive before Monday's 104-74 victory over Oklahoma straight off of the wrist of teammate Mitch Lightfoot. After a spirited pregame that featured positive vibes flowing and good old Mr. Confidence peeking his head ever so slightly out, like Punxsutawney Phil on Groundhog Day, De Sousa caught a glimpse of Lightfoot's wrist and saw the words "Rebound" and "Defense" written in dark marker on the skin. By Matt Tait

After watching a brief video that flashed highlights from his stellar career at halftime of Monday night's 104-74 victory by No. 8 Kansas over Oklahoma, Sherron Collins, Monday's guest of honor, slowly walked onto James Naismith court to watch his No. 4 jersey officially go into the rafters at Allen Fieldhouse. By Matt Tait

The Kansas basketball team's revenge week started just the way the Jayhawks envisioned Monday night at Allen Fieldhouse. A few weeks removed from its loss at Oklahoma in late January, KU throttled Oklahoma in the rematch, 104-74, ahead of its much-awaited trip to Texas Tech this coming Saturday. By Benton Smith

A look at some of the keys for 8th-ranked Kansas in tonight's Big Monday rematch with the Oklahoma Sooners at Allen Fieldhouse. By Matt Tait

During his freshman season at Kansas, Sherron Collins tried a lot of things at full speed and sometimes the game he saw in front of him seemed in his mind to be going even faster than he was.

With his wife, Britt, by his side, and his dad, Walt, and brother, Grant, there to support him, as well — dad decked out in a No. 45 Kansas basketball T-Shirt, no less — former Kansas big man Cole Aldrich returned to Allen Fieldhouse on Saturday for the moment of a lifetime. By Matt Tait

West Virginia basketball coach Bob Huggins cooled down almost as quickly as he flipped his lid in a way that earned him back-to-back technical fouls and an ejection with eight seconds remaining in Saturday night's game in Allen Fieldhouse. By Tom Keegan

After Kansas sophomore Udoka Azubuike dropped 21 points in 31 minutes to help lead the Jayhawks to a wild, 77-69, comeback victory over West Virginia on Saturday evening at Allen Fieldhouse, one of the most popular questions tossed KU's way was whether the game was the best of Azubuike's still-young career. As is so often the case, KU coach Bill Self delivered the best answer, tying in Saturday's celebration of the 10-year anniversary of the 2008 national title team to emphasize his point. By Matt Tait

For the eighth time this season, the Kansas basketball team found itself in a double-digit deficit. Saturday night at Allen Fieldhouse, the Jayhawks rediscovered the Morgantown magic that helped them pull off a major comeback in their first meeting with West Virginia. Although six other KU opponents have sent the perennial Big 12 champion home with a loss after leading by 10, WVU failed to do so again in an incredible 77-69 Kansas victory. By Benton Smith

A look at some of the keys for 13th-ranked Kansas in tonight's rematch with 20th-ranked West Virginia at Allen Fieldhouse in front of ESPN's "College GameDay" crew. By Matt Tait

Part attorney, part NCAA watchdog, part basketball analyst, ESPN's Jay Bilas is one of the better thinkers in our ever-expanding sports world.

An unnamed source who has been briefed on the details of an FBI probe into corruption in college basketball told Yahoo Sports that far more than four assistant coaches arrested in September have cause for concern. By Matt Tait
February 2018
Previous Next