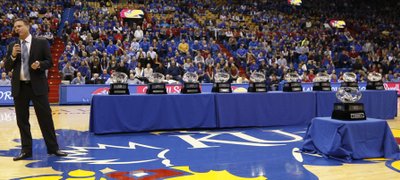 Remarkably, Kansas has a .735 road winning percentage in league play during the regular-season conference streak. By Tom Keegan

Camera flashes were popping and phones were out to record every move as the Okun Fieldhouse crowd watched Kansas University recruit Allonzo Trier in his first game at the Sunflower Showcase national youth basketball tournament on Thursday. By Bobby Nightengale
KU basketball target Trier among players at Lawrence-bound Showcase
The Sunflower Showcase national youth basketball tournament — which runs today through Sunday at Okun Fieldhouse in Shawnee — is headed to Sport Pavilion Lawrence at Rock Chalk Park in July of 2015. By Gary Bedore

Hoisting the Larry O'Brien Trophy, it was not. But second-year guard Ben McLemore and his Sacramento teammates did get a trophy and on-court presentation after winning the 24-team Las Vegas Summer League tournament this week. By Benton Smith

Another top recruit in the Class of 2015 plans to experience Late Night in the Phog on Oct. 10, according to Rivals.com. Carlton Bragg, a 6-9 power forward from Cleveland (Villa Angela-St. Joseph) said he will attend the annual season kickoff event on the heels of 7-footer Stephen Zimmerman (No. 7 senior in the country) confirming the same.
By Staff Reports
July 23, 2014 12:16 a.m.
If Duke basketball coach Mike Krzyzewski were running the Cleveland Cavaliers, Andrew Wiggins would already be wearing Timberwolves gear. By Benton Smith

The public posturing from both sides surrounding a potential Andrew Wiggins-for-Kevin Love swap has spiced up the short NBA offseason. By Tom Keegan

A slimmer, trimmer version of Landen Lucas will be touring the Baltic States from Aug. 6-14 with Athletes in Action's college all-star basketball team. By Gary Bedore

Former Kansas University point guard Sherron Collins says his basketball career is far from over at the still-young age of 27. By Gary Bedore

Andrew Wiggins better wait a bit before buying or renting a condo in Cleveland. Several Cavaliers beat writers — as well as ESPN — reported Thursday that the Cavs are now willing to trade former Kansas University wing Wiggins to the Minnesota Timberwolves as part of a package for three-time All-Star forward Kevin Love. By Gary Bedore

Brandon Rush and the Golden State Warriors are headed for a reunion. By Gary Bedore

One of Kansas University's targets for the recruiting class of 2015 will headline the 2014 Sunflower Showcase youth basketball tournament a week from Thursday through Sunday (July 24-27) at Okun Fieldhouse in Shawnee. By Gary Bedore

Since Paul Pierce's NBA debut, 24 other Kansas University players have entered the league. None have been able to match, let alone eclipse, his success. By Benton Smith
One of the most polarizing debates among front-office executives at summer league is what the Minnesota Timberwolves should do with Kevin Love and how aggressively the Cavs should pursue him and whether Cleveland should give up top pick Andrew Wiggins.

Kansas University junior forward Perry Ellis ran the court as a teammate of future Hall of Famer LeBron James in a game at James' skills camp last week in Las Vegas. By Gary Bedore
July 2014
June 2014
May 2014
Previous Next