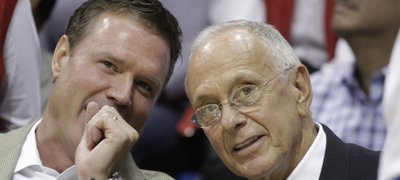 Hall of Fame basketball coach Larry Brown has been in virtually all the great hoops arenas in his 74 years on the planet. Where does Allen Fieldhouse rank? "The best." By Gary Bedore

Former Kansas University guard Brandon Rush tore the ACL in his right knee in late May of 2007 and had surgery performed on June 1 of that year.

Now 29 years old and in his seventh season in the NBA, Kansas City native Brandon Rush is a different player and different person than the one who helped Kansas University claim the 2008 NCAA basketball championship. By Gary Bedore

The loss of one-and-done sensations Andrew Wiggins and Joel Embiid to the NBA hasn't caused a drop in expectations for Kansas University's basketball team.

When the 2014-15 preseason USA Today Coaches poll was unveiled Thursday, Kansas University's men's basketball team landed in the top five — No. 5, to be exact.
By J-W Staff Reports
October 16, 2014 4:53 p.m.

Kansas University's basketball players have shown an ability to knock down the three during practices this preseason. By Gary Bedore

On a lazy summer day, with not much happening on Kansas University's campus, Bill Self gave sophomore combo guard Wayne Selden Jr. something to think about. The Jayhawks' 12th-year basketball coach told the 6-foot-5, 230-pounder he'd likely be playing some power forward during his second season. By Gary Bedore

One of the five senior blue-chip high school basketball players who attended last Friday's Late Night in the Phog definitely will be signing with a school in November.

Three of the blue-chip high school senior prospects who attended Kansas University's Late Night in the Phog — Carlton Bragg, Jaylen Brown and Brandon Ingram — are talking about attending college as part of a package deal, Bragg told Zagsblog.com on Monday. By Gary Bedore

Kansas University's basketball players, coaches and support staff obviously made a big impression on Stephen Zimmerman, one of the best big-man prospects in the recruiting Class of 2015, last weekend.By Gary Bedore

Kelly Oubre Jr. kept the energy at a fever pitch after the opening tip of a 20-minute scrimmage at Friday's Late Night in the Phog. By Gary Bedore

Just 14,000 fans attended the 2014 Late Night in the Phog on Friday night in Allen Fieldhouse. By Gary Bedore

The 2014-15 Jayhawks looked rather flashy during a Late Night "evolution of hip hop dance number" and a 20-minute scrimmage to conclude the festivities before a crowd of 14,000 fans in a building that seats 16,300. By Gary Bedore
Kansas University freshman center Cliff Alexander didn't have a baby hook shot until Bill Self taught him one in Lawrence. Now he looks as if he has had it his whole life. By Tom Keegan

"Late Night" turns 30 tonight, and Kansas University basketball coach Bill Self, who will host his 12th, was there for the first one. By Gary Bedore
October 2014
September 2014
August 2014
July 2014
June 2014
Previous Next