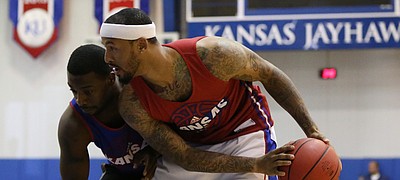 Former Kansas University small forward Travis Releford has been on the go since turning professional after the 2012-13 season. By Gary Bedore

Several Kansas University basketball players past and present paraded through a door connecting the Jayhawks' practice facility to Horejsi Center, home of Bill Self's weekly basketball campers games.

Cheick Diallo, 19, who averaged 3.0 points and 2.5 rebounds in 7.5 minutes a game during his one-and-done season at KU, on Thursday night told NBA.com he was not pleased about the first-round snub. By Gary Bedore

Perry Ellis will play for the Dallas Mavericks this summer.
By J-W Staff Report
June 24, 2016 9:01 p.m.

Former Kansas University forward Cheick Diallo, who had been projected as a likely first-round pick in the 2016 NBA Draft, went in the second round, while possible draft picks Wayne Selden Jr., Perry Ellis and Brannen Greene were not selected during Thursday's proceedings in Brooklyn, N.Y. By Gary Bedore

Quiet body language can lead to misconceptions that cause talent evaluators to miss badly. Wesley Matthews had quiet body language during his career as a four-year starter at Marquette. By Tom Keegan

Cheick Diallo was selected by the Los Angeles Clippers in the NBA Draft, but then was dealt to New Orleans.
By J-W Staff Report
June 23, 2016 10:24 p.m.

Perry Ellis, who played four seasons of college basketball, and Wayne Selden Jr., who played three, enter Thursday's NBA Draft viewed as possible, yet not certain, second-round selections, while Cheick Diallo is expected to go in the first round.By Gary Bedore
More than half of Kansas University's student-athletes posted a grade-point average of 3.0 or better during the spring semesters, lifting the cumulative GPA to a record 3.04, according to numbers released Wednesday.

During this year's NBA playoffs, it occurred to me that Kansas coach Bill Self's stock must be rising in the eyes of NBA executives because he has proven to be terrific at inspiring players trust each other.

Tuesday proved to be the day a dream came true for Brian Hanni, who learned from Kansas athletic director Sheahon Zenger via telephone that he was the choice to be the next play-by-play voice of Kansas basketball and football, succeeding Bob Davis, who retired this season after holding the post since 1984. By Matt Tait

Former Lawrence radio personality and current voice of Texas Tech men's basketball, Brian Hanni, has been named the replacement to Bob Davis, who retired from his duties as the voice of Kansas basketball and football following the 2015-16 hoops season.
By J-W Staff Report
June 21, 2016 3:30 p.m.

Perry Ellis worked out for the Philadelphia 76ers on Monday, then returned to his hometown of Wichita to relax a bit before Thursday's NBA Draft. He'll watch the proceedings on TV with family and close friends in Wichita. By Gary Bedore

Those individuals who release NBA mock drafts in anticipation of Thursday's two-round, 60-pick extravaganza in New York certainly do not compare notes when prognosticating. Proof of that is the difference of opinion regarding 19-year-old former Kansas University forward Cheick Diallo. By Gary Bedore

Fearless forecaster Bill Self isn't backing down from his pre-2016 NBA Finals prediction that the Cleveland Cavaliers will emerge as world champions.
June 2016
May 2016
Previous Next