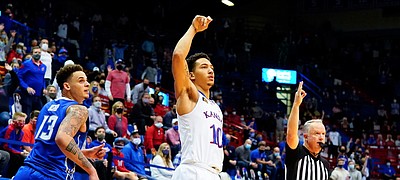 Freshman forward Jalen Wilson on Friday became the second key member of the Kansas men's basketball team's 2020-21 roster to announce his intentions to enter his name into the NBA draft pool. By Matt Tait

Kansas junior Ochai Agbaji announced Thursday afternoon that he is entering his name into the NBA draft pool with the option to return to school for his senior season. By Matt Tait
The Kansas men's basketball program watched another player enter the transfer portal on Thursday, when freshman guard Latrell Jossell decided to explore other options. By Matt Tait

Set to enter his 19th season at the helm of Kansas basketball, KU coach Bill Self said Wednesday he was appreciative of his recently signed lifetime contract and not at all worried about the optics of that contract as the Jayhawks remain embroiled in an NCAA infractions case. By Matt Tait

Kansas basketball coach Bill Self said Wednesday that he was in no hurry to permanently fill the open spot on his coaching staff made available by the departure of Jerrance Howard to Texas. But he is encouraged by the response he received when the job came open. By Matt Tait

At his introduction Wednesday at the Lied Center, new University of Kansas Athletic Director Travis Goff said that if he did not have to give a speech, he would be speechless. By Matt Tait

The Kansas men's basketball program once again has all of its scholarships currently spoken for, thanks to a Wednesday commitment from Drake transfer Joseph Yesufu. By Matt Tait

Kansas basketball assistant coach Jerrance Howard is leaving KU for a spot on newly named Texas coach Chris Beard's bench in Austin. By Matt Tait
NBA analyst Paul Pierce has been fired by ESPN, people familiar with the situation confirmed Monday.
By Associated Press
April 6, 2021 6:02 p.m.

New Kansas Athletic Director Travis Goff, hired by the university on Monday to replace Jeff Long, will make $700,000 annually for the first three years of a five-year contract, putting him at or near the bottom of the 10-team Big 12 Conference. By Matt Tait

A&M AD also raves about fellow Dodge City native
The head coach of the University of Kansas athletics department's flagship program, Bill Self, who has lived and worked in Lawrence for nearly 18 years now, considers the Jayhawks "fortunate" to have Travis Goff as the new athletic director.

Travis Goff, a 2002 graduate of the University of Kansas and native of Dodge City, has been named the school's new athletic director, KU Chancellor Douglas Girod announced on Monday afternoon. By Matt Tait

Kansas senior Marcus Garrett picked up another individual honor on Friday, earning a spot on the Senior CLASS Award's All-American first team for the 2020-21 season. By Matt Tait

Kansas men's basketball coach Bill Self has signed what was described by KU as "a lifetime contract" to remain the head coach of the Jayhawks, the school announced Friday morning. By Matt Tait

After being entrusted as the caretaker of blue blood basketball programs Kansas and North Carolina for the past 33 years, Roy Williams announced his retirement from coaching on Thursday at a news conference in Chapel Hill, N.C. By Matt Tait
April 2021
March 2021
Previous Next