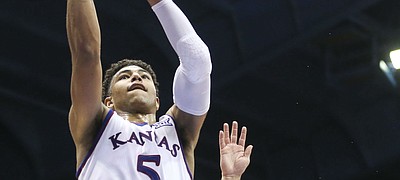 Throughout Kansas freshman Quentin Grimes' mini-slump to open the season, KU coach Bill Self has maintained that Grimes would be just fine. In fact, earlier this week, Self said he thought his five-star freshman just needed to see the ball go through the basket a couple of times to get going again. By Matt Tait

The play call was simple enough, and it wound up saving Kansas during a 63-60, grind-it-out victory over New Mexico State on Saturday night. After the game, Lawson credited the inbounds play for getting him going, but said "just seeing the ball go through the net" was more important than anything specific about the action. By Matt Tait

Kansas City, Mo. — This Kansas basketball team is undefeated. It's ranked No. 2 in the nation. Yet its head coach, Bill Self, described the current state of the Jayhawks perfectly following Saturday night's latest near-loss, a 63-60 victory over New Mexico State at Sprint Center.

Kansas City, Mo. — The gauntlet of good resumes continued Saturday night for the second-ranked Kansas men's basketball team, which survived a scare from New Mexico State, 63-60, at Sprint Center. The Aggies (7-2) were the sixth KU opponent already this season that ranked in the KenPom Top 100 (at No. 92), with only Vermont (114) and Louisiana (133) sitting outside of double digits in KenPom's rankings.

It wasn't always the prettiest showing, but No. 2 Kansas found a way to survive once again. KU (8-0) struggled for much of its non-conference clash with New Mexico State Saturday night in the Sprint Center. Just like they have done a number of times during the young season, though, the Jayhawks made enough plays down the stretch to claim a 63-60 victory.
December 8, 2018 9:35 p.m.

A look at some of the keys for second-ranked Kansas in tonight's Sprint Center showdown with New Mexico State in Kansas City, Mo.By Matt Tait

One hundred percent by Big 12 play. That's the general goal for Kansas junior Udoka Azubuike, who will be sidelined "indefinitely" because of an ankle sprain suffered during Tuesday's win over Wofford.

At 6-foot-10, 265 pounds, Kansas freshman David McCormack is the closest thing, size-wise, that the Jayhawks have on the roster to replace injured junior Udoka Azubuike, who is expected to be sidelined at least a couple of weeks with a severe ankle sprain. By Matt Tait

After Kansas Athletics posted a second straight year of financial losses, KU Chancellor Douglas Girod's office highlighted the need to grow revenue and upgrade athletic facilities.

The Lawson brothers have been in this situation before. Dedric Lawson and K.J. Lawson were both on the Memphis team in 2016-17, when starting center Chad Rykhoek was sidelined with a dislocated ankle injury in December. The Tigers turned to their small-ball lineup following the injury, which lasted 16 games between mid-December to mid-February.
December 5, 2018 4:15 p.m.

NCAA sanctions on basketball programs caught up in the Adidas fraud trial won't be resolved until after the Final Four this spring, NCAA president Mark Emmert said, according to a Yahoo Sports report on Wednesday.
By Dylan Lysen
December 5, 2018 10:27 a.m.

Over the past few years, Wofford head coach Mike Young has found senior guard Fletcher Magee to be as steady a shooter as they come. The reigning SoCon Player of the Year, Magee has drained 3-pointers and averaged double digits since he arrived in Spartanburg, S.C., in 2015.

The collective gasp came at the 11:38 mark of the first half of Tuesday's 72-47 Kansas victory over Wofford at Allen Fieldhouse.

No. 2 Kansas overcame another sluggish start to remain unbeaten on the 2018-19 season.
December 4, 2018 8:53 p.m.

A look at some of the keys for second-ranked Kansas in tonight's home showdown with Wofford at Allen Fieldhouse. By Matt Tait
December 2018
November 2018
Previous Next