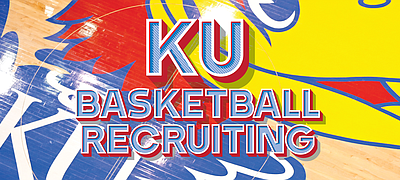 Five-star point guard Immanuel Quickley officially committed to Kentucky on Friday evening during a ceremony at his school, leaving the Kansas basketball program to turn its attention to an announcement from four-star big man David McCormack, who has scheduled his announcement for Sunday. By Matt Tait

With 6-foot-9 big man Silvio De Sousa already on board, the Kansas men's basketball program continues to pursue several of the top players in the 2018 recruiting class in hopes of adding even more elite talent to one of the most important recruiting classes KU coach Bill Self has gone after. By Matt Tait

As the Kansas men's basketball team prepares to jump into a season during which three Jayhawks will sit out and two others finally will play after transferring in, landing athletes via transfer could be on the brink of becoming easier in college athletics.By Matt Tait
The one and only message uttered by Kansas senior Svi Mykhailiuk and the rest of the KU upperclassmen to a handful of first-year Jayhawks before the opening day of KU's annual boot camp on Monday morning was simple — be on time. By Matt Tait

With this year's Late Night scheduled earlier than ever — 6:30 p.m., Sept. 30 at Allen Fieldhouse — the annual exhaustion known as boot camp will begin earlier, as well, at 6:15 a.m. Monday, when Bill Self and his team meet before the sun rises to put in a full day's work before many people get out of bed. By Matt Tait

Additional testing in the case of a 16-year-old girl's alleged rape at the University of Kansas men's basketball dorm is now complete, Douglas County District Attorney Charles Branson said this week. Now, the DA's office is awaiting input from the alleged victim.
September 15, 2017 4:34 p.m.

The Lied Center announced on Wednesday a partnership that will pair the Jazz at Lincoln Center Orchestra with, of all things, legends of KU basketball.
September 13, 2017 5:16 p.m.

KU sophomore Udoka Azubuike was one of 19 current college players invited last weekend to an Elite Student-Athlete Symposium in Indianapolis designed to give draft-eligible athletes a better and closer look at life in the NBA and the things they must consider before making the decision whether to turn pro early or stay in school. By Matt Tait

Friday's Hall of Fame induction for Kansas coach Bill Self turned out to be one heck of a celebration, complete with a red-carpet entrance, a national television audience and some of the biggest and brightest celebrities in the game of basketball on hand. By Matt Tait

If he were at all nervous when he stepped onto the stage at Symphony Hall to lead off the induction speeches for this year's class joining the Naismith Memorial Basketball Hall of Fame, Kansas coach Bill Self was quickly comforted when he looked into the crowd and saw dozens of familiar faces. By Matt Tait

Kansas basketball coach Bill Self never met a crowd he couldn't charm. And Friday night, after overcoming some early nerves and a couple of cracks in his voice, Self left Symphony Hall with his perfect record in tact. By Matt Tait

The night before first fitting into his Hall of Fame jacket — Naismith Orange in color and ultra-exclusive in its membership — Kansas basketball coach Bill Self received a phone call from a friend who offered some heartfelt advice. By Matt Tait

Thanks, but first a phone call. That was the general thought and feeling that overtook Kansas coach Bill Self when he learned this spring that he had been elected into the Naismith Memorial Basketball Hall of Fame's Class of 2017. By Matt Tait

When Kansas basketball coach Bill Self is officially inducted into the Naismith Memorial Basketball Hall of Fame in Springfield, Mass., on Friday night, he will be joining a group of some of the biggest names and best coaches to ever blow a whistle or scribble X's and O's onto a clipboard. By Matt Tait

The Kansas men's basketball team now has a clearer view of what the path to a 14th consecutive Big 12 title looks like. By Matt Tait
September 2017
August 2017
Previous Next