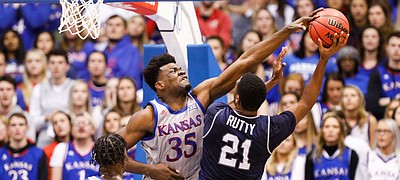 One week after watching teammate Marcus Garrett become a finalist for the Naismith Defensive Player of the Year award, KU senior Udoka Azubuike on Monday received national hardware for his work on the defensive end of the floor. By Matt Tait

Kansas center Udoka Azubuike has added another honor to his long list of accolades from the 2019-20 season. By Matt Tait

Future Jayhawk Bryce Thompson will go down in the KU record books and media guides as a McDonald's All American — but unlike All-Americans in years past, he won't get the chance to play in the annual high school showcase game. By Matt Tait

Shortly after the 2020 NCAA Tournament was canceled, Bob Dekas, an 11-time Emmy winner who served as the lead producer for college basketball at CBS Sports for nearly three decades, gave the Journal-World a look at the work that goes into putting America's favorite tournament on television. By Matt Tait

Former Kansas standout Ben McLemore is putting his heart and free time toward providing N95 respirator masks for doctors and nurses who need them. By Matt Tait

The Big 12 Conference lost two large revenue streams when the coronavirus pandemic canceled college basketball's postseason tournaments, and the financial outlook of the league could look far worse if football games are lost in the fall.

The national Gatorade Player of the Year awards were released Thursday and a future Jayhawk was included among them. Bryce Thompson, a combo guard out of Booker T. Washington High in Tulsa, Okla., was named the 2019-20 Gatorade Oklahoma Boys Basketball Player of the Year. By Matt Tait

Dayton's Obi Toppin and Anthony Grant swept the Associated Press' player and coach of the year honors, the AP revealed Tuesday. But a couple of Jayhawks factored into the voting by the 65-person panel, as well. By Matt Tait

Tuesday morning brought yet another set of honors for Kansas basketball standouts Udoka Azubuike and Devon Dotson, who both were recognized by the National Association of Basketball Coaches for their strong 2019-20 seasons. By Matt Tait

You don't expect to hear the words "incredibly awkward times" come from the mouth of a college administrator with three-plus decades of experience who prides himself on having seen just about everything. By Matt Tait

AD Long: No KU cases of COVID-19
As the coronavirus outbreak continues to grow, University of Kansas Athletics Director Jeff Long said on Monday afternoon that neither any athletes on KU teams nor staff members within the department have tested positive for COVID-19. By Benton Smith
Kansas junior Marcus Garrett has been named one of four finalists for the 2020 Naismith Defensive Player of the Year, the Atlanta Tipoff Club announced Monday. By Matt Tait

After teaming up to guide the Kansas basketball team to a 28-3 record and the likely No. 1 overall seed in the canceled NCAA Tournament, Udoka Azubuike and Devon Dotson on Friday earned second-team Associated Press All-American honors.

During the week that followed the cancellation of the 2020 NCAA Tournament, the debate about whether to hang a banner at Allen Fieldhouse raged on among Kansas basketball fans. And, in a way, KU coach Bill Self was right there with them.

The Kansas men's basketball team officially has finished the season as the No. 1-ranked team in college basketball. By Matt Tait
March 2020
February 2020
Previous Next