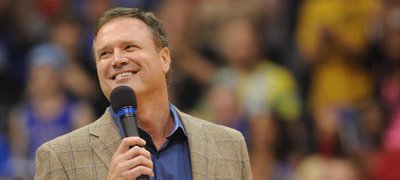 Kansas basketball coach Bill Self is and always has been a big supporter of Kansas football and he, like many fans, is eager to get the 2016 season rolling. By Matt Tait

Collin Sexton, one of the top point guards in the 2017 recruiting class and the No. 12 overall player in the Rivals.com rankings, is planning to visit Kansas for Late Night in the Phog the weekend of Oct. 1. By Matt Tait

With so many front-court contributors gone from a season ago, arguably the most intriguing option in KU's new-look big man rotation is former Ole Miss transfer Dwight Coleby, a 6-foot-9, 240-pound junior who sat out during his transfer season because of NCAA rules and rehabbed a knee injury in the process. By Matt Tait

Earlier this week, KU's list of Late Night in the Phog visitors for the Oct. 1 extravaganza grew by one, when Class of 2018 point guard Brandon Williams became the latest to make his intentions known. By Matt Tait

With summer school behind him, the fall semester in full swing and the official start of the 2016-17 season a little more than a month out, KU freshman Josh Jackson already has been able to get feedback on several of the factors that influenced him to pick Kansas in early April. So far, Jackson's KU experience has lived up to what he visualized all those months ago. By Matt Tait

Third-year Kansas Jayhawk Sviatoslav Mykhailiuk, who still is just 19 years old, recently returned to Lawrence a more confident player after more than two months overseas training in his native Ukraine and playing at the Under-20 European Championships in Finland. By Matt Tait

Trae Young, a 6-foot-1, 170-pound point guard ranked 14th in the 2017 recruiting class announced the dates of four of his official visits on Twitter on Wednesday.By Matt Tait

The State Farm Champions Classic, which pits Kansas, Kentucky, Duke and Michigan State in a neutral site matchup in November, will continue through 2019, ESPN announced Wednesday.
By Staff Report
August 24, 2016 1:25 p.m.

After finishing the 2015-16 season with career bests in points (11.3), assists (3.7), rebounds (3.3), three-point shooting (.441) and more, KU guard Devonté Graham spent the summer focused on getting bigger and stronger and is eagerly awaiting the start of his junior season. By Matt Tait

After holding a team meeting on Monday, Kansas coach Bill Self and his Jayhawks will officially begin preparations for the 2016-17 season on Tuesday. By Matt Tait

Class of 2017 point guard Tremont Waters, the No. 39 ranked player in the class according to Rivals.com, plans to visit Kansas in September. By Matt Tait

There was a lot of hype and, yes, even a few nerves in the hours leading up to Kansas point guard Frank Mason III throwing out the first pitch at Kauffman Stadium before Sunday's game between the Kansas City Royals and Minnesota Twins. But when all was said and done, the KU senior from Petersburg, Virginia survived. Barely. By Matt Tait
While Ali and Jordan were among the names you might expect to hear when listening to answers about one's favorite athlete of all-time, KU coach Bill Self threw an energetic crowd a curveball when answering the question Saturday at KU's Traditions Night. By Matt Tait

There's still a long way to go in the pursuit of 7-foot center DeAndre Ayton, Rivals.com's top-ranked prospect in the class of 2017, but Bill Self's Jayhawks certainly seem to be in a good position. By Matt Tait

The loyal KU lettermen who attend various sporting events on the campus of their alma mater lost one from their ranks when Al Kelley, member of the 1952 national-championship team and a 1960 Olympic gold medalist, died last week.
August 2016
July 2016
Previous Next