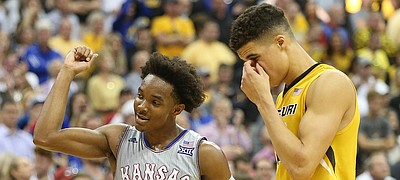 The mere mention of the name Devonte' Graham instantly brought a sigh, wide eyes, a side-to-side shake of the head and ultimately a smile from first-year Missouri basketball coach Cuonzo Martin. By Tom Keegan

After making his unofficial college debut in a loss to Kansas, Michael Porter Jr.'s somber look told the whole story. By Scott Chasen

Now that the two old rivals have been seen on the same basketball court again, after a five-year hiatus from one of the best rivalries in college sports, the question on everyone's mind after Sunday's 93-87 exhibition victory by Kansas over Missouri at Sprint Center was when we'll get to see it again. By Matt Tait

With Border War bragging rights back on the line Sunday afternoon at Sprint Center, the plan all along for the Kansas men's basketball team was to get the ball to 7-foot center Udoka Azubuike and let him dominate the paint. By Matt Tait

Though the stats and result won't go in either team's record books and the point of the scrimmage was to raise money for a good cause, it didn't take long for the Jayhawks and Tigers — and a split-down-the-middle sellout crowd — to make it feel more like March than October at Sprint Center. By Benton Smith

A look at some of the keys for Big 12 favorite Kansas in Sunday's Showdown for Relief, Border War revival with old rival Missouri. By Matt Tait

Kansas Athletics Inc. has enlisted an outside law firm to assist with an NCAA mandated review of its men's basketball program following a federal investigation that is rocking the sport.

Kansas forward Billy Preston, equipped with a well-developed physique for a freshman at 6-foot-10, 240 pounds, readily acknowledges that his perimeter game is more developed at both ends than his post play. He also believes the crash course he takes in practice will benefit his paint play. Preston said that when teamed with Dedric Lawson and playing against Udoka Azubuike and Mitch Lightfoot in practice, he guards the 7-foot, 280-pound Azubuike. By Tom Keegan

Kansas basketball officials announced Friday morning that this weekend's exhibition game against Missouri — 3 p.m. Sunday at Sprint Center in Kansas City, Mo., — will in fact be televised after all. By Matt Tait

You don't have to look farther than Malik Newman's head to discover the true magnitude of Sunday's Showdown for Relief exhibition game between Border War rivals Kansas and Missouri at Sprint Center in Kansas City, Mo. By Matt Tait

Officials at KU said the option of televising Sunday's Border War clash was still on the table and details were being examined to see if it was possible. By Matt Tait

History awaits. That's the message sent by the Big 12 men's basketball coaches on Thursday morning, when the conference revealed that Kansas was a unanimous selection to win its 14th consecutive Big 12 regular season title, breaking a tie with UCLA for the most all-time. By Matt Tait

Don't look for the animus that might percolate in the Sprint Center seats Sunday during the Sunday's Border War exhibition basketball game to be duplicated on the court.

The words of his former boss have echoed through the years for Dallas Skyline High basketball coach Paul Graham. So when Marcus Garrett was a freshman at Skyline and one of his teachers informed Graham that he was "being silly, standing up, disrupting the class," the coach told the student he had better stop if he wanted to continue to play basketball. By Tom Keegan

The University of Kansas will conduct an internal review of its basketball program for possible rules violations after being instructed by the NCAA to do so, KU Athletic Director Sheahon Zenger said Monday.
By Staff and Wire Report
October 16, 2017 5:39 p.m.
October 2017
September 2017
Previous Next