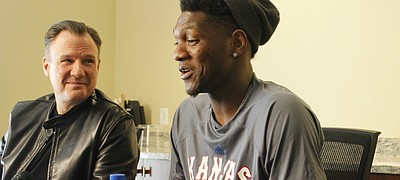 With his appeal now formally filed, the path forward is finally clear for Kansas sophomore Silvio De Sousa. If the appeal is granted, De Sousa will return to Kansas for the 2019-20 season. If it is denied, he will leave. By Matt Tait

On the same afternoon that Kansas basketball coaches and players learned center Udoka Azubuike will be back for his senior season, the Jayhawks missed out on a highly regarded prep guard who could have complemented the 7-footer inside. By Benton Smith

For the second year in a row, the Kansas men's basketball program got some good spring news from its biggest player. Udoka Azubuike will return to KU for his senior year. By Matt Tait

The Kansas men's basketball team has missed out on another top recruit in the Class of 2019. By Matt Tait

University of Kansas Athletic Director Jeff Long on Friday shed a little more light on a proposed $20 million renovation to Allen Fieldhouse.
By Dylan Lysen
April 19, 2019 11:39 a.m.

Multimillion dollar renovations to Allen Fieldhouse and David Booth Kansas Memorial Stadium could be coming for KU Athletics, but details on what the projects would entail are not clear.
By Dylan Lysen
April 18, 2019 4:49 p.m.

Some contracts extensions for head coaches and athletic directors at Kansas universities will now need approval from Kansas Board of Regents officials before they can be offered.
By Dylan Lysen
April 18, 2019 2:12 p.m.

On Feb. 2, during an impromptu press conference before KU's home victory over Texas Tech, Kansas Athletic Director Jeff Long spoke with fire and passion about the two-year suspension handed out to KU sophomore Silvio De Sousa for his guardian's role in a pay-for-play scheme in college basketball and promised to appeal the ruling and fight for De Sousa's eligibility. Today, now 75 days later, that process is finally in motion. By Matt Tait

For the better part of his 45-minute presentation to a crowd of about 500 supporters during the Kansas basketball program's annual postseason banquet Tuesday night at the Burge Union, KU coach Bill Self spoke of being reenergized and excited about what's ahead while looking back on the Jayhawks' 26-10 season. After it was over, Self doubled down on that thought, saying, in no uncertain terms, that he was at Kansas to stay and had no plans of going anywhere. By Matt Tait

Although there does not appear to be any kind of ruling on his appeal on the horizon, this week still could be an important time for the future of Kansas sophomore Silvio De Sousa. By Matt Tait

The Kansas basketball program is losing the man responsible for the Jayhawks' consistently strong showing in the strength of schedule rankings. Larry Keating, an administrator who has served in various roles at KU since 2003, announced his retirement on Monday after five decades in intercollegiate athletics. By Matt Tait

Consider Devon Dotson's decision to declare for the 2019 NBA Draft "an information-seeking quest." That was the way Dotson's father, Dana Dotson, described the move in a Friday phone call with the Journal-World a few hours after Dotson announced his intentions on Twitter. By Matt Tait

Add another Jayhawk to the list of players testing the waters for the 2019 NBA Draft. Freshman point guard Devon Dotson on Friday announced on Twitter that he was planning to "test the waters and enter into the 2019 NBA Draft process." By Matt Tait

Dubbed a one-and-done player when he signed with Kansas in November of 2017, freshman guard Quentin Grimes made that fate official on Wednesday, when he announced on Twitter that he was declaring for the 2019 NBA Draft. By Matt Tait
Kansas fans will have to watch more games via online streaming moving forward
By Staff report
April 10, 2019 2:34 p.m.
April 2019
March 2019
Previous Next