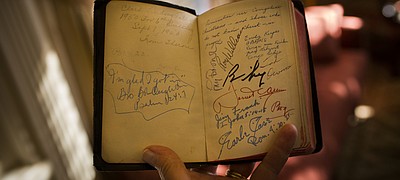 Last Monday's 60 years of Allen Fieldhouse celebration was supposed to be all about the old Kansas University basketball arena that has served as the stage for some of the most memorable moments in the program's storied history.

Bill Self and three of his Kansas University basketball staff members — Brennan Bechard, Kurtis Townsend and Fred Quartlebaum — marched on foot from Allen Fieldhouse uphill to Wescoe Hall shortly after noon Thursday.

Kansas University men's basketball coach Bill Self, never lacking in the category of popularity points on campus, padded his total Thursday afternoon. The head coach and his staff stopped by the Underground at Wescoe to pick up some lunch tabs.
By J-W Staff Reports
October 30, 2014 3:48 p.m.

Hall of Fame basketball coach Larry Brown of SMU, the only coach to win both an NCAA national championship (Kansas, 1988) and an NBA championship (Detroit, 2004), said Wednesday he's against shortening the college shot clock from 35 seconds to the pro and international game's 24. By Gary Bedore

Leftover notes from Monday's Celebrating 60 Years event in Allen Fieldhouse: Kansas University coach Bill Self praised the "IQ" and class of KU fans, citing a March 3, 2007 game in which Texas' Kevin Durant scored 25 points the first half of the Jayhawks' eventual 90-86 victory. Durant limped to the locker room to be re-taped after tweaking an ankle.
Bill Self, 51, grinned when asked if he'd like to stay in coaching as long as his mentor, 74-year-old Larry Brown of SMU. By Gary Bedore
Roy Williams, who admits he's as emotional as any person alive, tossed and turned in his Lawrence Oread Hotel bed on Sunday night/early Monday morning. By Gary Bedore

Monday night's 60 years of Allen Fieldhouse celebration might have been about a building that began with a $2 million budget in 1955 and still stands strong today, but, for several former Kansas University players who once called the venue home, it was as much about the men who made memories inside of it as anything. By Matt Tait

Jay Bilas is to college basketball what Charles Barkley is to the NBA, which is to say the smartest, funniest, most candid commentator on the air. By Tom Keegan

Kansas University basketball coach Bill Self is looking forward to seeing 7,000 fans show their appreciation to former KU mentors Larry Brown, Ted Owens and Roy Williams during Monday's "Celebrating 60 Years" event in Allen Fieldhouse. By Gary Bedore

Larry Brown chuckled when informed he, Ted Owens, Bill Self and Roy Williams on Monday will represent 51 of the 60 seasons in Allen Fieldhouse lore.

Former Kansas University forward Tarik Black, who has started the Houston Rockets' last two preseason games in place of Dwight Howard (arm laceration), still isn't guaranteed a spot on the NBA team's roster as the next round of cuts looms Sunday, the Houston Chronicle reports. By Gary Bedore

Just a freshman, Devonté Graham showed the smarts of a seasoned point guard in speaking before 450 women at Bill Self's fifth-annual Ladies Night Out breast cancer research fundraiser on Thursday in Allen Fieldhouse.

Roy Williams was asked about the obvious confidence he took into his first college head-coaching job at KU in 1988-89, despite the fact he was third assistant on KU grad Dean Smith's UNC staff. By Gary Bedore

This Kansas University basketball team has four more McDonald's All-Americans on the roster than it had when the Jayhawks reached the 2012 national-title game.
October 2014
September 2014
August 2014
Previous Next