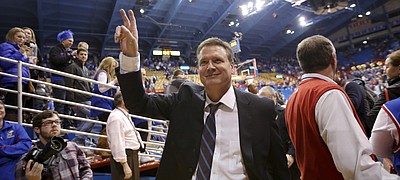 Bill Self has heard about 5,000 tickets have been sold for Kansas University's two World University Games exhibitions against Canada, set for 7 p.m., tips on June 23 and 26 in Sprint Center in Kansas City, Missouri.
Three sports programs at Kansas University registered high marks of 990 or above and each KU team remained in good standing — above 930 — according to the latest NCAA Academic Progress Rate (APR) data released Wednesday.

LaGerald Vick sees positives in starting his college basketball career during the 2015-16 season rather than attending prep school for a year.
The fifth "Bill's Basketball Boogie, a benefit for the Assists Foundation," will be held 7 p.m. until midnight, June 13, at Abe and Jake's Landing in downtown Lawrence.

KU coach 'surprised, honored,' by Naismith Memorial Basketball Hall of Fame recognition
Bill Self has been honored by the Basketball Hall of Fame in Springfield, Massachusetts.
By J-W Staff Report
May 26, 2015 9:01 p.m.

Future Kansas University basketball guard LaGerald Vick ranks fifth in scoring on the Under Armour Association spring circuit following a productive weekend for Team Thad AAU in New York. By Gary Bedore

Bill Self and Roy Williams, Kansas University's only two basketball coaches for the past 27 years, combined for six Final Fours, four NCAA title-game appearances and one national title for KU. They have done so employing different coaching styles and personalities.By Tom Keegan

Former Jayhawk guard helps create charitable foundation in Virgin Islands
Minnesota Timberwolves general manager/former Kansas University guard Milt Newton, who was born and raised in the Virgin Islands, returned to St. Thomas with his wife, Shalaun Newton, earlier this month to speak with youths about the importance of education and also announce the formation of a charitable foundation to assist youngsters who live in the U.S. territory. By Gary Bedore

LaGerald Vick, who has committed to play basketball at Kansas University — likely starting in the 2015-16 season — continues to compete on this spring and summer's Under Armour Association Circuit.

Paschal Chukwu, a 7-foot-2, 225-pound center who has announced plans to leave Providence after his freshman year, will visit Kansas University the first weekend of June, Chukwu told Jayhawkslant.com on Friday. By Gary Bedore

Bill Self's Kansas basketball team will begin representing the USA at the World University Games on July 4, in Gwangju, Korea, when the Jayhawks and SMU's Nic Moore take on Turkey to open pool play. Because of the 14-hour time difference, it will be 10 p.m. on July 3 back in Lawrence when the game begins.
By J-W Staff Reports
May 22, 2015 10:34 a.m.

Bill Self has added one of the country's top perimeter players — a 5-foot-9, 170-pound dynamo who can both score and distribute — to the roster of Kansas University's World University Games basketball team.

Guard Nic Moore of SMU will play for KU's World University Games team this summer.

Kansas University's men's basketball team has earned its eighth-straight NCAA Academic Performance Program (APP) Public Recognition Award, KU and the NCAA announced Wednesday.
It's eight in a row for Jayhawks
KU's basketball team was honored by the NCAA on Wednesday for academic achievement.
By J-W Staff Report
May 20, 2015 10:39 a.m.
May 2015
April 2015
March 2015
Previous Next