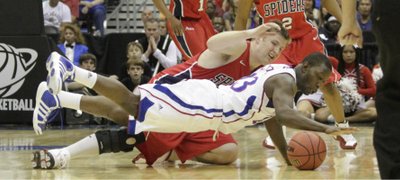 Former Kansas University basketball guard Mario Little averaged 16.8 points and 4.1 rebounds a game this past season for Anyang Korea Ginseng Corporation, which went 34-28 overall and advanced to the semifinals of the Korean League playoffs. By Gary Bedore

Bob Davis was restricted from speaking on both floors — the one thing that he's done professionally and proficiently as voice of the Kansas Jayhawks — but he was recognized along with 150 years of the University of Kansas at Kansas State Capitol in Topeka Thursday afternoon. The Kansas House of Representatives also declared April 28, 2016 to be "Bob Davis Day."

Josh Jackson hype took a slight hit on Tuesday when ESPN.com's final Class of 2016 rankings listed the future Kansas University shooting guard as No. 2 high school senior prospect in the country.

The recruitment of former Duke University basketball point guard Derryck Thornton is about to get serious. Thornton, a 6-2 freshman who recently announced plans to leave the Durham, N.C., school after one season, announced Monday he will visit USC this weekend, then Kansas University a week from today. He also plans to make trips to Washington and Miami before settling on his transfer destination. By Gary Bedore

Kansas University's basketball program, which recently landed a commitment from Josh Jackson, the No. 1 prospect in the high school recruiting class of 2016, also leads for the top player in the Class of '17. By Gary Bedore

Former Kansas University guard Nick Bradford has been hired as head boys basketball coach at Mexico (Mo.) High School.

The NCAA revealed Wednesday that Kansas University tied an athletic department record with six teams scoring a perfect APR score of 1,000 for the 2014-15 school year. By Matt Tait

Kansas University basketball coach Bill Self has offered a scholarship to Bishop Miege freshman Jeremiah Robinson-Earl, the son of former KU player Lester Earl, Rivals.com's Eric Bossi reported Tuesday. By Gary Bedore

Needing to reload on the perimeter for the 2017-18 season, Bill Self is recruiting one transfer who played for a basketball blueblood last season. By Gary Bedore

Kansas University's basketball coaches were on the road tracking high school juniors in the recruiting Class of 2017 over the weekend, while continuing to work to fill three remaining scholarship slots for the 2016-17 team. By Gary Bedore

Detroit native Josh Jackson could have asked Prolific Prep founder Jeremy Russotti to take him to see Calistoga's Old Faithful Geyser, tour a vineyard, go bike-riding on a mountain trail or even walk on the Boardwalk on his first day in Napa, Calif., two summers ago.

Future Kansas University power forward Udoka Azubuike, a 6-foot-11 senior from Potter's House Christian in Jacksonville, Fla., scored 10 points and grabbed six rebounds in helping the East to a 131-117 victory over the West in Friday's Jordan Brand Classic in New York. By Gary Bedore
Just 1.1 percent of the 351 Div. I college basketball programs advance all the way to the Final Four, at which 75 percent of those schools finish the experience on a sad note. Nobody can feel the difference between one side of that microscopic line that separates euphoria from torment, one shining moment from a hovering dark one, more deeply and freshly than those associated with the North Carolina basketball program. By Tom Keegan

It pays to be greedy when assembling a college basketball roster, so even though Kansas University coach Bill Self already has the best collection of Big 12 perimeter players and the best post players, there is no such thing as an embarrassment of riches in sports. The more talent, the better. By Tom Keegan

Kansas University senior forward Perry Ellis on Thursday was named the 2016 Big 12 men's basketball scholar-athlete of the year for the second straight season. By Gary Bedore
April 2016
March 2016
Previous Next