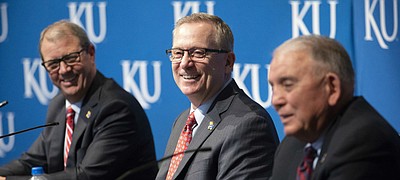 While Wednesday's news conference introducing KU Athletic Director Jeff Long offered insight into where he came from, where he's going and how he plans to get there, it also provided a more complete look at the make-up of KU chancellor Douglas Girod, the man who hired Long. By Matt Tait

A year after Loyola-Chicago basketball coach Porter Moser recruited the Hardwood Classic in Lawrence, he returned this weekend for the 2018 event with a Final Four ring and a whole lot more recognition. By Matt Tait

4 current Jayhawks on hand to judge
The Hardwood Classic AAU event out at Sports Pavilion Lawrence capped off its second day on Friday with a spirited dunk and 3-point contest that wowed the crowd and got the adrenaline flowing in all four corners of the massive gym. By Matt Tait

During his introductory news conference last week, new Kansas athletic director Jeff Long made it crystal clear that the struggling Kansas football culture, coach and program would have his full attention when he officially takes over on Aug. 1. But don't mistake that for Long jumping into his new job with tunnel vision. By Matt Tait

Former KU sharpshooter Svi Mykhailiuk gave Jayhawk fans plenty of reason to care about the NBA Summer League this year.By Shane Jackson

Devonte' Graham's summer with Charlotte got cut short this week when the rookie point guard from the University of Kansas suffered a right knee injury.

Jeff Long, the University of Kansas' newly hired athletic director, made it clear at his formal introduction on Wednesday that he was determined to tackle two of the biggest challenges facing the department: rebuilding the ailing football program and dealing with an ongoing scandal in the college basketball world to which a current and former Jayhawk have been linked.

The historic account of his time at the University of Kansas forever will show that Jeff Long's first comments as the KU athletic director were about basketball. But it was not praise for Kansas coach Bill Self, the 14 consecutive Big 12 titles or Long's future plans or promises for the program that crossed his lips. Instead, the 58-year-old Long on Wednesday made it clear to Self that while he hopes to bring a lot to the KU athletic department athletic prowess is not on the list. By Matt Tait

New Kansas athletic director Jeff Long understands the importance of family. Long, who has spent more than two decades in athletics, knows how hard it can be for those working in this field to spend time with their respective families. That's why Long told Kansas coaches to not change any vacation plans in order to attend his introductory press conference Wednesday morning at the Lied Center Pavilion.

Shortly after shaking hands with his new boss for the first time and watching a 45-minute news conference introducing Jeff Long as KU's 11th athletic director, Kansas basketball coach Bill Self on Wednesday found himself in a hallway of the Lied Center answering questions about sophomore forward Silvio De Sousa. By Matt Tait

Four days after a report surfaced stating that it had obtained a federal subpoena from the University of Maryland regarding the recruitment of Kansas forward Silvio De Sousa, Yahoo Sports on Tuesday released another report stating that its request for similar subpoenas from KU had been "tacitly acknowledged." By Matt Tait

It's only been a month, and he clearly still has a lot to learn about playing point guard at Kansas, in the Big 12 and for KU coach Bill Self. But the early feedback from summer pick-up games and team scrimmages thus far have pinpointed one area in which KU newcomer Devon Dotson already is well ahead of the curve for a true freshman — speed. By Matt Tait

The news had been out only a couple of hours when the first text messages began flooding his phone. Late Thursday afternoon, Oklahoma athletic director Joe Castiglione, who once hired newly named Kansas AD Jeff Long for a senior associate role at OU in 2001, had started to hear from his friends in Kansas. By Matt Tait

Despite continued confidence from both him and Kansas coach Bill Self about his status for the 2018-19 college basketball season, KU sophomore Silvio De Sousa was back in the news again Friday.

Former Kansas athletic director Lew Perkins gave a ringing endorsement Thursday to new athletic director Jeff Long.
July 2018
June 2018
Previous Next