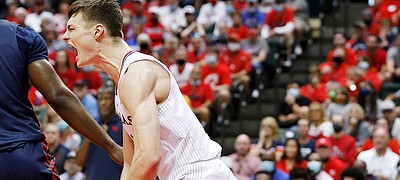 Kansas guard Christian Braun was one of KU's top performers last week in Orlando, leading the team in several statistical categories and landing on the ESPN Events Invitational all-tournament team. By Matt Tait

Two key members of the eighth-ranked Kansas men's basketball team were more comfortable throughout Friday's 95-75 win at St. John's. And it turns out that one had a direct impact on the other. By Matt Tait

Elmont, N.Y. — A hot start and strong second half led the eighth-ranked Kansas men's basketball team past St. John's, 95-75, on Friday night at UBS Arena in the Big East-Big 12 Battle. By Matt Tait

One former Kansas basketball player, Mark Turgeon, is out as Maryland's head men's basketball coach, and a Jayhawk great, Danny Manning, will step in.
By Associated Press
December 3, 2021 1:38 p.m.

Three games into his redshirt sophomore season, Kansas wing Jalen Wilson's production has lagged behind what he did for the Jayhawks a year ago. But head coach Bill Self isn't expecting that trend to last long.

A look at some of the keys for eighth-ranked Kansas in Friday night's Big East-Big 12 Challenge matchup with St. John's at the brand new UBS Arena in New York City. By Matt Tait

After struggling in the first two games of last week's ESPN Events Invitational, Kansas senior David McCormack showed small signs of improvement in KU's 96-83 win over Iona in the third-place game on Sunday.By Matt Tait

After combining to coach more than 2,000 college basketball games and racking up more than 1,500 victories, Kansas coach Bill Self and Iona coach Rick Pitino finally faced one another on Sunday at HP Field House. By Matt Tait

With their chances of an early-season tournament title already dashed by Dayton at the ESPN Events Invitational, the No. 4-ranked Jayhawks wrapped up their holiday weekend in Florida with a 96-83 victory over Iona in the tourney's third-place game on Sunday afternoon. By Matt Tait

A look at some of the keys for fourth-ranked Kansas in Sunday's third-place game matchup with Iona at the ESPN Events Invitational in Florida. By Matt Tait

Friday's wild win by Dayton over fourth-ranked Kansas marked the second time in three seasons that the Jayhawks and Flyers have played a memorable November basketball game. By Matt Tait

The ending was almost too outrageous to believe, but the sobering reality of losing to Dayton as a double-digit favorite on a buzzer-beater was not just a bad dream for fourth-ranked Kansas. By Matt Tait

A look at some of the keys for fourth-ranked Kansas in today's ESPN Events Invitational semifinal clash with Dayton from HP Field House in Kissimmee, Fla. By Matt Tait

Following Thursday's 71-59 victory over North Texas, Kansas basketball coach Bill Self did not hide his frustration over another sub-par performance by starting big man David McCormack. By Matt Tait

A hot start and strong second half led the fourth-ranked Kansas men's basketball team to a 71-59 victory over North Texas in the first round of the ESPN Events Invitational on Thursday afternoon. By Matt Tait
December 2021
November 2021
Previous Next