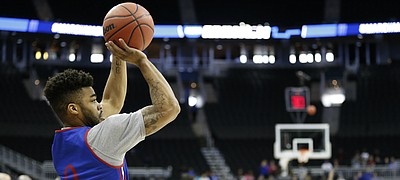 With their seasons on the line, both top-seeded Kansas and fourth-seeded Purdue will ride national player of the year candidates Frank Mason III and Caleb Swanigan into a Sweet 16 clash Thursday night in Kansas City, Mo. By Matt Tait

At a point in the season when most teams are looking for any extra edge they can get, the Kansas men's basketball team is just fine where it is. By Matt Tait

Most of the ballots were mailed and the majority of the votes will be counted by the time Frank Mason and Caleb Swanigan face off against each other Thursday night in the Sweet 16. By Bobby Nightengale
March 22, 2017 10:23 p.m.

Gene Keady's coaching offspring will be represented on both benches for the second NCAA Midwest regional played tonight in Sprint Center. By Tom Keegan

A look at some of the keys for top-seeded Kansas in Thursday's Sweet 16 showdown with fourth-seeded Purdue at Sprint Center in Kansas City, Mo. By Matt Tait

When the Midwest Region's fourth-seeded Purdue Boilermakers took the floor at Sprint Center Wednesday afternoon for practice, they received what freshman guard Carsen Edwards deemed a nice reception. No discernible boos. Just some cheers from a small contingent of Purdue supporters. Edwards and his teammates know not to expect the same when they return to the arena Thursday night for their Sweet 16 matchup with top-seeded Kansas. By Benton Smith

The buildup for this Sweet 16 game that pits Purdue against Kansas has the feel of a college football bowl week, all the talk centering on the big bodies of the Big Ten clashing with the sleek speed of the Big 12, tanks vs. sports cars. By Tom Keegan

When Purdue sophomore forward Caleb Swanigan steps onto a basketball court his individual production has become a foregone conclusion. The 6-foot-9, 250-pound Big Ten Player of the Year goes by his lifelong alias of "Biggie," but one could accurately also call him Mr. Double-Double. His surname or nickname could be heard on a near-constant loop inside locker rooms at Sprint Center Wednesday, as he, his teammates and Purdue's upcoming opponents, the Kansas Jayhawks, spoke at length about their Sweet 16 showdown. By Benton Smith

The first reward of the Kansas men's basketball team's ability to land the No. 1 seed in the Midwest region in nearby Kansas City, Mo., in this year's NCAA Tournament figures to show up loud and clear Wednesday afternoon.

At this time of year, a team's mentality can mean everything. And Kansas men's basketball coach Bill Self said Tuesday that he was pleased with where his Jayhawks sit in that department heading into preparations for Thursday's Sweet 16 showdown with Purdue. By Matt Tait

The NCAA tournament has a way of bringing on flashbacks of regular-season moments that stood out as different, went back under the radar, and resurface in March to enable a team to survive and advance. By Tom Keegan

Just before 4 p.m. Tuesday, less than an hour after leaving Lawrence, the Kansas men's basketball team arrived at the Westin Crown Center, its headquarters for the second weekend of this year's NCAA Tournament. By Matt Tait

Only one double-digit seed (Xavier) survived the first week of the NCAA tournament, but that doesn't mean surprising developments didn't surface.

An opponent of each team during the 2016-17 season, Nebraska basketball coach Tim Miles on Monday broke down top-seeded Kansas' upcoming match-up with fourth-seeded Purdue, set for approximately 8:39 p.m. Thursday in the Sweet 16 in Kansas City, Mo. By Matt Tait

Three months after a 16-year-old girl was reportedly raped at the University of Kansas men's basketball team dorm, the case remains under police investigation with no new details being released.
March 2017
Previous Next