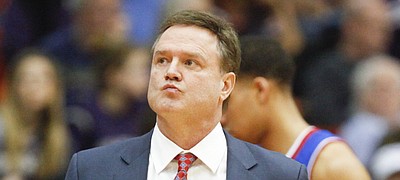 As badly as Kansas University's basketball team played down the stretch against TCU, the bottom line is the Jayhawks survived Wednesday and remain in sole possession of first place in the Big 12 Conference.

Watching Frank Mason play basketball prompts a question to which no answer easily comes to mind: Is there a sport he could not excel at had he grown up playing it?

Kansas University and Adidas are at it again. The KU athletic department on Thursday unveiled a new-look uniform that the KU men's basketball team will wear for its home match-up with Texas on Feb. 28.
By J-W Staff Report
January 29, 2015 12:07 p.m.

TCU had a buzzer-beating shot that could have sent the game into overtime. It bounced out and Kansas University held on for a 64-61 victory. But it wasn't the hurried 30-footer launched by Charles Hill Jr. that the Horned Frogs rued afterward. By Tom Keegan

Let's see, sophomore Brannen Greene contributed five points, a big blocked shot and a rebound in the final 32 seconds of Kansas University's 64-61 Wednesday night victory against TCU, so why did it seem as if every time he turned around he was doing something wrong? By Tom Keegan

Bill Self was squirming, and seething, on Kansas University's basketball bench Wednesday night as his first-place squad suffered a meltdown of near epic proportions against last-place TCU in Wilkerson-Greines Athletic Center. "We were awful," Self, KU's coach, said after the (17-3, 6-1) Jayhawks, who led by 11 points with 3:35 to play, eked out a 64-61 victory over the last-place (14-6 1-6) Horned Frogs. By Gary Bedore

Kansas University basketball coach Bill Self said on his Hawk Talk radio show he's not yet put a lot of thought into the Jayhawks' upcoming appearance in the World University Games in July, in South Korea.

V.J. King, a 6-7 junior small forward from Paul VI High in Fairfax, Virginia, tells Rivals.com he has heard from college basketball coaches from Kansas University, Kentucky, UConn, Florida, North Carolina, Louisville, Maryland and North Carolina State.

Wednesday's game at TCU featured some unusual lineups and all kinds of fouls and ebbs and flows, but the No. 9-ranked Kansas University men's basketball team did enough good things at enough key moments to hold off the Horned Frogs, 64-61, in Fort Worth, Texas.

Carlton Bragg, a 6-foot-9 power forward from Cleveland's Villa Angela St. Joseph High was one of 24 players named to the 2015 McDonald's All-American team, which was released Wednesday evening.
To some, it seems like only yesterday TCU's unranked, sub-.500 basketball team defeated No. 5-rated Kansas University, 62-55, on the Horned Frogs' campus.
If statistics were kept on smiles per game, fun-loving Devonté Graham would lead Kansas University's basketball team — if not all of college hoops. By Gary Bedore
Wichita State guard Conner Frankamp was arrested over the weekend on suspicion of DUI, authorities said Monday.
By Associated Press
January 26, 2015 10:07 a.m.

Back-to-back productive outings from Kansas University freshman backup power forward Cliff Alexander earned him Big 12 Newcomer of the Week honors, the conference announced Monday morning.
By J-W Staff Reports
January 26, 2015 9:42 a.m.

Watching Frank Mason and Devonté Graham play together for the final 10:34 Saturday, turning a one-point lead over Texas into a 75-62 Kansas University victory in the Erwin Center felt a little like watching the Royals' stress-free bullpen work. By Tom Keegan
January 2015
Previous Next