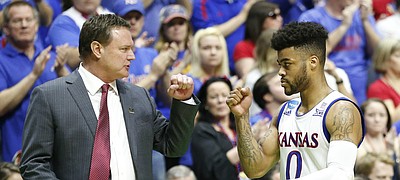 When Kansas basketball assistant coach Kurtis Townsend first got wind of the idea that KU coach Bill Self wanted to tinker with a four-guard lineup for the 2016-17 season, Townsend was hardly surprised. By Matt Tait

Now that Kansas basketball coach Bill Self has been elected president (of the National Association of College Basketball Coaches) what exactly does that mean to the state of college basketball?

A member of the board of directors since 2007, Kansas basketball coach Bill Self is set to begin his two-year stint as president of the National Association of Basketball Coaches, the NABC announced Tuesday. By Matt Tait

Nobody can dispute the identity of the greatest champion in the history of team sports. Bill Russell won 11 NBA titles in 13 seasons with the Boston Celtics.

Last month, 6-foot-5, 180-pound shooting guard Chris Teahan announced that he would join the Kansas basketball team as a walk-on this summer. With only graduation and a couple of weeks of waiting standing between him and his dream school, the former Rockhurst High standout is ready to roll. By Matt Tait
Stephen F. Austin site, TheSawmill.com, reported Thursday that the school is one of several programs considering adding Kansas big man Dwight Coleby. By Matt Tait

It's that time of year again when a national media outlet picks Kansas No. 1 in its way-too-early college basketball top 25.

Big man's departure clears up KU's scholarship questions
Kansas forward Dwight Coleby, who graduated from KU on Sunday, announced Monday evening that he will be leaving Lawrence and seeking playing time elsewhere.By Matt Tait

Kansas forward Dwight Coleby's walk down Campanile Hill on Sunday during KU's graduation festivities made his status as a college graduate official. And that makes his immediate future a little more interesting. By Matt Tait

KU seniors Frank Mason, Dwight Coleby and one surprise from the not-too-distant past will join hundreds of other students for graduation ceremonies Sunday on the KU campus. By Matt Tait

An ankle injury that plagued him during portions of Thursday's on-court competition at the NBA combine in Chicago forced Kansas junior Svi Mykhailiuk to withdraw from the remainder of the week's combine workouts. But KU coach Bill Self said Mykhailiuk's absence during Friday's drills and scrimmages should not hurt the guard's stock too much. By Matt Tait

Moments after calling this summer's 2017 NBA Draft "point guard heavy," former Duke standout and current ESPN analyst Jay Williams pinpointed former Kansas star Frank Mason III as one of the players he most was looking forward to watching during Thursday's 5-on-5 scrimmages at the pre-draft combine in Chicago.

Count former Kansas big man Landen Lucas in the camp that believes reigning national player of the year Frank Mason III is well on his way to keeping his basketball mojo going. By Matt Tait

Kansas basketball coach Bill Self understandably was delighted to welcome not one, but two talented Lawson brothers into the program from native Memphis. Try to imagine the extent of euphoria a high school coach would experience if he could do the same and welcome a pair of Lawson brothers into his basketball program.

Although the former William & Mary forward himself both confirmed and explained why he was leaving to join the Kansas basketball program last week, the Jayhawks made it official on Monday with a news release announcing the addition of graduate transfer Jack Whitman. By Matt Tait
May 2017
April 2017
Previous Next