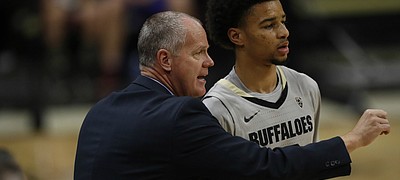 While memories of his days as a player at Kansas in the early 1980s no doubt will come flooding back to Colorado coach Tad Boyle this weekend, the top priority for the 10th-year CU coach is bringing a competitive team to Allen Fieldhouse. By Matt Tait

With the Jayhawks' Swiss army knife, Marcus Garrett, defending Tyler Bey and an ever-improving Kansas defense ready to take CU's leading scorer and his teammates out of their comfort zones, No. 2 KU often unsettled No. 20 Colorado in a 72-58 victory.

Saturday's opponent might have entered Allen Fieldhouse representing a new conference and with a shiny Top 25 ranking next to its name. But, in many ways, it was still the same old result between Kansas and Colorado. Matt Tait

Although things did not go well for his team on the floor during Saturday's 72-58 loss to No. 2 Kansas, Colorado coach Tad Boyle's return to his alma mater was still something to remember.
Behind another strong defensive showing, Kansas was victorious in a top-20 matchup Saturday night at Allen Fieldhouse.
December 7, 2019 8:04 p.m.

Follow along during the game with our crew and the KUsports.com community.

A look at some of the keys for second-ranked Kansas in tonight's Top 20 clash with Colorado at Allen Fieldhouse. By Matt Tait

Although there were signs of life in a couple of games leading up to Maui, Kansas junior Silvio De Sousa found himself back on the bench struggling with confidence during the Jayhawks' most recent games. By Matt Tait

Every year for the past three-plus decades, the eight coaches competing at the Maui Invitational have expressed their gratitude over the opportunity to take a team to Maui. And this year certainly was no different. By Matt Tait

Kansas basketball coach Bill Self has one simple rule when it comes to ball handlers and this season's Jayhawks.By Matt Tait

Lahaina, Hawaii — The plan was for junior defensive stopper Marcus Garrett to spend most of Wednesday's Maui Invitational title game guarding Dayton big man Obi Toppin. But then things went horribly wrong. By Matt Tait

Lahaina, Hawaii — When KU's Udoka Azubuike and Devon Dotson were handed the Maui Invitational MVP trophy on the floor following the Jayhawks' 90-84 overtime win over Dayton on Wednesday night, Azubuike quickly lifted it high over his head. Matt Tait

Lahaina, Hawaii — The goal of any team, entering any tournament, is to be the one hoisting the hardware on the final day.

It takes a big-time player to win championship games. And it helps even more if a team has two such players. That is exactly why No. 4 Kansas won its third Maui Invitational with a 90-84 overtime win over Dayton in the championship game Wednesday at the Lahaina Civic Center.
November 27, 2019 6:31 p.m.

Follow along during the game with our crew and the KUsports.com community.
December 2019
November 2019
Previous Next