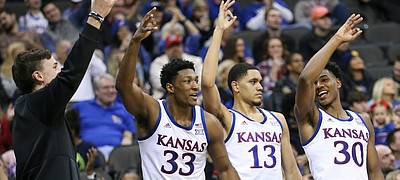 The NCAA Division I Council on Wednesday afternoon identified Nov. 25, the day before Thanksgiving, as the official start date for the 2020-21 college basketball season. By Matt Tait

The NBA's board of governors and general managers will discuss a plan later this week to push the NBA draft back to Nov. 18, according to a memo sent to teams Wednesday.
By Tim Reynolds, The Associated Press
September 10, 2020 11:15 a.m.

Former Kansas All-American Thomas Robinson is bringing an elite basketball experience for children ages 9-17 to the Sunflower State later this month. By Matt Tait

Former Jayhawk Devonte' Graham's strong year continued Friday night, when he outlasted all competitors to win the Rock Chalk Roundball Classic's "Shooting for the Stars" 3-point contest. By Matt Tait

With the 2020-21 Kansas basketball team now into its fourth week of on-campus training this offseason, KU coach Bill Self has identified the team's increased camaraderie as one of the biggest advantages of the current climate. By Matt Tait

Forced to adjust because of the COVID-19 pandemic limiting crowd sizes, Brian Hanni gathered an unprecedented group of former KU sharp-shooters to compete in this year's Rock Chalk Roundball Classic. By Matt Tait

University of Kansas junior David McCormack has been named to KU's Task Force on Community-Responsive Public Safety, joining more than 20 other students, faculty and staff members from across KU's campus. By Matt Tait

In need of a new nonconference opponent for the 2020-21 season, Bill Self and the Kansas basketball team found one with the help of a former Self assistant.

Kansas basketball coach Bill Self does not believe that the delays brought about by the COVID-19 pandemic have forced him into pushing his team more at the start of workouts this week. By Matt Tait

The Kansas men's basketball program picked up another commitment in the 2021 recruiting class on Friday night, when four-star forward KJ Adams picked the Jayhawks. By Matt Tait

Men's and women's college basketball coaches are proposing the NCAA eliminate standardized testing requirements from initial-eligibility standards, calling exams such as the SAT and ACT "longstanding forces of institutional racism."
By Dave Skretta, The Associated Press
July 16, 2020 2:46 p.m.

Big 12 football still in wait-and-see mode
The Kansas men's basketball program is responding to the recent rise in COVID-19 cases by pushing its return-to-campus date back for the second time in three weeks, KU coach Bill Self told the Journal-World on Wednesday. By Matt Tait

Kentucky's John Calipari, KU coach Bill Self and more than 30 other college basketball coaches announced Monday the creation of a minority leadership initiative that carries the name of former KU pioneer John McLendon. By Matt Tait

In the aftermath of its recent merger with Sprint, T-Mobile announced this week that the venue known as Sprint Center since 2007 now will be called T-Mobile Center through at least 2032.
During the past couple of weeks, future Jayhawks Devin Neal, of Lawrence, and Keon Coleman, of Opelousas, La., have connected a few times on the phone to lay the foundation for a relationship they both hope will bring a lot of points, production and excitement to Lawrence in the years to come. By Matt Tait
September 2020
August 2020
July 2020
Previous Next