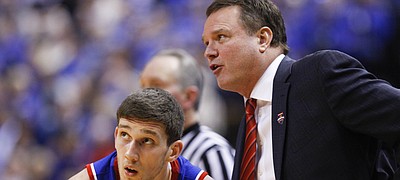 The question tossed to Bill Self served as a perfect set-up for a comical one-liner. By Gary Bedore

After suffering a 32-point loss to Kentucky on Tuesday night, then getting a day off Wednesday, Kansas University's basketball players figured to be itching to return to the gym and practice with passion on Thursday.

Kansas University freshman guard Devonté Graham suffered a sprained right shoulder in Tuesday's game against Kentucky, coach Bill Self said Friday.
Self not pleased with Thursday's workout; today's much better
Bill Self had his Jayhawks run through a 6 a.m. practice Friday.

Scot Pollard led a UPS film crew through an Allen Fieldhouse hallway to the current Kansas University basketball locker room.

Kansas University's basketball players and coaches, who hoped to be sleeping in their own beds between 1 and 2 a.m., Wednesday, instead reclined at Topeka Regional airport shortly before the sun came up.
So much has changed from last season for the Kansas University basketball team, but two games into the season, one thing remains the same: The Jayhawks don't play at an elite level without a healthy Joel Embiid protecting the paint.
A mechanical problem with KU's plane had the Jayhawks spending the night in Indianapolis after the 32-point loss to Kentucky. KU did not arrive back in Lawrence until 6:25 a.m. Wednesday.

Kentucky coach John Calipari stuck to his two-platoon system almost exclusively throughout the first half and started with it in the second half of Tuesday night's 72-40 victory against Kansas University in Bankers Life Fieldhouse. By Tom Keegan
Florida forward Dorian Finney-Smith, who suffered hairline fractures in the index and middle fingers of his left hand after a fall against William and Mary, is attempting to play with a cast protecting the injured fingers. 

Admitting the sample size is "ridiculously small," ESPN's Chad Ford nonetheless issued some grades for various NBA prospects after speaking with some scouts over the weekend.
Kentucky coach John Calipari has said he has not been running a platoon system "to be a genius." Proof of that is the fact other coaches have used the same strategy throughout the years.
Brandon Ingram, a 6-foot-8 senior small forward from Kinston (North Carolina) High, who has both Kansas University and Kentucky on his list of schools, will announce his college choice in the coming days or weeks, his high school coach tells zagsblog.com.

A team meeting involving Kansas University's basketball players probably is not necessary in the wake of Tuesday's 32-point loss to Kentucky. The Jayhawks spoke their minds in the locker room after the game. By Gary Bedore

Danny Manning's initial Wake Forest team (2-0) thrashed Tulane, 71-49, on Monday in New Orleans.
November 2014
October 2014
Previous Next