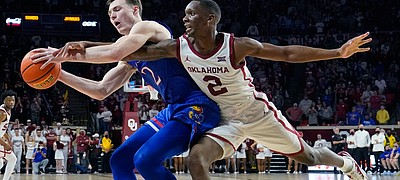 Most years, protecting one's home court is a major component of being in the Big 12 men's basketball title race all the way to the end. But this season, perhaps more than ever, winning away from home could be a prerequisite for simply keeping pace. By Matt Tait

University of Kansas basketball player Jalen Wilson has been granted diversion in a case where he is charged with a DUI in Douglas County District Court, his attorney said.
Former Kansas center Joel Embiid tied his career-high with 50 points in just 27 minutes on Wednesday night, leading a dominant third quarter that carried the Philadelphia 76ers to a 123-110 victory over the Orlando Magic.
By Aaron Bracy, The Associated Press
January 20, 2022 8:57 a.m.

After leaving the game for nearly 8 minutes in the first half with a wrist injury, KU senior Ochai Agbaji returned and found his footing just in time to help the Jayhawks' escape Oklahoma with a 67-64 victory. By Matt Tait

Kansas basketball coach Bill Self has never been a big fan of intentionally fouling with his team up by three late in games. But on Tuesday night, in the seventh-ranked Jayhawks' 67-64 road win over Oklahoma, Self had two opportunities to do so and planned to take them both. By Matt Tait

Norman, Okla. — With Remy Martin back in the rotation from a knee injury and Ochai Agbaji missing eight minutes of game action in the first half after a wrist injury, the 7th-ranked Kansas men's basketball team slipped past Oklahoma 67-64 on Tuesday night at Lloyd Noble Center.

A look at some of the keys for 7th-ranked Kansas in Tuesday's road showdown with Oklahoma at 6 p.m. on ESPN. By Matt Tait

Already well established as KU's top scoring option, Kansas senior Ochai Agbaji earned Big 12 Player of the Week honors on Monday. By Matt Tait

After coming off the bench in his first eight games of the season, Kansas forward Jalen Wilson's numbers have taken off during his recent stretch of four starts in five games with senior guard Remy Martin out with an injury. By Matt Tait

In the aftermath of Saturday's 85-59 win over West Virginia at Allen Fieldhouse, Kansas basketball coach Bill Self provided a passionate update on the status of senior guard Remy Martin, who missed his third game of January because of a sore right knee. By Matt Tait

After grinding their way through the start of the Big 12 Conference season, the ninth-ranked Kansas Jayhawks rediscovered pure, unrelenting fun in the second half of Saturday's 85-59 win over West Virginia at Allen Fieldhouse. By Matt Tait

A look at some of the keys for ninth-ranked Kansas in Saturday's home matchup with West Virginia at 1 p.m. on CBS at Allen Fieldhouse. By Matt Tait

Kansas basketball coach Bill Self said Friday that senior guard Remy Martin remains "day to day or week to week" as he continues to sit out of practice with a sore right knee. By Matt Tait

The Big 12 Conference on Thursday announced the make-up date for the Kansas men's basketball program's home game with TCU. KU will play host to the Horned Frogs at 7 p.m. on March 3. The game will be televised by Big 12 Now/ESPN+. By Matt Tait

Kansas freshman KJ Adams played just 10 minutes total — doubling his season average through the first 14 games — but did enough Iowa State on Tuesday night to make using him in that role again a viable option for the Jayhawks moving forward. By Matt Tait
January 2022
Previous Next