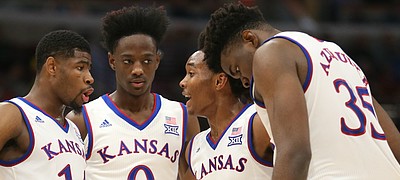 A look at some of the keys for fourth-ranked Kansas in Friday's matchup with South Dakota State at Allen Fieldhouse. By Matt Tait

A new partnership between the University of Kansas Student Senate and Kansas Athletics aims to make games at Allen Fieldhouse more accessible to traditionally underserved students.
November 17, 2017 midnight

The most significant number produced in Kansas' 65-61 victory over Kentucky in the Champions Classic leapt off the box score as if it were a typo. Udoka Azubuike, a broad-shouldered 7-footer who carries 280 pounds, played 34 minutes and did it against fast and quick Kentucky.

Jayhawks preparing to play without their freshman forward Friday night
The Kansas men's basketball team went into Thursday's practice preparing to play Friday's game against South Dakota State without Billy Preston. By Matt Tait

Quentin Grimes, a five-star guard ranked No. 11 by Rivals.com in the Class of 2018, announced his commitment to Kansas at a ceremony at College Park High in The Woodlands, Texas on Wednesday, Nov. 15, 2017. Shortly thereafter, he sent his national letter of intent to the KU basketball offices to make his commitment official. By Matt Tait

There's good news for Kansas City-area Kansas basketball fans who in recent years have struggled to see a handful of early-season KU games televised on The Jayhawk Network. By Matt Tait

On a night when the Kansas men's basketball team shot 35 percent from the floor and won, the one Jayhawk who finished with a field goal percentage above 50 percent had just five attempts. By Matt Tait

Local law enforcement agencies did not take any reports over the weekend of a vehicle accident involving University of Kansas basketball player Billy Preston.
November 15, 2017 10:59 a.m.

Sometime in the hours before his 2:30 a.m. snack of popcorn ended up on his beard — and Devonte' Graham's Snapchat story — Malik Newman was hitting a crucial shot in KU's 65-61 win over Kentucky. Yet it was the play before that encapsulated the difference in the game. By Scott Chasen

Shortly after his team survived a scare from seventh-ranked Kentucky despite playing basically just six guys, Kansas coach Bill Self offered a little more information into the traffic incident that kept freshman forward Billy Preston in street clothes. By Matt Tait

Just about everything visual about Tuesday's Champions Classic clash between No. 4 Kansas and No. 7 Kentucky at United Center showed that the Wildcats had won. That is, unless you were looking at the scoreboard. While John Calipari's latest crop of young Kentucky Wildcats made the bigger, brighter and louder plays throughout the game's first 30 minutes, it was the Kansas experience that closed and led the Jayhawks to a 65-61 victory. By Matt Tait
November 14, 2017 11:32 p.m.

Udoka Azubuike and Mitch Lightfoot. That's it as far as front-court players go for Kansas unless and until athletic department administrators are satisfied that a "clearer financial picture specific to the vehicle," freshman Billy Preston was driving in a one-car accident Saturday morning does not impair the talented freshman forward's eligibility. By Tom Keegan

College basketball's two winningest programs squared off Tuesday night at Chicago's United Center, and though the game footage won't be headed to the hall of fame, blue bloods Kansas and Kentucky provided some early season drama in the nightcap of the Champions Classic. Coach Bill Self's Jayhawks prevailed, 65-61, against John Calipari's Wildcats in a battle of top-five teams that wasn't decided until the final minute.

For the second consecutive game, Kansas freshman Billy Preston did not suit up for the Jayhawks during Tuesday's Champions Classic clash with Kentucky at United Center. By Matt Tait

Chicago — For the second consecutive game, Kansas freshman Billy Preston did not suit up for the Jayhawks during Tuesday's Champions Classic clash with Kentucky at United Center.
November 2017
Previous Next