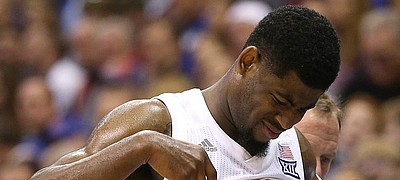 When three Arizona State players and Sun Devils coach Bobby Hurley stepped into the Allen Fieldhouse media room to field questions about their 95-85 victory over No. 2 Kansas on Sunday afternoon, three of the four were wearing ASU warm-up shirts that simply read, "Guard U" on the front of them. By Matt Tait
With no Josh Jackson on the scene to come to the defensive rescue of blown-by teammates and no Landen Lucas to lend timely help, Kansas has more defensive vulnerabilities than is typically the case. By Tom Keegan

Back-to-back men's basketball losses don't happen all that often at Kansas, so when they do the aftermath often includes some harsh words and serious reality checks. By Matt Tait

The nation's No. 2-ranked team, the Kansas Jayhawks lost their second game in a row Sunday afternoon, as No. 16 Arizona State easily survived a 13-point first-half deficit to shoot its way to a 95-85 victory at Allen Fieldhouse. By Benton Smith

A look at some of the keys for second-ranked Kansas in Sunday's Top 20 showdown with Arizona State at Allen Fieldhouse. By Matt Tait

At 7-feet tall and 280 pounds, he's a man-child in many ways. Looking at him towering above the competition, it's easy to forget that Udoka Azubuike just turned 18 in September. By Tom Keegan

Kansas coach Bill Self is in search of a dog. But not because he lost the family pet or is trying to get rid of pesky cats in his neighborhood. By Matt Tait

Sometimes in sports, coaches and players spend hours studying an opponent and preparing for game day only to see things go south when game time finally arrives. And then there are moments like Wednesday night, when all you need is a phone call. By Matt Tait

For the second game in a row, Lagerald Vick in the high post proved to be a massive story line for the Kansas men's basketball team. But this time, instead of the junior guard giving KU's opponent fits, it almost looked as if Washington wanted Vick to be there. That was the recipe all night for the upset-minded Huskies, who led No. 2 Kansas for 28:53 and ran away at the end, 74-65, at Sprint Center. By Matt Tait

The game drew inside the three-minute mark and Kansas trailed by double digits. Malik Newman had the ball alone in the left corner with all the time in the world to bury a 3-pointer and ignite the comeback. Newman didn't cash in and his struggles continued. By Tom Keegan

Foul trouble on the Kansas basketball team's two big men once again forced Clay Young into action during the first half on Wednesday night at Sprint Center. This time, however, Young's contribution did not lead to senior point guard Devonte' Graham calling him the game's MVP. Instead, it led to the first Kansas loss of the season, a 74-65 dud at the hands of visiting Washington. By Matt Tait

Huskies knock off No. 2 KU in K.C.
A career night from Kansas junior wing Lagerald Vick couldn't keep the No. 2-ranked Jayhawks undefeated. Washington almost dared Vick to take over at times, and he responded by scoring a personal-best 28 points on 12-for-23 shooting. However, the Huskies held most of his teammates in check, enabling them to knock off KU, 74-65, Wednesday night at Sprint Center. By Benton Smith

A look at some of the keys for second-ranked Kansas in tonight's Jayhawk Shootout showdown with Washington at Sprint Center in Kansas City, Mo. By Matt Tait

It's extremely rare for a college basketball team to play the same team twice in a row. And even though that will not be exactly the case at 8 p.m. Wednesday, when No. 2 Kansas faces Washington at Sprint Center in the Jayhawk Shootout in Kansas City, Mo., the unbeaten Jayhawks will be getting the next best thing.By Matt Tait

Knowing precisely what's highlighted with a yellow marker in a scouting report doesn't always require reading it. Sometimes all you have to do is watch what happens after a player checks into the game.
December 2017
November 2017
Previous Next