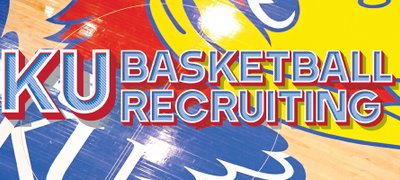 Cheick Diallo, a 6-foot-9 senior center from Our Savior New American High in Centereach, New York, is on Kansas University's campus for an official recruiting visit.

The agony of Kansas University Basketball Boot Camp 2014 is being captured daily by junior forward/unofficial team photographer Jamari Traylor, who has been posting "Dead Man of the Day" pictures on his Instagram account following 6-7 a.m. conditioning drills in Allen Fieldhouse. By Gary Bedore
Former Kansas University point guard Tyshawn Taylor has signed a contract with Dynamo Moscow of the Russian Superleague. Terms were not disclosed.
By J-W Staff Reports
September 17, 2014 10:33 p.m.

Cheick Diallo, a 6-foot-9 senior center from Our Savior New American High in Centereach, New York, will meet with Kentucky coach John Calipari today, a day before Diallo begins his weekend recruiting visit to Kansas University, Zagsblog.com reports.

Kansas University basketball coach Bill Self and assistant Kurtis Townsend held an in-home visit with Las Vegas Bishop Gorman High senior Stephen Zimmerman on Monday night. By Gary Bedore

At least two Kansas University basketball players were in the best of spirits Monday afternoon after surviving the first of nine or 10 Boot Camp workouts as well as a class or two on campus. The two weeks of coach Bill Self's training camp precede the 2014-15 season. Practice begins on Oct. 3. Late Night in the Phog is Oct. 10. By Gary Bedore

Boot Camp, which for KU's current players starts at 6 a.m. today in Allen Fieldhouse and runs for two weeks, consists of an hour's worth of sprints, backboard touches, defensive drills and slides — all without use of a basketball. By Gary Bedore

Former University of Arkansas forward Hunter Mickelson, who hadn't played in a real basketball game — with uniforms, fans and referees — since an SEC Tournament loss to Vanderbilt on March 14, 2013, enthusiastically returned to the court in August. By Gary Bedore

Carlton Bragg, a 6-foot-9, 225-pound senior basketball power forward from Villa Angela St. Joseph High in Cleveland, who is ranked No. 14 in the Class of 2015 by Rivals.com, had a great in-home visit with Kansas University coach Bill Self on Thursday, Bragg's mentor, Michael Graves, told Zagsblog.com. By Gary Bedore

Malik Newman, a 6-foot-3 senior combo guard from Callaway High in Jackson, Mississippi, has had in-home visits with Kansas University coach Bill Self, Kentucky's John Calipari and North Carolina State's Mark Gottfried so far this week. UConn and Texas A&M's coaches are also expected to visit with Newman, Rivals.com's No. 3-rated player, in coming days. By Gary Bedore
Kansas University freshman Sviatoslav Mykhailiuk's command of the English language most certainly will improve in the two school years he's likely to spend in Lawrence.
Ukrainian guard says 'everything is perfect' at KU
Kansas University freshman guard Sviatoslav Mykhailiuk of Ukraine, who arrived in Lawrence at 5:30 p.m., Monday, met the media on Wednesday morning in Allen Fieldhouse. The 17-year-old Mykhailiuk, who is listed as 6-foot-8, 195, is coming off a summer in which he was MVP for Ukraine's Under 18 European championship team and also played with much older players for Ukraine in the FIBA World Cup.

The Kansas University athletics department is rolling out the ticket pricing plan for the "Celebrating 60 Years" event on James Naismith Court on Oct. 27, as some of KU basketball's all-time great coaches Ted Owens, Larry Brown, Roy Williams and Bill Self unite for a special event inside Allen Fieldhouse. By Gary Bedore
By J-W Staff Reports
September 9, 2014 10:59 a.m.

Kansas University basketball freshman Sviatoslav Mykhailiuk flew out of an airport in Ukraine about 10 p.m. Central time on Sunday and, after a 19 1/2-hour journey that had connecting flights in France and Minnesota, pulled into Lawrence about 5:30 p.m Monday. By Gary Bedore

Kansas University basketball coach Bill Self didn't sing a duet with college buddy/country icon Garth Brooks on Friday night at Allstate Arena in Rosemont, Illinois. Self did sit in the second row, however, with his wife, Cindy, and enjoy the start of superstar Brooks' World Tour. By Gary Bedore
September 2014
August 2014
July 2014
June 2014
Previous Next