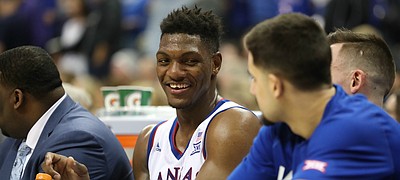 Silvio De Sousa remains a member of the Kansas basketball program, but will he ever play another game for the Jayhawks? Probably not. By Tom Keegan

After two seasons and 47 games as a Kansas Jayhawk, sophomore center Udoka Azubuike is at least curious to hear what NBA evaluators have to say about his game. By Matt Tait

Count KU basketball coach Bill Self and athletic director Sheahon Zenger among those also not thrilled with the description of the University of Kansas as a "victim" in the widening college basketball scandal.

When the updated Rivals.com recruiting rankings came out earlier this week, one future Jayhawk experienced of the biggest jumps up the rankings of any KU player in recent memory. By Matt Tait
With KU target Romeo Langford sidelined because of a minor injury he suffered at last week's Jordan Brand Classic, KU signees Quentin Grimes and David McCormack took center stage — from the Kansas perspective, anyway — at Friday's showcase game at the Nike Hoop Summit in Portland. By Matt Tait

Even those with courtroom experience in cases involving NCAA corruption are reserving judgment as to what the ramifications will be for the Kansas basketball program from a federal indictment released Tuesday. By Matt Tait

University of Kansas Chancellor Douglas Girod said Friday that he doesn't plan to seek an independent investigation of the Kansas athletics department in the wake of a growing college basketball scandal.

A spokesman for Kansas Athletics Inc. stopped short Thursday of saying the department would support a third-party, public review of its recruiting practices and policies. University of Kansas Chancellor Douglas Girod has yet to answer a question about whether he thinks an independent review would be appropriate in the wake of a federal indictment that alleges a family member and a guardian of two KU basketball players are involved in a pay-to-play scheme orchestrated by an executive with Adidas, which is a partner of the KU Athletic department.

Although the involvement of guardian Fenny Falmagne and KU forward Silvio De Sousa in a federal investigation into corruption in college basketball remains up in the air in the eyes of the law, Falmagne maintains that neither he nor De Sousa have done anything wrong. By Matt Tait

The Kansas athletic department finds itself in an interesting pickle, having negotiated a 14-year, $191 million sponsorship and apparel agreement scheduled to go into effect July 1, 2019.

Finally, the ominous, sneaker-shaped cloud that has hovered over college basketball for nearly six months settled over Lawrence in an under-the-chin way on Tuesday, and it doesn't seem as if it's in any hurry to move on down the road.

At KU's annual basketball banquet on Tuesday evening, University of Kansas coach Bill Self responded to Tuesday's news that a federal indictment alleged that the families or guardians of at least two KU basketball players were illegally paid by a shoe company executive to attend the school. By Matt Tait

The FBI is now alleging in a federal indictment that an employee of an apparel company illegally paid the family of a University of Kansas basketball player.

For the first four months of his football off-season, Kansas tight end James Sosinski experienced what he described as almost no football-related activities. Preoccupied from December through March with his role as a walk-on with KU basketball, Sosinski didn't appear too rusty upon his April return to the gridiron, though. By Benton Smith

First-year Washburn Ichabods basketball coach Brett Ballard, a former KU player and assistant coach under both Roy Williams and Bill Self, has been named the Kansas Basketball Coaches Association College Four-Year Men's College Coach of the Year as announced by the organization.
By J-W Staff Report
April 9, 2018 1:31 p.m.
April 2018
Previous Next