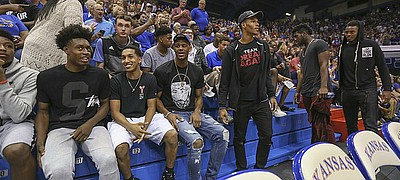 With November fast approaching and a decision from five-star Class of 2017 point guard Collin Sexton expected soon, the No. 7 ranked player in the country, according to Rivals.com, has pinpointed a date for his decision. By Matt Tait

Kansas freshman center Udoka Azubuike boils the game of basketball down to six words: See the ball, dunk the ball.

One day after losing Class of 2017 forward Deng Gak to the University of Miami, the Kansas basketball program learned that a top-tier Class of 2018 prospect had chosen to go elsewhere, as well. By Matt Tait

Josh Jackson says one of his talented, experienced teammates has improved so much that he "will surprise a lot of people."

Landen Lucas was 11. Frank Mason III was 10. Devonte' Graham was 9. And Josh Jackson was only 7. While all of those current Kansas basketball players have grown up a lot since 2004, KU's Big 12 title streak has grown with them. By Matt Tait

Could it be time for a catchy nickname for KU's dynamic backcourt duo of Frank Mason III and Devonte' Graham? Kansas coach Bill Self took a stab at coming up with one Tuesday at Big 12 Media Day in Kansas City. By Matt Tait

Eric Bossi, of Rivals.com, on Tuesday morning Tweeted that Kansas target Deng Gak, a 6-foot-9, four-star forward from Blairstown, New Jersey, had committed to Miami. By Matt Tait

Kansas freshman Josh Jackson never hid the fact that one of the biggest reasons he chose to play his college basketball in Lawrence was the opportunity to be coached — and pushed — by KU coach Bill Self. By Matt Tait

The Kansas men's basketball program definitely put its best foot forward during a weekend visit from Class of 2017 point guard Trae Young. By Matt Tait

After practicing patience during his first season as a Jayhawk, Kansas sophomore Lagerald Vick is determined to carve out a role for himself and his teammates have taken notice. By Evan Riggs
By Evan Riggs
October 22, 2016 1:03 p.m.

The Kansas men's basketball team's pursuit of some of the top talent in the 2017 class picks up some serious steam this weekend, when Trae Young, of Norman, Oklahoma, makes his official visit to Lawrence. By Matt Tait

The Karl Malone Award on Thursday revealed that KU sophomore Carlton Bragg Jr., was one of 20 players named to the award's watch list for the 2016-17 season. By Matt Tait

As usual, college basketball's coaches have a lot of respect for Bill Self's Kansas team this year. In fact, those polled by USA Today enter the season thinking more highly of only one other team in the nation.

Whether it was Bill Self's comedy, Sviatoslav Mykhailiuk's singing or all of the photo shoots, autograph sessions and behind-the-scenes exposure more than 400 women got to their favorite college basketball team, Wednesday night's 7th annual Ladies Night Out with Kansas basketball was a rousing success.By Matt Tait

A day after seeing teammate Frank Mason named to the Bob Cousy Award watch list, Kansas junior Devonte' Graham found his name on a similar list. By Matt Tait
October 2016
September 2016
Previous Next