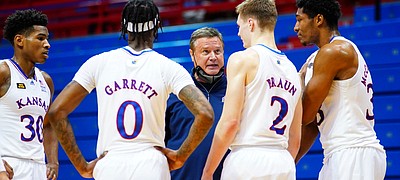 The Kansas men's basketball team's Saturday home game with Iowa State has been postponed because of COVID-19 protocol issues within the ISU program. By Matt Tait

A look at some of the keys for Kansas in the first of two showdowns this season with still-unbeaten and second-ranked Baylor in Waco, Texas. By Matt Tait

A look at some of the keys for sixth-ranked Kansas in Saturday's 1 p.m. home matchup with Iowa State at Allen Fieldhouse on Big 12 Now via ESPN+. By Matt Tait

A federal appeals court in New York on Friday upheld convictions against a sports marketer, an aspiring agent and a financial adviser in a college basketball scandal that spoiled the careers of several coaches.

Kansas freshman Bryce Thompson had surgery on his broken right index finger Thursday morning and a timetable for his return remains unknown. By Matt Tait

Kansas freshman Bryce Thompson returned to action during Tuesday's 75-70 loss at Oklahoma State after missing three games with a back injury.

A ferocious second-half rally that brought the Jayhawks back from 16 points down in the final 9:15 ended in fitting fashion, with an Oklahoma State dunk putting an exclamation point on a 75-70 Cowboys victory in Stillwater.
Follow along during the game with our crew and the KUsports.com community.
Like basketball coaches at all levels across the country, Kansas' Bill Self has adopted a more casual style on the sideline on game nights this season. Twelve games into the 2020-21 season, the verdict is in and it does not sound like the KU coach has any plans of bringing his suits and ties out of the closet in the near future. By Matt Tait

A look at some of the keys for sixth-ranked Kansas in tonight's 7 p.m. clash with Oklahoma State at Gallagher-Iba Arena in Stillwater, Okla., on Big 12 Now / ESPN+.By Matt Tait
Kansas basketball coach Bill Self on Monday said that freshman guard Bryce Thompson is on track to return to the lineup as originally expected and was "day to day" heading into Tuesday's road game at Oklahoma State. By Matt Tait

Kansas senior Marcus Garrett returned to action and delivered his typical stat-sheet-filling effort during Saturday's 63-59 win over by the sixth-ranked Jayhawks over Oklahoma at Allen Fieldhouse. By Matt Tait

Consider Kansas forward David McCormack having been in the right spot, both on the court and on the roster, to deliver one of the biggest shots of Saturday's 63-59 Kansas victory over Oklahoma. Matt Tait

There is something especially meaningful about finding a way to win on an off night in a conference as tough as the Big 12. That was the case for the Kansas men's basketball team during its 63-59 victory over Oklahoma on Saturday at Allen Fieldhouse.
January 9, 2021 5:45 p.m.

Follow along during the game with our crew and the KUsports.com community.
January 2021
December 2020
Previous Next