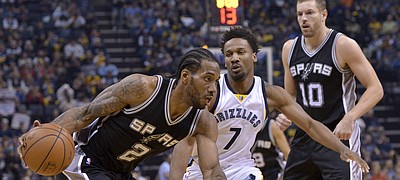 During his three seasons at Kansas, Wayne Selden had a tendency to play his biggest games on the biggest stages. The Memphis Grizzlies rookie is now doing the same thing in the NBA. By Matt Tait

Kansas coach Bill Self, along with dozens of other big time Division I basketball coaches, spent some time in Fort Worth, Texas, over the weekend, evaluating talent at the adidas Gauntlet. By Matt Tait

Attorney: Ex-fiancée's claims 'salacious and patently false'
Former Kansas center Jeff Withey, now in the NBA with the Utah Jazz, has been accused by his former fiancée of domestic violence, according to various media reports. TMZ.com first reported Kennedy Summers, a former Playboy Playmate, made the allegations to the Manhattan Beach Police Department earlier this week, when Withey was in Los Angeles for his team's playoff matchup with the L.A. Clippers.

Somewhere, sitting on a basketball team's bench or listed way down on a football squad's depth chart, or standing in front of a gymnasium door searching in vain for his name on the posted final roster is a man who had he just headed out to the track to start a life of turning left could have become a celebrated champion.

While the praise for one of the best seasons by a Kansas player in recent memory has started slowing down, the celebration of Frank Mason III's career and the impact he had on his teammates will be everlasting. By Matt Tait

The University of Kansas has received formal approval to ban guns from games at Allen Fieldhouse and Memorial Stadium. Metal detectors and guards would be put in place for men's basketball and football games, primarily, but also to any other sporting event expected to draw more than 5,000 to the facilities, under a proposal approved Wednesday morning by the Kansas Board of Regents governance committee.
April 19, 2017 11:22 a.m.

Through a co-initiative with his mother, Shelley, former KU center Landen Lucas has created the Landen Lucas Foundation – Sports for Life Fund, which, in both Lawrence and his hometown of Portland, will provide scholarships and financial support for young athletes who may not otherwise be able to participate. By Matt Tait

Josh Jackson clearly established himself as the best of the Kansas one-and-done players. Two-thirds of the one-and-dones were worth recruiting, another way of saying that 33 percent were net negatives. By Tom Keegan

A foregone conclusion became official Monday, as Kansas freshman star Josh Jackson announced he will enter the 2017 NBA Draft. By Matt Tait

Sixteen Jayhawks finished the season on NBA rosters and six are competing in the playoffs. Frank Mason III hopes to get drafted.

Never one to jump into the spotlight of college athletics, University of Kansas Chancellor Bernadette Gray-Little recently had and took the opportunity to celebrate one of the school's most cherished employees. By Matt Tait

Future Kansas forward Billy Preston was back on the all star circuit Friday night in the 16th annual Jordan Brand Classic in Brooklyn, where his West all-stars topped the East squad, 124-116, in comeback fashion. By Matt Tait

A Lawrence Municipal Court case involving traffic citations filed against University of Kansas basketball star Josh Jackson has been rescheduled.

University of Kansas basketball star Josh Jackson plans to file for a diversion in a case in which he allegedly vandalized a woman's car outside a Lawrence bar and threatened to beat her.
According to the Kansas basketball Twitter account, KU junior Svi Mykhailiuk has decided to enter the NBA Draft this season but will not hire an agent, leaving available the option to remove his name from consideration and return to school for his senior season. By Matt Tait
April 2017
March 2017
Previous Next