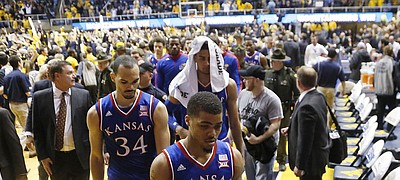 Kansas University basketball starters/team leaders Perry Ellis and Wayne Selden Jr. called a players-only meeting on Tuesday night at Jayhawker Towers in response to the Jayhawks' 70-63 loss to Kansas State on Monday in Manhattan.

The players met at Jayhawker Towers on Tuesday night to discuss recent developments in the Big 12 race.
By J-W Staff Report
February 26, 2015 2:41 p.m.

Kansas basketball and adidas are at it again, as the two on Thursday morning unveiled another new alternate uniform that the Jayhawks will wear during the 2015 postseason.
By J-W Staff Report
February 26, 2015 10:01 a.m.

Japan rap star/personal trainer/camp instructor Scott Novosel now can add "graphic novelist" to the growing list of job titles he has had since spending a year as a Kansas University basketball walk-on during the 1994-95 season. By Gary Bedore
Kansas State has been reprimanded by the Big 12 Conference.
By J-W Staff Report
February 25, 2015 5:47 p.m.

The much publicized court-storming contact between a Kansas State fan and Kansas University basketball player Jamari Traylor following the Wildcats' Big Monday victory in Manhattan has resulted in a citing for disorderly conduct.
By J-W Staff Report
February 25, 2015 4:24 p.m.

The Big 12 Conference on Wednesday morning announced that junior forward Perry Ellis and senior guard Christian Garrett had been named to the academic all-Big 12 first team.
By J-W Staff Report
February 25, 2015 11:02 a.m.

The tendency when it comes to basketball, more than most sports it seems, is to search for psychological reasons for a player's slump, an underdog's upset, even a team leading a race and falling back to the pack.
Thomas Robinson won't be a Brooklyn Net after all. The former Kansas Jayhawk, who was traded from the Portland Trail Blazers to the Denver Nuggets last week and then released by the Nuggets at his request, was claimed off waivers Tuesday by the Philadelphia 76ers.

KU coach credits Bruce Weber for trying to help him exit court
Kansas University basketball coach Bill Self was pinned against the Bramlage Coliseum scorer's table by a mob of Kansas State students, opposing coach Bruce Weber shoving folks out of the way to help his counterpart to safety.

The Big 12 Conference, both Kansas University and Kansas State University, as well as the K-State Police Department all have spent the early part of Tuesday reviewing the court-storming scene that turned wild following the K-State men's basketball team's 70-63 upset victory over No. 8 Kansas Monday night at Bramlage Coliseum.
By J-W Staff Report
February 24, 2015 10:31 a.m.

For Kansas State, Big Monday's Sunflower Showdown was a beautiful victory against favored in-state rival Kansas, 70-63. And then the students, taking advantage of lax security, stormed the court. In a blink, the scene of highly entertaining basketball theater grew ugly, unnecessarily dangerous. By Tom Keegan

With 4 league losses apiece, KU now tied with Iowa State for 1st
After losing two straight Big 12 road games — and three of the last four including Monday's 70-63 clunker at Kansas State — it's gut-check time for Kansas University's basketball team. By Gary Bedore

Ten Kansas University basketball games have started at 8 p.m., this season, including Monday's 70-63 road loss, at Kansas State.

Jaylen Brown, a 6-foot-7 senior forward from Wheeler High in Marietta, Georgia, has been concentrating on his high school season more than recruiting.
February 2015
Previous Next