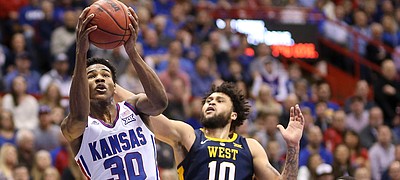 Riding a three-game winning streak and finally feeling good about the direction of the team and their play on the floor, the Jayhawks head into an off week with two monster games on the horizon. By Matt Tait

While there are nearly a dozen basketball-specific reasons for KU's recent 3-game win streak, the Jayhawks themselves say one of the biggest factors in this team's turnaround has been the fact that everything has just started to come together. By Matt Tait

The biggest win or loss for the University of Kansas basketball program may not come on the court this year. It may come down to whether KU leaders can convince NCAA officials that a man at the center of a pay-for-play college basketball recruiting scandal isn't a booster of KU.
By Dylan Lysen
February 16, 2019 11:06 p.m.

Decidedly, the Jayhawks' assertiveness on defense set them up for their third victory in a row. By Benton Smith

Saturday's 78-53, runaway victory by No. 14 Kansas over West Virginia at Allen Fieldhouse took place in front of nearly two dozen former KU greats, who chose the NBA's All-Star weekend as the perfect time to host a reunion in Lawrence.

Kansas sophomore K.J. Lawson entered Saturday's 78-53 victory by No. 14 Kansas over last-place West Virginia at Allen Fieldhouse averaging just 9 minutes per game and fighting to find opportunities to show what he could do. The Memphis transfer and older brother of KU's leading scorer, Dedric Lawson, got 24 of them during Saturday's victory and finished in a tie for the team lead with 15 points on 5-of-7 shooting in a game where every Jayhawk who played contributed something positive to the cause. By Matt Tait

In a conference season full of nail-biters, Saturday's thrashing was a nice refresher for the Kansas men's basketball team. No. 14 Kansas led for all but one minute, and even had a double-digit advantage over the final 30 minutes of the contest, during a 78-53 win over West Virginia Saturday afternoon at Allen Fieldhouse. The Jayhawks (20-6, 9-4 Big 12) avoided the season sweep of the Mountaineers (10-15, 2-10) after dropping a 65-64 decision in Morgantown on Jan. 19.
February 16, 2019 5:08 p.m.

A look at some of the keys for 14th-ranked Kansas in today's rematch with West Virginia at Allen Fieldhouse. By Matt Tait

With just 6 games to play in the Big 12 regular season, — 7 for Kansas State — the Kansas men's basketball team sits a game and a half behind the team that KU coach Bill Self says is in the "driver's seat" to win this year's league crown. By Matt Tait

The three men who were convicted of fraud for their schemes in a college basketball recruiting scandal — which included the University of Kansas program — recently asked a judge to sentence them to probation rather than jail, according to documents filed in the U.S. District Court Southern District of New York.
By Dylan Lysen
February 14, 2019 11:14 a.m.

Mere hours after turning in what Kansas coach Bill Self said "may have been his best game," freshman point guard Devon Dotson was named the national freshman of the week by CBS Sports and the U.S. Basketball Writers Association. By Matt Tait

The circumstances had to present themselves just right for Kansas sophomore K.J. Lawson to be in the position to hit two of the game's biggest shots during KU's recent road win over TCU. But once they did, there was not a player on the Kansas roster who questioned whether the sophomore wing would come through. By Matt Tait

Fort Worth, Texas — Freshman guard Ochai Agbaji was out of breath when he took his seat for the postgame meeting with the media following 14th-ranked Kansas' 82-77, overtime victory at TCU on Monday night. And, sure, dropping 20 points and grabbing 11 rebounds in 41 minutes probably had something to do with it. By Matt Tait

Fort Worth, Texas — Vernon Turner remembers, four or five years ago, when KU sophomore Marcus Garrett, then a freshman at Skyline High in Dallas, would warm up with the Skyline freshman team and scare the dickens out of the opponent on just about every occasion.

Fort Worth, Texas — Very little has come easy for the 14th-ranked Kansas basketball team since Big 12 Conference play began back in early January. And that theme continued Monday night at Schollmaier Arena, where the Jayhawks and TCU Horned Frogs needed overtime to settle KU's latest road challenge, an 82-77 win by Kansas on a wild night for both teams.
February 2019
Previous Next