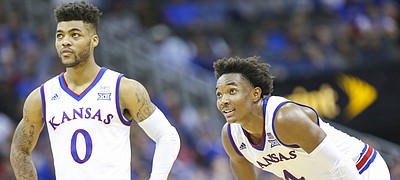 Rowing upstream with a defense that gave up way too many easy baskets and routinely got beat off the dribble, Kansas coach Bill Self a few weeks ago challenged guards Frank Mason III and Devonte' Graham to lead the charge to fix the KU defense. While all three will tell you that there remains plenty of room for growth and improvement, Self believes things have gotten better. By Matt Tait

A look at some of the keys for second-ranked Kansas in Saturday's home clash with Texas. By Matt Tait

Depending on where you look, strength of schedule can be a difficult statistic to trust, with the various rankings including everything from detailed data points to the eye test and most recent performances.By Matt Tait

Although he doesn't grade on a particularly difficult curve, at least Kansas sophomore forward Carlton Bragg isn't in denial about his own performance 18 games into the season.

Kansas coach Bill Self on Thursday said that senior point guard Frank Mason III was doing fine after tweaking his knee during Monday's win over Iowa State and was not expected to miss any time, including practice. By Matt Tait

Sometimes seven is enough, as the Kansas basketball team has shown so far this season and showed 43 seasons ago.

The life sentence of Jessie Traylor, father of former University of Kansas basketball player Jamari Traylor, was commuted on Tuesday by President Barack Obama, according to a report from the International Business Times.
By Staff Reports
January 18, 2017 10:54 a.m.

You can't really learn much about an athlete by listening to him answer questions fired at him from all directions, especially in a group session in which the next query generally has little to do with the previous response. It's no way to learn anything about Lagerald Vick, a long, lean, quiet, 6-foot-5 sophomore from Memphis, so I requested and was granted a one-on-one interview with him. What follows is a sampling of what he revealed about himself during our half-hour conversation.
Kansas' 76-72, road victory at Iowa State on Monday night came in the kind of hostile environment the Jayhawks are sure to see in the coming weeks. By Matt Tait

Add soothsayer to the list of roles Kansas basketball coach Bill Self plays at work. Motivator, tactician, recruiter, promoter and now, forecaster of the future. By Tom Keegan

Monday night was one of those games that Kansas coach Bill Self likes to refer to as "big-boy games." And thanks to some of the biggest boys on the Kansas roster, the Jayhawks came away victorious, 76-72 over Iowa State at Hilton Coliseum. By Matt Tait

Monday night, in a match-up pitting the Big 12 preseason player of the year against arguably the best player in all of college basketball so far this season, Kansas senior Frank Mason III helped his team out-duel Iowa State's Monte Morris at Hilton Coliseum in a 76-72. By Matt Tait

No one on the Kansas basketball team expected it to be easy to stay unbeaten in Big 12 play — not with the Jayhawks playing a solid Iowa State team in front of a malicious Hilton Coliseum crowd Monday night.

For the second week in a row and the fourth time this season, Kansas freshman Josh Jackson played his way to Big 12 Newcomer of the Week honors, the conference announced Monday morning.

Josh Jackson might want to try to trick his mind into believing that every time he goes to the line it's a late-game situation because, as seems to be the case in all areas of his game, the later a close game progresses, the better he performs.
January 2017
Previous Next