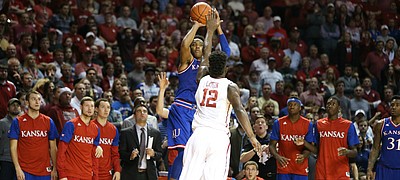 Bill Self playfully fired a left jab at Devonté Graham's upper chest before Kansas University's sophomore guard — the man who dealt a knockout blow to Oklahoma on Saturday in Lloyd Noble Center — began his post-game interview with ESPN's Shannon Spake. "He said, 'Good game, way to play,''' Graham, a 6-foot-2, 175-pounder from Raleigh, N.C., said of praise showered upon him by KU coach Self after Graham's career-high 27-point effort. By Gary Bedore

Marques Bolden, a 6-foot-10 senior center from DeSoto (Texas) High who is ranked No. 16 in the Class of 2016 by Rivals.com, apparently has not eliminated Kansas from his list of schools. Also, DeAndre Ayton, a 6-11 junior from Hillcrest Academy in Phoenix, who is ranked No. 4 in the Class of 2017, tells Zagsblog he has not cut his list to KU, Duke and Kentucky, as previously reported. By Gary Bedore

Former Kansas guard Andrew Wiggins, of Canada, scored 29 points and had five rebounds in the World Team's 159-154 loss to the USA, Friday at the NBA Rising Stars Challenge.

Kansas basketball coach Bill Self spoke to his team about pre-game hype on Saturday, before his Jayhawks finished a regular-season sweep of Oklahoma, with a 76-72 victory at Lloyd Noble Center. By Gary Bedore
Chicago Bulls basketball coach Fred Hoiberg spent some time in Kansas University coach Bill Self's office on Friday in Lawrence. "We talked about everything. I was picking his brain," KU coach Self said after the Jayhawks used Hoiberg's four-guard Iowa State lineup for several minutes in the Jayhawks' 76-72 win over Oklahoma, in Noble Center. By Gary Bedore
This had looked like the year Kansas finally had too many weaknesses, too much vulnerability, the year it would let go of its death grip on the Big 12 title. Not anymore. By Tom Keegan

He may have finished right around his season average on the stat sheet, but Saturday was a rough day for Oklahoma guard Buddy Hield. By Matt Tait

Graham carries KU offense in crucial win
It was dubbed by folks down in Norman as "The Rematch" of the best college basketball game of the year. And it wound up with the same result, albeit in much different fashion. By Matt Tait

Proud of his team for outscoring, outscrapping, outlasting Oklahoma in a three-overtime battle between the then-No. 1 team in the AP poll (Kansas) and No. 1 squad in the USA Today coaches poll (OU), Bill Self spoke from the heart Jan. 4 in the winner's locker room in Allen Fieldhouse.
Kansas University senior forward Perry Ellis' shooting from two- and three-point range has been uncanny the last three games. By Gary Bedore

It's been 40 days since the Kansas University men's basketball team got an up-close look at the greatness that is Oklahoma senior Buddy Hield. By Matt Tait

The number 60 is so outrageous next to the word points for a basketball player that many thought Bill Self was kidding when he said it five weeks ago. He wanted to make sure everyone knew he wasn't, so he said it again Thursday. By Tom Keegan

Back on Jan. 4, the No. 1 team in the Associated Press basketball poll (Kansas University) outlasted the No. 1 team in USA Today's coaches poll (Oklahoma), 109-106, in three overtimes in Allen Fieldhouse.
KU Libraries has launched a crowdsourcing campaign entitled, "Cordially yours, Forrest Allen: Preserving the legacy of the Phog."

Kansas University guard Frank Mason III took an elbow to the face, delivered by West Virginia guard Tarik Phillip, in the second half of the Jayhawks' 75-65 Tuesday victory at Allen Fieldhouse.
February 2016
Previous Next