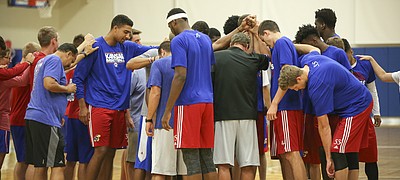 Kansas men's basketball coach Bill Self said last week that his team had shown good leadership qualities, both from veterans and newcomers, during the first week of Boot Camp. By Matt Tait
In addition to running his team through Boot Camp and spending the bulk of the past couple of weeks on the road tracking targets in the Class of 2017 and beyond, Kansas basketball coach Bill Self found time to offer up a state of the union regarding KU's current recruiting. By Matt Tait

Udoka Azubuike, a 7-foot, 280-pound center from Lagos, Nigeria, has a very high ceiling but just turned 17 eight days ago, so projecting how close he'll come to his ceiling as a freshman qualifies as one of the more intriguing aspects of a deep and talented Kansas basketball team.

With one week of Boot Camp now in the books, Kansas men's basketball coach Bill Self went into the weekend feeling pretty good about his team's effort and performance during the first five days of the annual conditioning camp that tests every ounce of his players' minds, bodies and souls. By Matt Tait

Friday, after a 50-minute Boot Camp session that capped the first week of the Jayhawks' intense, offseason training regimen, Kansas basketball coach Bill Self expressed his appreciation and admiration for the job Chancellor Bernadette Gray-Little has done during her time in charge. By Matt Tait

Late Wednesday night, it was revealed that five-star forward Billy Preston, of Oak Hill Academy, will be the latest in a long line of marquee visitors who plan to attend this year's Late Night in the Phog, Oct. 1 at Allen Fieldhouse. By Matt Tait

Kansas sophomore Carlton Bragg last weekend spent a couple of days in Indianapolis, representing Kansas at the NCAA Leadership Development's Elite Student-Athlete Symposium. By Matt Tait

The Los Angeles Lakers and former Kansas forward Thomas Robinson on Wednesday agreed to a one-year deal, making the former KU force the final player on the Lakers roster for the 2016-17 season.

In 7-foot freshman Udoka Azubuike, Kansas senior Landen Lucas has some company in the big man department on this year's KU roster. And he's loving every second of it. By Matt Tait

Listed in last season's media guide at 6-foot-9, 220 pounds, KU sophomore Carlton Bragg confirmed Monday that he actually played closer to 215 pounds a season ago and now, after an offseason's worth of hard work, stands 6-10, 245 heading into the 2016-17 season. By Matt Tait

It's Boot Camp time for the Kansas men's basketball program, and whether that means another run for the returning veterans or the first encounter for the freshmen and newcomers, all can agree that having the right mindset is the key to survival. By Matt Tait

While Duke and Kentucky going to the preseason combine system for its NBA prospect certainly catches the attention of the college basketball world, don't expect to see Kansas follow suit any time soon. By Matt Tait

Oak Hill Academy forward Billy Preston, who recently trimmed his list to five finalists, including Kansas, told Rivals.com's Krysten Peek that he planned to make an official visit to KU "sometime in October." By Matt Tait

KU officials revealed Thursday that the 32nd annual Late Night event, scheduled for Oct. 1, will kick off at 6:30 p.m. at Allen Fieldhouse. Doors will open to KU students at 5 p.m. and to the general public at 5:30.

The jet-setting continued for Kansas basketball coach Bill Self and his staff on Thursday. And it looks as if it will continue through the rest of the week. By Matt Tait
September 2016
August 2016
July 2016
Previous Next