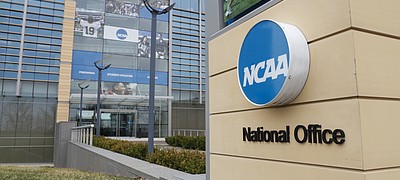 A new panel designed to handle the most complex rules in collegiate sports has officially agreed to hear the University of Kansas' case surrounding serious pay-for-play allegations in the men's basketball program, the sports' governing body announced Wednesday. By Conner Mitchell

In the aftermath of its recent merger with Sprint, T-Mobile announced this week that the venue known as Sprint Center since 2007 now will be called T-Mobile Center through at least 2032.
During the past couple of weeks, future Jayhawks Devin Neal, of Lawrence, and Keon Coleman, of Opelousas, La., have connected a few times on the phone to lay the foundation for a relationship they both hope will bring a lot of points, production and excitement to Lawrence in the years to come. By Matt Tait
While the upcoming restart to the NBA season will be big for a handful of former Jayhawks still chasing a title, it may be even bigger for former KU point guard Jacque Vaughn. By Matt Tait

Philadelphia 76ers coach Brett Brown says All-Star center Joel Embiid and All-Star guard Ben Simmons are ready to roll for the NBA restart.

Southeastern Conference Commissioner Greg Sankey told a U.S. Senate committee Wednesday that there needs to be a uniform federal law to regulate the compensation of college athletes instead of a series of state-level versions with differing requirements.

Two areas of weakness for the 2019-20 Kansas men's basketball team figure to be much improved during the 2020-21 season, KU coach Bill Self said recently. By Matt Tait

The Kansas men's basketball program is delaying its return to campus by roughly two weeks, KU coach Bill Self told the Journal-World late Thursday night. By Matt Tait

In the month since the death of George Floyd at the hands of the Minneapolis Police Department, Kansas basketball coach Bill Self has spent a lot of time thinking about race, social injustice and ways he can help. By Matt Tait

Former Kansas point guard Frank Mason III was named the 2019-20 NBA G League Most Valuable Player on Thursday after leading the league in scoring this season. By Matt Tait

Kansas basketball coach Bill Self will tell you that no one knows at present day what the 2020-21 college basketball season will look like. By Matt Tait

For a few months last fall and winter, Kansas guards Ochai Agbaji, Devon Dotson and Marcus Garrett staged a regular competition that led to the 2019-20 Jayhawks becoming one of the best takeaway teams of the Bill Self era. By Matt Tait

The NCAA Division I Council this week approved a plan to allow college basketball players to start working with their coaches for the first time since the pandemic wiped out March Madness.

Kansas coach Bill Self's personal attorney has informed the NCAA, college sports' governing body, that the Hall of Fame coach is considering legal action against the NCAA for its handling of the violations case involving Self and the Kansas men's basketball program.

University of Kansas fans holding season tickets for upcoming KU sporting events now have assurances from the athletic department that their investment is safe. By Matt Tait
July 2020
June 2020
May 2020
Previous Next