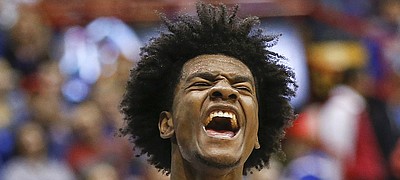 Pests on a basketball court don't stand 6-foot-8. They're 5-8. They don't make it to the top of the national high school recruiting rankings. They make the team on the last cut in high school because they forced their way onto the roster with sheer hustle.

He's played just 84 career minutes in four-plus seasons with the Kansas basketball program, but KU senior Tyler Self, along with fellow fifth-year senior Landen Lucas, has been on the bench for more of Bill Self's 600 victories than any player on the current Kansas roster. By Matt Tait

Kansas men's basketball coach Bill Self will be the first to point out when one of his players is not playing up to his standards. By Matt Tait

Frank Mason, Devonte Graham and Josh Jackson went out of their way Tuesday night in Allen Fieldhouse to try to set up teammates Udoka Azubuike and Carlton Bragg with beautiful passes, but the big men had trouble finishing. By Tom Keegan

According to freshman Josh Jackson, the goal in the locker room after Tuesday's 105-62 thrashing of UMKC at Allen Fieldhouse was to make Kansas coach Bill Self misty-eyed over winning the 600th game of his 24-year coaching career.

When you've been at it as long as 14th-year Kansas coach Bill Self, you get to experience victories in a variety of fashions. Tuesday night at Allen Fieldhouse, Self's No. 3-ranked Jayhawks led him to his 600th career victory by way of the three-pointer.

A look at some of the keys for third-ranked Kansas in Tuesday's home match-up with UMKC. By Matt Tait

Before the 2008 national championship, the Big 12 title streak, the 210 wins at Allen Fieldhouse and the 599 career coaching victories at four different stops, there was James Kruse, Earl McClellan and a whole bunch of Oral Roberts Golden Eagles just like them. By Matt Tait

Barring an upset, Kansas basketball coach Bill Self will earn his 600th victory in his 789th game, tonight vs. UMKC at Allen Fieldhouse, and will become the ninth-fastest in college basketball history to reach the milestone, per the NCCA Records Book. Consider the eight names who reached it more quickly and then ask yourself what they have in common with each other, but not with Self. By Tom Keegan

A couple of double-digit victories last week over teams from California proved to be enough for the Associated Press voters to move the Kansas men's basketball team up a spot in this week's AP Poll. By Matt Tait

The Kansas men's basketball team is on a tear from three-point range so far this season, and few players have been as dialed in from deep as junior Sviatoslav Mykhailiuk. By Matt Tait

Sidelined for a game by a strained muscle in the rib-cage area, Kansas senior center Landen Lucas was back Saturday, but still not all the way back to 2015-16 form. By Tom Keegan

Stanford coach Jerod Haase knew that Saturday would be an emotional day. Returning to a city and an arena in which he was beloved as one of the most popular Jayhawks of the 1990s, Haase brought his strong-but-unspectacular Stanford squad to KU's campus on Saturday afternoon. By Matt Tait

Newsflash: Frank Mason smiled. And it was a big one. By Tom Keegan

Long before he ever put on a Stanford basketball uniform, Christian Sanders was just a kid in Allen Fieldhouse trying to out-play his fellow campers. By Benton Smith
December 2016
November 2016
Previous Next