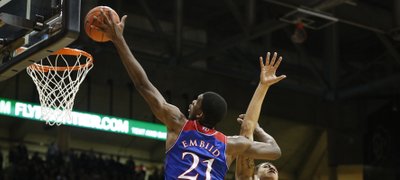 Justin Harden wishes he could get his hands on dozens of tickets for the Kansas University-Florida Big 12/SEC Challenge basketball showdown at 6 p.m. Tuesday in O'Connell Center in Gainesville, Fla. By Gary Bedore
University of Florida point guard Scottie Wilbekin was cleared to practice and will play Tuesday against Kansas University at the O'Connell Center, the Gainesville (Fla.) Sun reported.
Kansas will get better, but not in the way a meal gets hotter by sticking it in the microwave. It's going to be more of a slow, bumpy road with stops and starts, on the way to hotter performances. By Tom Keegan

Colorado junior guard Askia Booker burned visiting Kansas University with long buzzer shots not once but twice Saturday in leading the Buffaloes to a 75-72 victory in front of loud crowd of 11,113 Saturday in the Coors Event Center. Both three-pointers broke ties.By Tom Keegan

Freshman Andrew Wiggins, who is expected to be Kansas University's go-to guy this basketball season, launched a possible game-tying shot with 12 seconds left and KU down, 71-68, on Saturday in the Jayhawks' 75-72 loss at Colorado. By Gary Bedore

It took awhile, but Bill Self and his Kansas University Jayhawks have finally experienced the agony of defeat against Colorado. By Gary Bedore

Former Kansas University guard Tad Boyle, the fourth-year coach of the Colorado men's basketball team, says his players still have a bad taste in their mouths from a 90-54 loss to the Jayhawks last year at Allen Fieldhouse. The Buffaloes host the Jayhawks today at 2:15 p.m. in Boulder, Colo. By Gary Bedore

Kansas University basketball coach Bill Self, who has used the same starting lineup the past six games, will alter the opening five Saturday at Colorado. By Gary Bedore
When the young players reach a deeper understanding of what their coach wants them to do, things could become extremely interesting. By Tom Keegan

Coors Events Center, the home of the Colorado Buffaloes, used to be known as "Allen Fieldhouse West" when the Jayhawks and their legion of loyal fans descended upon Boulder for KU-CU men's basketball games contested in the Big 12 and Big Eight conferences. By Gary Bedore

Maybe it was the low ceiling or dim lighting in the resort ballroom that affected Kansas University's basketball players last week in the Bahamas. Or the basketballs. Or the rims. Whatever the reason(s) ... "we couldn't throw it in the ocean, and we were really close to the ocean," KU coach Bill Self cracked Monday on his Hawk Talk radio show. By Gary Bedore

Andrew Wiggins played one lousy basketball game in the Bahamas. During the three-game Battle 4 Atlantis, he was no better than Kansas University's third-best freshman, ranking behind Joel Embiid and Frank Mason. Columnist Tom Keegan has two words to say about that: So what?

Kansas University freshman Joel Embiid became the second Jayhawk to win Big 12 newcomer of the week honors this season, joining freshman wing Andrew Wiggins, who was won the award Nov. 18.
By J-W Staff Reports
December 2, 2013 1:31 p.m.
Kansas University's basketball players, coaches and family members, who endured a couple days of cloudy, rainy weather during their 41⁄2-day trip to the Bahamas, took advantage of a glorious, 80-degree, sunny Sunday morning before leaving the Atlantis resort at 1 p.m. for a return trip home. By Gary Bedore

Freshman center Joel Embiid, who has emerged as KU's most dominant, most important player, must learn how to stay out of foul trouble. By Tom Keegan
December 2013
November 2013
Previous Next