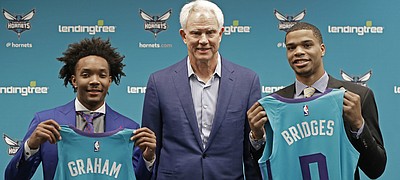 Devonte' Graham understands how much his time playing at the University of Kansas helped prepare him for professional basketball. By Shane Jackson

It's not at all surprising that Devonte' Graham was acquired on NBA draft night by Michael Jordan's franchise, the Charlotte Hornets.

Videos and photographs are no substitute for seeing things in person, but judging by the looks on their faces and bounce in their step on the videos that have been floating around the Internet, former Kansas guards Devonte' Graham and Svi Mykhailiuk have yet to come down from Thursday night's NBA Draft high. By Matt Tait

Sometimes good things really do happen to good people.

Fellow former Jayhawks Malik Newman, Billy Preston not selected
Forever linked during their KU careers thanks to their close friendship, sweet shooting strokes and ability to lead Kansas to a lot of victories during the past four seasons, Devonte' Graham and Svi Mykhailiuk delivered one final act together as Jayhawks on Thursday night by becoming second round picks in the 2018 NBA Draft. By Matt Tait

He was seated in the stands at Barclays Center in Brooklyn, New York, with his agent, coach from Ukraine, parents and girlfriend, when former Kansas guard Svi Mykhailiuk heard his name called out in this year's NBA Draft. By Matt Tait

As predicted by most mock drafts throughout the past several weeks, former Kansas point guard Devonte' Graham became the first KU player selected in the 2018 NBA Draft on Thursday night, when the Atlanta Hawks picked him with the fourth pick of the second round, No. 34 overall. By Matt Tait

Kansas basketball coach Bill Self, who has spent his entire 33-year coaching career in college basketball, has a phrase he uses for the way prospects view their chances at making it in the NBA when draft time rolls around. By Matt Tait

Even 10 years later, looking at who should have gone where in the 2008 NBA draft has a subjective element to it.

Kansas freshman Quentin Grimes won't forget the locker room celebration anytime soon. Grimes, who spoke to reporters in Allen Fieldhouse Tuesday, described the scene after Team USA captured a gold medal with a 113-74 win against host Canada. By Shane Jackson

Bill Self's basketball teams always have been known to play tough defense, but in recent seasons it sunk it to me that what they actually do best is play with an extreme degree of confidence offensively.

With his latest prized pupil sitting to his right and their recently claimed gold medals tucked safely away in their respective homes, Kansas coach Bill Self on Tuesday heaped the kind of praise onto KU guard Quentin Grimes that is not often attached to a true freshman. By Matt Tait

It's been more than two months since a federal indictment alleged the guardians of two unnamed University of Kansas basketball players — widely believed to be current KU big man Silvio De Sousa and former forward Billy Preston — received illegal payments in a scandal orchestrated by an Adidas executive. But nothing that has transpired since leads head coach Bill Self to think De Sousa will be ineligible to play as a sophomore this coming season. By Benton Smith

Kansas basketball coach Bill Self on Tuesday stopped short of saying that the door was completely closed for Lagerald Vick to return to Kansas for his senior season. And it's clear, at least as of Tuesday, that Self and Vick will sit down for a conversation about the Memphis native's options and desires in the coming days. But whether that meeting leads to the 6-foot-5 guard rejoining the Jayhawks for one more run is uncertain. By Matt Tait

As the University of Kansas continues its search for a new athletic director, Oklahoma AD Joe Castiglione recently took time to discuss the characteristics of those groomed under him who may be in the running for the KU job. By Matt Tait
June 2018
May 2018
Previous Next