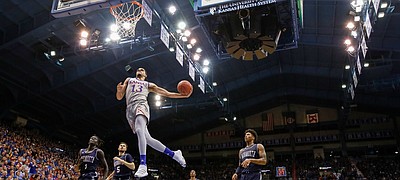 Six Jayhawks in double figures, 14 3-pointers, a thunderous, windmill dunk from freshman forward Tristan Enaruna, 30% field goal shooting by the opponent and KU's walk-ons playing the final six minutes. Matt Tait

Kansas guard Isaiah Moss is in search of the quickness that was stolen from him when he injured his right hamstring shortly after arriving on campus. By Matt Tait

After starting KU's first two regular season games and delivering solid numbers, Kansas forward David McCormack found himself coming off the bench during Friday's 112-57 pasting of Monmouth. By Matt Tait
Heading into Game 3 of the 2019-20 season, Kansas coach Bill Self had expressed concern over one of the most basic aspects of the game: free throw shooting. By Matt Tait

After two games filled with plenty of drama to start the season, Kansas men's basketball was given a bit of a breather in game three.

Follow along during the game with our crew and the KUsports.com community.

A look at some of the keys for fifth-ranked Kansas in tonight's home clash with Monmouth at Allen Fieldhouse. By Matt Tait

After jumping into the Top 10 in most national rankings on the opening day of college basketball's early signing period, the Kansas Jayhawks added another commitment late Thursday night. By Matt Tait

Kansas coach Bill Self on Thursday gushed about the size, skill and potential of 2020 signees Bryce Thompson, Gethro Muscadin and Tyon Grant-Foster, but also shared some of what he told those players and their families about the allegations Kansas is facing from the NCAA. By Matt Tait

The first player in the 2020 recruiting class to commit to Kansas also became the first player to make his commitment official. By Matt Tait

A ticket broker's lawsuit seeking to keep confidential the details of its agreement with Kansas Athletics Inc. is set to go to trial before a judge next year.
November 13, 2019 3:52 p.m.

A year after signing a class devoid of five-star prospects, the Kansas Jayhawks have returned to the upper echelon of the recruiting world by landing a commitment from five-star guard Bryce Thompson. By Matt Tait

A 1-1 record during the opening week of the 2019-20 season knocked the Kansas men's basketball team down two spots in The Associated Press Top 25 poll.

After playing just five minutes in one exhibition game and not at all in two other KU contests this season, Kansas senior Isaiah Moss played a whopping 25 minutes during the Jayhawks' 74-62, home-opening win over UNC Greensboro on Friday night at Allen Fieldhouse. By Matt Tait

Kansas freshman Jalen Wilson broke his left ankle during his 27 seconds on the floor in Friday's 74-62 Kansas victory over UNC Greensboro at Allen Fieldhouse. By Matt Tait
November 2019
October 2019
Previous Next