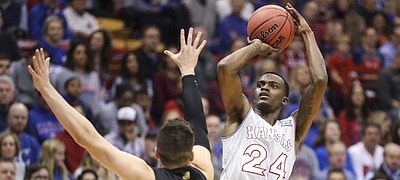 If it's an identity the second-ranked Kansas men's basketball team is seeking, the Jayhawks may have found it Monday night. Their veterans will lead them. Six days after watching an all-freshman backcourt lead the team to victory on the bright lights, big city stage at the Champions Classic in Indianapolis, a couple of old heads helped Kansas survive a legitimate scare from a good Vermont team, 84-68, at Allen Fieldhouse. By Matt Tait

The lights were on well past midnight in the gymnasium at McCarthy Hall, where the Kansas men's basketball players reside. And would anyone be surprised if KU junior Dedric Lawson was the one in there using that electricity? By Matt Tait

No, Quentin Grimes didn't go through an out-of-body experience behind the 3-point line or manhandle would-be defenders on his way to powerful slams inside the way two other Jayhawks did Monday night at Allen Fieldhouse. But the 6-foot-5 freshman guard proved to be the perfect catalyst for Kansas teammates Lagerald Vick and Udoka Azubuike in an 84-68 victory against Vermont.

A five-point win over the No. 10 team in the country on one of the nation's biggest college basketball stages was not enough for the Kansas men's basketball team to hold on to its No. 1 ranking in the Associated Press Top 25. But don't blame the Jayhawks.

After a slow start, No. 2 Kansas did enough in the second half to finish off a 84-68 win over Vermont in the home opener.
November 12, 2018 9:58 p.m.

Despite knocking off a top-10 team in the season opener, Kansas was unable to keep its No. 1 spot in the latest AP poll, which was released Monday morning.
November 12, 2018 11:58 a.m.

A look at some of the keys for top-ranked Kansas in tonight's regular season, home opener against Vermont at Allen Fieldhouse. By Matt Tait

As he predicted he might, Kansas coach Bill Self went 10 deep during Tuesday's victory over No. 10 Michigan State in Indianapolis. And the luxury of KU's added depth played a huge role in determining the outcome of the top-ranked Jayhawks' season opener. By Matt Tait

Since University of Kansas athletic director Jeff Long announced his decision to move on from David Beaty as KU's football coach, basketball coach Bill Self has not spoken with the soon-departing football coach in person.

A top official with the Kansas Board of Regents said he expects to receive an explanation about what a KU basketball coach meant when he was recorded on a phone call discussing a recruit and money.

The FBI has given the NCAA clearance to begin investigating possible code violations at universities related to the recent college basketball corruption trial, according to a Yahoo Sports report published Tuesday night.
By Dylan Lysen
November 7, 2018 9:32 a.m.

Indianapolis — It took until a Big 12 Conference game after the first of the year last season for Kansas coach Bill Self to be faced with the kind of dilemma he saw in Game 1 of the 2018-19 season on Tuesday night.

Indianapolis — In his much-anticipated Kansas debut Tuesday night in Bankers Life Fieldhouse, fourth-year junior Dedric Lawson forced a couple of bad shots, shot just 27.8 percent from the field, ran the floor with that borderline awkward gait of his and still showed why he easily represents his team's best shot at making it back to the Final Four.

Indianapolis – Kansas freshman Devon Dotson had a simple way of explaining how he and fellow freshman Quentin Grimes exploded onto the college basketball scene during Tuesday's 92-87 victory by top-ranked Kansas over No. 10 Michigan State at the Champions Classic in Bankers Life Fieldhouse.

In the first official action of the new season, No. 1 Kansas demonstrated its talent on the national stage. Behind contributions from several new players, KU was nearly always in control during its 92-87 win over No. 10 Michigan State Tuesday night during the Champions Classic. It marked the third consecutive season that the Jayhawks have won their matchup in the Champions Classic, which was moved up a weak earlier this season.
November 6, 2018 8:27 p.m.
November 2018
October 2018
Previous Next