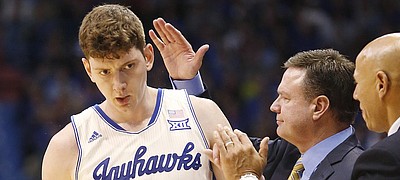 One of Kansas University's best big men in practice the last 10 days has been a guy who, until Saturday, had played the least amount of minutes in games. He's Arkansas transfer Hunter Mickelson, who after logging one minute in the last five contests and 14 minutes in five games all season, erupted for eight points, seven rebounds and two blocks in 17 minutes in Saturday's 96-69 rout of Lafayette in Allen Fieldhouse. By Gary Bedore

Kansas University junior forward Perry Ellis didn't score the first half of Saturday's 96-69 win over Lafayette, and finished with four points and three boards in 14 minutes. By Gary Bedore

Kansas University sophomore wing Brannen Greene, who was ticketed to start his second straight game on Saturday, missed the entire first half as penalty for arriving late for a weight-training session on Friday. By Gary Bedore

Kansas University's basketball team is loaded with high skilled athletes, including four McDonald's All-Americans, but even all that talent wouldn't have much of a shot at jelling if not for the sophomore guard who originally committed to Towson and at the time of his choosing Kansas was ranked by Rivals 131st in his class. Column by Tom Keegan

Lafayette's game plan on Saturday afternoon at Allen Fieldhouse was to shoot well from the outside on offense, help inside on defense and hope to catch a couple of breaks that would allow the Leopards to hang in there against 10th-ranked Kansas University on its home floor. By game's end, Lafayette was able to put a checkmark in each of those boxes, but that did not prevent the Jayhawks from rolling to a 96-69 victory. By Matt Tait

Six players reached double digits in scoring and the Kansas University men's basketball team improved to 9-1 with a 96-69 victory over a scrappy Lafayette team Saturday at Allen Fieldhouse. By Matt Tait
Conner Teahan, Christian Moody, Justin Wesley and Stephen Vinson have been four walk-ons to play meaningful minutes at Kansas University in the Bill Self era.

After nine straight games coming off the bench to begin his Kansas University career, freshman power forward Cliff Alexander is about to get his first crack at the starting five.
By J-W Staff Reports
December 19, 2014 1:28 p.m.

Weighed down while wearing a boot on his right foot, Kansas University freshman Devonté Graham whizzed through the Iowa Street Wal-Mart on a motorized shopping cart Thursday night.

That stretch between semesters is improvement time for college basketball squads across America because restrictions on practice time are when student-athletes take a hiatus from the first half of their titles and focus on making their games better.

Bill Self knows which player to call on when Kansas University's basketball team desperately needs a basket.

Kansas University basketball coach Bill Self's Christmas wish list for his players includes ... "Our guys having confidence and understanding where our shots are coming from and that they are confident we can get good shots," Self, KU's 12th-year coach, said Tuesday, choosing improvement on the offensive end during a morning spot on KC-610 radio.

Alert the hype police. Someone actually had the audacity to compare Minnesota rookie Andrew Wiggins with future Hall of Famer Kobe Bryant.

Kansas University on Monday was one of many schools to inquire about Duke forward Semi Ojeleye, who has decided to transfer.

Kansas University basketball coach Bill Self is hoping the sprained ankle point guard Frank Mason III sustained against Florida on Dec. 5 is the sophomore's last injury of the 2014-15 season. By Gary Bedore
December 2014
Previous Next