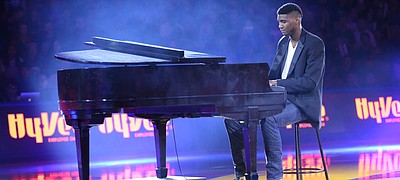 That wasn't Billy Joel, Elton John or Stevie Wonder dressed in black and sitting in front of a black grand piano under a spotlight at center court of Allen Fieldhouse on Friday night. No, on this occasion, the Late Night in the Phog performing artist was 6-foot-9 freshman basketball forward Carlton Bragg. By Gary Bedore

New Kansas University women's basketball coach Brandon Schneider, while amped up for his first Late Night in the Phog, realized the 12-minute scrimmage his players put on for a packed Allen Fieldhouse wouldn't exactly give KU fans an accurate preview of what's to come. By Benton Smith

Microphone in hand, Kansas University coach Bill Self strolled through the facility's northwest tunnel wearing the same black-and-white striped, rather loud suit that Andrew Wiggins fashioned in Brooklyn, New York, the night he was tapped first in the 2014 NBA Draft. By Gary Bedore

A short, 20-minute men's basketball scrimmage annually serves as the curtain-closing act in Kansas University's Late Night in the Phog production in Allen Fieldhouse. By Gary Bedore

Two of the top guards and three of the premier forwards in the recruiting Class of 2016 will be attending the 31st-annual Late Night in the Phog tonight in Allen Fieldhouse. By Gary Bedore

Former KU great Bill Bridges has died following a battle with cancer at the age of 76.
Perry Ellis was named to the preseason all-Big 12 team and Cheick Diallo freshman of the year today in a vote of league coaches.

Now in his 12th year at Kansas University, Kurtis Townsend is the longest-tenured assistant men's basketball coach in school history.

Before the Kansas University men's basketball team could begin to move forward toward another season loaded with great expectations and even higher hopes, the Jayhawks had to go through the process of putting the 2014-15 season to bed.

Bill Self wore a tuxedo, not a sports coat, when he last entered The Midland Theater in the Power and Light District in downtown KC.

There's been a lot of lip-synching and dancing, but very few instances of players actually performing musically at the season-opening Late Night basketball celebrations at Kansas University the last 30 years. By Gary Bedore
Brannen Greene taking limited reps at practice as he recovers from offseason hip surgery
An ankle sprain hasn't kept Wayne Selden Jr., off the court.

Highly acclaimed Cheick Diallo, who enters college as the No. 5-rated player in the recruiting Class of 2015 by Rivals.com, figures to be a lock for Big 12 preseason freshman-of-the-year honors. He might not be the only Kansas University freshman to garner votes for the honor, however, especially if the fact he has yet to be cleared for participation in games (by the NCAA Eligibility Center) is taken into consideration. By Gary Bedore

The 2015-16 college basketball season officially is underway at Kansas University.

Kansas University basketball media day, 2014: The youngest college basketball player in the nation sat on his assigned chair — eyes a little wide, expression on the reserved side — doing his best to answer the questions sent his way. By Tom Keegan
October 2015
September 2015
August 2015
July 2015
Previous Next