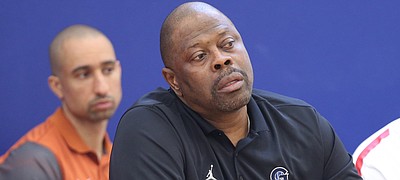 Big-name college coaches flock to event by the dozens
Above the entrance to Sports Pavilion Lawrence this weekend hung a huge banner announcing the Hardwood Classic AAU basketball tournament that simply said #BeSeen. That was the goal for the players from the more than 250 teams that invaded Lawrence over the weekend for the second, and best, event of its kind in Lawrence's shiny new facility, and that was incredibly easy to do given the impressive list of college coaches who made the trip to evaluate some of the top talent in the next few recruiting classes. By Matt Tait

Although news of forward Jack Whitman's departure from the program caught him "totally off guard," Kansas coach Bill Self already has started thinking about what to do with the scholarship vacated by Whitman's departure.

Kansas forward Mitch Lightfoot will be held out of contact for the next few days after completing surgery for a broken nose, Kansas coach Bill Self said Friday. By Matt Tait

With its front court depth taking a hit with the unexpected departure of transfer forward Jack Whitman on Wednesday night, the Kansas men's basketball team got some good news in the big man department. By Matt Tait

If Jack Whitman's departure from the Kansas basketball program were nothing more than a convenient means of clearing a roster spot for the possibility of landing Marvin Bagley, then that would have happened much later, so it's not that.

A source close to the Kansas basketball program confirmed to the Journal-World on Wednesday night an earlier report from ESPN's Jeff Goodman that William & Mary transfer Jack Whitman had decided to leave the program. By Matt Tait

Starting Thursday and running through Sunday, Lawrence, Kansas, will become the focal point for college basketball recruiting, with some of the top teams and talents in the country traveling to the Midwest to play in this year's Hardwood Classic. By Matt Tait

Former Kansas star Mario Chalmers on Tuesday found "the right fit," in his NBA return, agreeing to a one-year, partially guaranteed deal with the Memphis Grizzlies for the 2017-18 season, according to a report from ESPN. By Matt Tait

Two years after leaving his job at Kansas to advance in the coaching ranks, former KU point guard Aaron Miles is poised to become a head coach. By Matt Tait
Big 12 commissioner Bob Bowlsby told reporters Monday that he expected to sign a contract extension through the 2024-25 season.

Former Kansas great Paul Pierce, who recently wrapped up a stellar, 19-year NBA career, on Monday signed one last pro contract designed to enable him to go out with the team he came in. By Matt Tait

Former Kansas forward Tarik Black is headed back to the NBA team with which he started.

As if preparing for four games on Italian soil in early August was not making things busy enough, Kansas coach Bill Self and his staff have been running ragged on the recruiting trail of late. By Matt Tait

With practices for their upcoming trip to Italy in full swing, Kansas coach Bill Self and a couple Jayhawk players recently explained the difference between their summertime exhibition routine and the grind that comes with the regular season.By Matt Tait

All the whining in the world isn't going to bring the Border War back to life, but an NCAA tournament bracket has the potential to make it happen as soon as March of 2018. By Tom Keegan
July 2017
June 2017
Previous Next