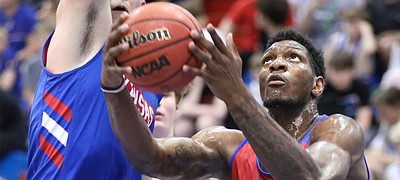 There was no official box score and no designated stat keeper, but in the case of Kansas junior Silvio De Sousa neither was needed. Tuesday marked the first of two annual Bill Self Basketball Camp games, and De Sousa, now 19 days removed from being declared eligible for the 2019-20 season by the NCAA, was out on the floor in front of a couple hundred campers ready and willing to put on a show.

The top official at the University of Kansas, like everyone else, is waiting to see whether the KU athletics program will receive allegations of major recruiting violations.

It's NBA Draft time again, and while that normally is big news around the Kansas basketball program, two recent Jayhawks are merely hoping to become second-round picks during Thursday's draft in Brooklyn, N.Y. By Matt Tait

A battle of potential game winners between the old and the new highlighted Tuesday's team scrimmage at Bill Self Basketball Camp. And the advantage went to the veteran. By Matt Tait

Thursday night, the Rock Chalk Roundball Classic will be heading east and bringing with it one of the biggest and best crops of former Kansas basketball players ever. By Matt Tait

After an entire season of hearing how sped up he was on the floor, Kansas big man David McCormack has figured out how to slow down. By Matt Tait

KU forward Mitch Lightfoot is back for his final run with Kansas basketball, and, for the second year in a row, questions have surfaced about whether Lightfoot might redshirt the upcoming season. By Matt Tait

Kansas head coach Bill Self has played a couple rounds with pro golfer Gary Woodland, but the very first hole is still a vivid memory for the Hall of Fame coach. It was the first hole at the Lawrence Country Club, which is approximately a 365-yard par-4. Woodland, who played golf at KU from 2004-07, placed his tee shot on the green. He then netted a 20-foot putt for an eagle. Shane Jackson

Count Kansas basketball coach Bill Self in the group of people unsure of whether KU will be one of the programs receiving a Notice of Allegations from the NCAA later this summer. By Matt Tait

If the NCAA sends allegations of major recruiting violations to the University of Kansas athletics program this summer, it may take at least a year before the case is resolved, an NCAA rules expert recently told the Journal-World.
By Dylan Lysen
June 15, 2019 11 p.m.

Although the past several weeks have been a whirlwind for new Kansas basketball signee Jalen Wilson, the 4-star wing forward from Guyer High in Denton, Texas, said none of what transpired since the end of the college season caught him off guard. By Matt Tait

The NCAA won't be able to get its hands on one of the most intriguing wiretaps obtained by the FBI in an investigation of basketball recruiting violations involving the University of Kansas, according to a CBS Sports report. But KU may soon face a reckoning with the NCAA anyway.
By Dylan Lysen
June 12, 2019 5:50 p.m.
Michigan's loss is Kansas' gain. Seconds after the clock struck 2 p.m. on Wednesday afternoon, 4-star prep prospect Jalen Wilson announced on Twitter that he planned to play college basketball at KU. By Matt Tait

It was the perfect time to participate in a Kansas basketball summer camp scrimmage. Just hours after The Basketball Tournament bracket was released, Elijah Johnson and Travis Releford were the only two former KU players to compete in a scrimmage with the current crop of Jayhawks Tuesday afternoon at Allen Fieldhouse.

Kansas point guard Devon Dotson on Monday described his recent testing of his NBA draft stock as equal parts fun and work. By Matt Tait
June 2019
May 2019
Previous Next