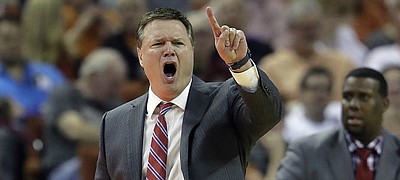 Bill Self's Kansas Jayhawks have experienced more hostile environments and found ways to slow down more dynamic lineups, while tangling with some of the nation's top teams over the course of this season. By Benton Smith

There were no trophies, no hugs and smiles, no celebratory video and, really, no hubbub at all. By Matt Tait

Kansas forward Dwight Coleby has had moments during his short KU career when his play positively impacted a game. But none of them were like this. By Matt Tait

With an opportunity to lock up an outright Big 12 title Saturday, the Kansas basketball team leaned on some of its players off of the bench in a 77-67 victory over Texas at the Frank Erwin Center.
February 25, 2017 7:05 p.m.

A look at some of the keys for third-ranked Kansas in Saturday's road clash with the Longhorns deep in the heart of Texas.By Matt Tait

Nearing the end of just his second season as a head coach in the Big 12 Conference, Texas coach Shaka Smart has been around long enough to get a full understanding of just how impressive Kansas' streak of 13 consecutive Big 12 titles has been. By Matt Tait

University of Kansas basketball player Josh Jackson was charged Friday with one count of criminal damage to property for allegedly damaging a car outside a Lawrence bar in December.
February 24, 2017 11:11 a.m.

One of just a handful of players to suit up for all three coaches responsible for UCLA's record run of 13 consecutive conference titles in the late 1960s and 1970s, Raymond Townsend could do nothing but smile when No. 3 Kansas clinched a share of its record-tying 13th-consecutive Big 12 title with a win over TCU on Wednesday night. By Matt Tait

One day after helping the team secure a record-tying 13th consecutive Big 12 men's basketball title, four members of the Kansas basketball team added some academic hardware to their memorable week. By Matt Tait

Several hours after the University of Kansas men's basketball team celebrated winning its 13th Big 12 conference title in a row, one of the team's players was arrested.
February 23, 2017 9:16 a.m.

Serenaded by the sweet sounds of "Happy Birthday" from Kansas fans throughout the night, KU junior Devonte' Graham could not have imagined a better way to spend his 22nd birthday. By Matt Tait

On a night when Bill Self's Kansas basketball players did what they always seem to do — win at Allen Fieldhouse and accumulate new Big 12 championship gear — an unexpected conqueror emerged from the KU bench. By Benton Smith

All good parties have a guest of honor. And on Wednesday night at Allen Fieldhouse, the Kansas men's basketball team welcomed 13 of them. By Matt Tait

With about five minutes remaining in the first half of the Kansas men's basketball game Wednesday, Brandon Rush took a few moments to drink water and gather himself. By Bobby Nightengale
February 22, 2017 10:03 p.m.

It's been a long time coming, but Bill Self's Kansas Jayhawks can now officially be mentioned in the same sentence as the great UCLA teams of the 1960s and '70s. KU wrapped up at least a share of its 13th consecutive Big 12 regular-season title Wednesday night at Allen Fieldhouse, where the Jayhawks' 87-68 victory over TCU tied the league-title streak produced by the Bruins from 1967-79. By Benton Smith
February 2017
Previous Next