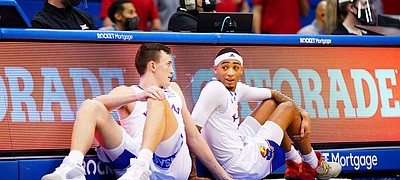 A home date with Missouri in December, two trips to New York City and a Thanksgiving tournament in Orlando highlight the non-conference portion of the 2021-22 Kansas men's basketball schedule, which was released Tuesday. By Matt Tait

With more than 100 years of experience in the three offices nearest his, interim Kansas basketball assistant Jeremy Case has taken advantage of the wisdom Bill Self, Kurtis Townsend and Norm Roberts can provide during recent weeks. By Matt Tait

Less than a month before name, image and likeness laws go into effect in several states, NCAA President Mark Emmert was back in Washington D.C. this week renewing his plea for help from Congress — help that is unlikely to come as soon as the NCAA would like. The Associated Press
By Ralph D. Russo, The Associated Press
June 10, 2021 9:46 a.m.

PG expects recovery in about 4 weeks
With the soreness in his injured left foot dissipating, Kansas freshman point guard Bobby Pettiford experienced a different kind of pain on Tuesday, when the Jayhawks went through their first day of summer workouts with Pettiford as a bystander. But even spectating wasn't all that bad for the KU newcomer, considering Pettiford already got cleared to ditch the walking boot that was a part of his wardrobe when he first arrived in Lawrence on Sunday.

An in-person version of Late Night in the Phog is returning to KU's campus this fall, with the unofficial tipoff to the 2021-22 basketball season set for Oct. 1 at Allen Fieldhouse. By Matt Tait

Joseph Yesufu didn't know it at the time, but an unexpected promotion to the Drake starting lineup just a few months ago would alter the point guard's career path. Two days after officially joining the Kansas basketball program as a sophomore transfer, Yesufu said on Tuesday those seven starts he made for the Bulldogs this past February and March turned into the "biggest time" of his life.

After spending the past couple of days settling into their new surroundings in Lawrence, a trio of Kansas basketball newcomers jumped feet-first into life as Jayhawks on Tuesday at Washburn University. By Matt Tait

Several student-athletes at the University of Kansas delivered a memorable performance in the classroom during the recently completed spring semester.

The Kansas men's basketball program made some progress in identifying its walk-ons for the future on Monday, when KU coach Bill Self announced the addition of Dillon Wilhite and Charlie McCarthy to the roster. By Matt Tait

College basketball teams will be allowed to have a little more on-court interaction with staff members this summer thanks to a new waiver granted by the NCAA. By Matt Tait

The Kansas men's basketball program will face St. John's in New York City in this year's Big 12/Big East battle during the 2021-22 regular season. By Matt Tait

The end of one of the longest dead periods in college recruiting history arrived at 12:01 a.m. on Tuesday, lifting all recruiting restrictions for both prospects and coaches in all sports. By Matt Tait

Transfer guards Remy Martin and Jalen Coleman-Lands officially joined the Kansas basketball program on Wednesday, when their paperwork arrived at the KU basketball offices. By Matt Tait

Junior college prospect and University of Kansas basketball signee Sydney Curry announced Wednesday that he was reopening his recruitment. By Matt Tait
Kansas Athletics lost two longtime, highly respected members of its administrative family on Tuesday, when former KU Athletic Director Monte Johnson and former Associate AD Larry Keating died at the ages of 84 and 76. By Matt Tait
June 2021
May 2021
April 2021
March 2021
Previous Next