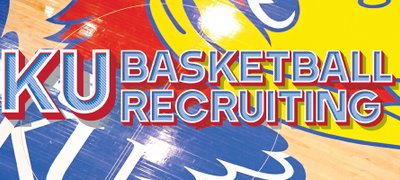 Texas high school power forward deluxe Marques Bolden, who attended last season's Late Night in the Phog on an unofficial campus visit, will visit Duke officially Sept. 18-19, according to ESPN.com. By Gary Bedore

Kansas University recruiting target Harry Giles, a 6-foot-10, 220-pound senior power forward out of Wesleyan Christian Academy in Winston-Salem, North Carolina, has decided to play basketball for Oak Hill Academy this school year.

The leading scorer and rebounder in Kansas University basketball history, who has earned NCAA championship rings at KU as a player and coach, is in no hurry to oppose his alma mater.

KU's Bill Self, Wake's Danny Manning happy their teams are on opposite sides of bracket
The Kansas University men's basketball team will open this year's Maui Invitational with an 8 p.m. central time tip-off against Chaminade on Nov. 23. The full bracket, which was released Tuesday, features KU taking on the host school in the opener and then facing the winner or loser of the final game of the opening day between UNLV and UCLA.
By J-W Staff Report
July 28, 2015 12:23 p.m.

I wish every freshman college basketball player considering leaping to the pros could have been in the Alvamar Country Club fireside room Sunday night to hear Mario Chalmers answer a question about what was a happier feeling, winning a national championship with Kansas University or an NBA title with the Miami Heat. By Tom Keegan
The SE Elite Florida 16-and-under team did not betray its youth on its way to winning the 17-and-under platinum division of the Sunflower Showcase Sunday at Sports Pavilion Lawrence. By Chris Duderstadt

When the World University Games stretch of basketball started for Kansas University at Sprint Center with a pair of exhibitions vs. Canada, Carlton Bragg was getting tossed across the lane by a Canadian post player. No whistle. Hello basketball vs. men. Goodbye basketball vs. boys. By the end of the South Korean experience, Bragg was diving for loose balls, giving no thought to protecting his broken nose. It didn't take him long to get the hang of it.

The Sunflower Showcase youth basketball tournament has brought coaches from all over the country to Sports Pavilion Lawrence for this weekend, but it pulled one play-caller in particular back to his roots. By Chris Duderstadt

It's impossible to miss Michael Porter Jr. at the Hardwood Classic youth AAU basketball tournament at Shawnee Mission South High. By Bobby Nightengale

Michael Porter Jr., the No. 2 ranked player in the Class of 2017 by Rivals.com, plans to make a trip to Lawrence for Late Night in the Phog.
Former Kansas University basketball player Keith Langford had 17 points and 1 rebound in the United States' 93-83 loss to Brazil Thursday in the Pan Am Games in Toronto.
By Staff Reports
July 23, 2015 10:19 p.m.

Kansas men's basketball senior Perry Ellis received the Honorary Hero Award at the Real Men, Real Heroes Annual Recognition Event, Tuesday in Wichita.
By Staff Reports
July 22, 2015 8:11 p.m.

The Kansas University men's basketball team's 8-0 run while representing Team USA in South Korea earlier this month earned Frank Mason III, Wayne Selden Jr. and Perry Ellis spots on the All-World University Games teams from Eurobasket.com.
By J-W Staff Reports
July 22, 2015 2:24 p.m.

Former Kansas University standout Mario Chalmers watched his alma mater with pride when the Jayhawks won a gold medal at the World University Games in South Korea earlier this month. By Bobby Nightengale
Former Kansas University big man Joel Embiid re-broke the same bone in his foot that caused him to miss his rookie NBA season, according to a published report.
By Staff Reports
July 20, 2015 11:24 p.m.
July 2015
Previous Next