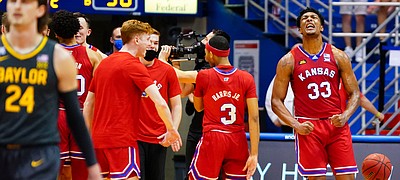 When the 2020-21 men's basketball schedule was finalized, Saturday's home showdown with Baylor was a game that every Kansas fan circled immediately. Matt Tait
Although Thursday's game between No. 13 Kansas and visiting UTEP at Allen Fieldhouse was added at the last minute, it will hardly be a new experience for a couple of people on the Miners' roster. By Matt Tait

With the Kansas men's and women's basketball programs facing new travel protocols during the pandemic, the Jayhawk Sports Network broadcast crews occasionally had to master the art of calling games remotely. Here's a look at how they made it happen. By Matt Tait

The Kansas men's basketball team used a big win over Baylor to move up four spots in this week's Associated Press Top 25 poll. The Jayhawks are one of seven Big 12 teams ranked in the top 18 of this week's poll. By Matt Tait

It remains to be seen if Saturday night truly was Senior Night for Kansas guard Marcus Garrett. But even if the Dallas native elects to take the NCAA up on its offer for all seniors to come back for another senior season in 2021-22, it's hard to imagine Garrett being celebrated quite like he was on Saturday night at Allen Fieldhouse.

Follow along during the game with our crew and the KUsports.com community.

A look at some of the keys for 17th-ranked Kansas in Saturday's Big 12 showdown with unbeaten Baylor at Allen Fieldhouse. By Matt Tait

KU senior Marcus Garrett to be honored at Senior Night but undecided about whether to stay or go
Kansas seniors Mitch Lightfoot and Chris Teahan announced Friday that they are planning to take advantage of the NCAA's waiver for an extra year of eligibility and will return to KU for the 2021-22 season. By Matt Tait

Turns out the top four teams left out of March Madness won't have their bubbles burst quite yet. Under a contingency plan released Thursday by the Division I basketball committees, those four at-large teams that don't make the original field in the men's and women's NCAA tournaments will be placed in order and serve as the replacement teams should any conference with multiple bids have a school that is unable to participate due to COVID-19 issues.
The reigning Naismith Defensive Player of the Year is in the running to win the award again in 2021. Kansas senior Marcus Garrett on Thursday was named one of 10 finalists for this year's award, given annually to the best defender in college basketball by the Atlanta Tip-Off Club. By Matt Tait

KU on Thursday announced that the 17th-ranked Jayhawks (17-8 overall, 11-6 Big 12) will welcome UTEP to Lawrence on March 4 for the final regular season game of the 2020-21 season. By Matt Tait

Former University of Kansas basketball player Silvio De Sousa has applied to go on diversion for a charge of aggravated battery, his attorney Hatem Chahine said Wednesday.
By Dylan Lysen
February 24, 2021 2:58 p.m.

There were a dozen plays or moments that could have changed the outcome of Tuesday's 75-72 overtime loss at Texas for No. 17 Kansas. But KU coach Bill Self and his Jayhawks said after the loss that they were not planning on dwelling on any of them and instead were looking forward to Saturday's showdown with No. 2 Baylor. By Matt Tait
February 24, 2021 9:55 a.m.

Standings and schedule are current as of 6 a.m. Wednesday, Feb. 24, 2021.

How former Kansas Jayhawks fared in NBA games played Tuesday, Feb. 23, 2021.
March 2021
February 2021
Previous Next