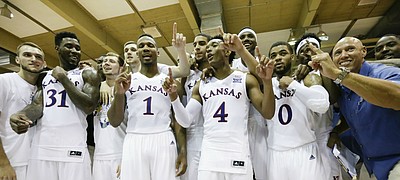 Junior guard matches career high vs. Vandy
Wayne Selden Jr., who has had plenty of success on the mainland, seems to take it to another level far from home. By Gary Bedore

But freshman wanted to suit up for Maui title game
Wearing a black, button-up KU shirt, khaki shorts and enormous blue-and-white adidas shoes, Kansas University freshman Cheick Diallo sat at the podium in the media room at the Maui Invitational with a look of relief splashed across his face. By Matt Tait

It makes little sense that, with its best shooter sitting at home back on the mainland, the Kansas University men's basketball team would roll through the field at the Maui Invitational with the three-pointer serving as the team's most dangerous weapon. By Matt Tait

No. 5 KU rallies in 2nd half to beat No. 19 Vandy
Kansas University coach Bill Self is finally a Maui Invitational champion. Self and the No. 5 Jayhawks brought home the coach's first Maui title in four tries — he previously was 0-for-2 at KU — with a 70-63 victory over No. 19 Vanderbilt on Wednesday night at Lahaina Civic Center. By Matt Tait

Bill Self, attorney still not pleased by NCAA's process
Kansas University basketball coach Bill Self received the long-awaited word on Cheick Diallo's eligibility from his administration about 5:30 a.m., Hawaii time Wednesday — the day before Thanksgiving. By Gary Bedore

Freshman will make debut Dec. 1
Maybe all of those chants and instances of public posturing from head coach Bill Self finally worked. The NCAA announced Wednesday afternoon Kansas University freshman big man Cheick Diallo has been cleared to play for the Jayhawks, beginning on Dec. 1, at Allen Fieldhouse against Loyola (Maryland).
By J-W Staff Reports
November 25, 2015 2:31 p.m.

For the second night in a row, the Kansas University men's basketball team lit up the first-half scoreboard for more than 50 points during Tuesday's 92-73 victory over UCLA in the Maui Invitational semifinals.

Kansas University senior walk-on guard Evan Manning could have joined his dad at Wake Forest last season with the blessing of Jayhawks coach Bill Self.

At different junctures throughout Kansas University's 92-73 win over UCLA Tuesday at the Maui Invitational, the throngs of KU fans in attendance chanted "Free Diallo."

After taking care of business in a 92-73 victory over UCLA in Tuesday's semifinals, Kansas University plays Vanderbilt, a team that whipped Wake Forest, 86-64, next.

Kansas vs. UCLA in the semifinals of the Maui Invitational has turned out dandy for the Jayhawks the last two trips to paradise. By Gary Bedore

Tuesday night, during a 92-73 slaughter of UCLA in the Maui Invitational semifinals at Lahaina Civic Center, sophomore guard Devonté Graham showed with absolute certainty that all of that attention on the scoring end of the floor did not do any harm to his ability to defend. By Matt Tait

Picking up right where they left off in Monday's 123-point explosion against Div. II Chaminade, the Jayhawks raced out to a 59-point first half and slaughtered UCLA in the Maui Invitational semis, 92-73, at Lahaina Civic Center on Tuesday night.

Bob Davis will retire as football and men's basketball play by play announcer after the hoops season.
It's a battle of college basketball bluebloods in the bottom half of the Maui Invitational championship bracket, as UCLA, a 77-75 winner over UNLV in Monday's tournament finale, will face Kansas, a 123-72 winner over Chaminade, in a semifinal at 9 p.m. central time Tuesday night.
November 2015
Previous Next