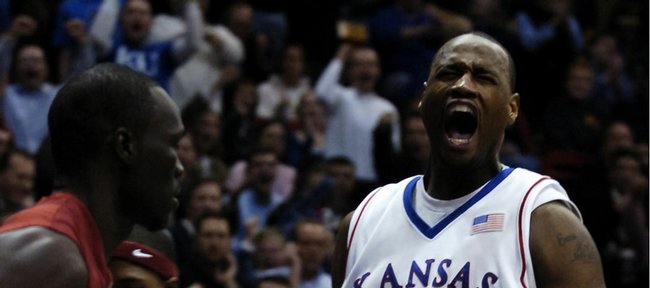 Go figure
5
Minutes played by OU freshman Blake Griffin, who hurt his knee
0
Points scored by the ballyhooed rookie, 15.4 below his average
9-for-10
Free-throw shooting by OU (90 percent), which paled in comparison to :
17-for-18
: KU's free-throw shooting (94.4 percent)
7, 6
Kansas turnovers, OU's points off those turnovers
11, 14
Oklahoma's turnovers, KU's points off those turnovers
1978
The last time KU beat the Sooners by 30 or more points (91-61)
1996-97
The last time KU was 17-0 to start the season (ultimately, 22-0)
The last thing Darnell Jackson wanted to see Monday night was his buddy, Blake Griffin, hit the deck because of a sprained medial collateral ligament in his left knee.
"I was looking forward to playing against him. I know he was looking forward to playing against me. I've known him since he was a little kid," Jackson, Kansas University's senior forward, said of fellow Oklahoma native Griffin, who went down battling Jackson for a defensive rebound five minutes into KU's 85-55 annihilation of Griffin's Oklahoma Sooners at Allen Fieldhouse.
"I wish him the best. I just want him to get well soon," Jackson said.
Jackson already had erupted for six points - including a vicious dunk on a hustle play off the opening tipoff - and KU led, 11-2, when fab freshman Griffin went down five minutes into the contest.
Griffin, who missed his only two shots, iced his knee until midway through the second half, when the team trainer applied a heavy wrap. Griffin will undergo an MRI today.
"I think we got tangled up a little bit. We both jumped. I think his leg was under mine. I came down on him. I think he was trying to grab onto me so he could catch his balance," Jackson explained.
"I guess he slipped off. His brother Taylor (eight points, 2-of-11 shooting in 34 minutes) was down. I think everybody was down because he's a great player."
Jackson arguably again was the best of all of KU's players Monday: He scored 17 points off 8-of-10 shooting with eight rebounds in 25 minutes.
Other standouts: Brandon Rush, 16 points, 4-for-7 threes, nine rebounds; Mario Chalmers, 13 points, five assists, three steals; and Russell Robinson, five assists, two steals.
But it was Jackson's flush to open the scoring that energized KU's loud crowd - and the entire team.
"Brandon, Mario and Russell all told me that is what set the tone for the game. I just tried to make sure I hustled the ball down, and next thing I knew I was open for a dunk," added Jackson, who also had a one-handed dunk late during which he tweaked his aching back.
"I'm fine. Just tweaked it. I'll be fine."
Jackson and Darrell Arthur scored eight points apiece the first half, while Rush had 11 off 3-of-5 three-point shooting as the Jayhawks led, 40-20, at the break.
"That play by Darnell to start the game was a great play. It set the tone for the first half," KU coach Bill Self said.
Also on fire, Rush has made 10 baskets in two Big 12 victories in 21 attempts. He's 9-for-14 on trey tries in those games.
"I feel good," Rush said. "My teammates are doing a good job of getting me the ball, and I'm making shots right now."
Like Jackson, he was bummed to see Griffin and 15.4 ppg average go down early.
"I didn't expect Blake to get hurt. I was looking forward to seeing him play," Rush said. "I didn't want to see it. It's tough he got hurt, but you've got to play the rest of the game.
"Tonight we tried to run Longar Longar up and down the floor so he'd get tired. He still had a great game."
Inside player Longar hit nine of 18 shots and three of four free throws on a night KU swished 17 of 18 free throws to OU's nine of 10.
KU's defense held the Sooners to 32.8 percent shooting and just four of 16 threes.
"I thought we played very well. We were quick, and guys were flying around for the most part. Unfortunately, they were without Blake Griffin," Self said after his team improved to 17-0, 2-0 in the league. OU fell to 12-5, 0-2. "I'm sure it deflated them when he went down. I certainly hope it's not a season-ending injury and he can be back in a short amount of time because he's a terrific prospect. He's a great kid. We recruited him.
"You always hate to see anybody get injured. We caught a break from the beginning with him not being here, but I was really looking forward to our guys getting a chance to guard him because he is a special talent."
Kansas will face Missouri on Saturday in Columbia, Mo.
More like this story on KUsports.com