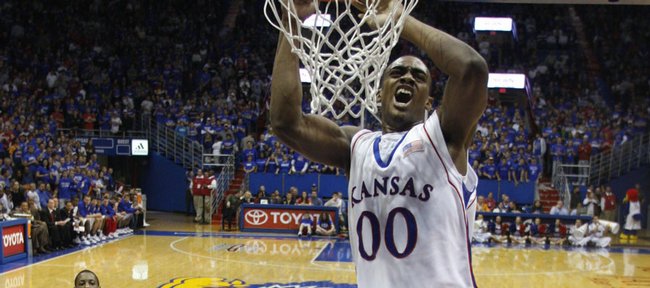 Kansas University's basketball players do listen to their coach.
Well, at least some of the time.
"Coach (Bill) Self said, 'Attack, attack, attack. Everybody attack the rim tonight,''' KU senior power forward Darnell Jackson said.
"Coach said, 'Pound it in, pound it in,''' sophomore forward Darrell Arthur revealed.
And so it was Wednesday, as obedient Jayhawk guards fed the bigs early and often in an 85-47 victory over outmanned Eastern Washington at Allen Fieldhouse.
"Coach got on us yesterday at practice. He told the guards to get us the ball down low. He told me to get to the hole more, drive more instead of taking jumpers," said the 6-foot-9 Arthur, who combined with Jackson for Kansas' first 15 points - 14 down low and one from the free-throw line.
Arthur, who missed four of his first five shots - including a game-opening baseline jumper - in Sunday's 59-55 victory at USC, made four of his first five shots inside against EWU.
Jackson converted his first three shots in the paint and canned a free throw as KU opened a 15-5 lead just 51â2 minutes into the nonconference mismatch.
"We passed the ball well tonight," Self said. "I do not know if they (bigs) were more open tonight than they were the other night. We just got the ball to them starting out. Russell (Robinson, three assists, nine points), Mario (Chalmers, eight assists, six points) and Rod (Stewart, two assists, seven points) did a great job of doing that tonight."
Thanks in part to Self's commands and demands at practice on Tuesday.
"We put 'em on the treadmill at practice. Everybody hates it," Self said of penalty laps on the treadmill. "They (guards) get on if they do not throw it to the post when somebody is open. We started doing it recently.
"Also, the tape shows them (the bigs are open)," Self added.
Point guard Robinson grinned when asked if he'd been on the treadmill Tuesday.
"I got on it one time for not throwing it in. I was on for a tough 30 seconds," Robinson said. "That was a motivator. I guess it's why we were focused on throwing it inside."
Arthur had 12 points the first half off 6-of-10 shooting and Jackson seven off 3-of-4 shooting as KU opened a 37-23 lead at the break. Jackson finished with 17 off 6-of-8 shooting and Arthur 15 off 7-of-12 marksmanship.
Sasha Kaun added seven points and Cole Aldrich six on the inside. KU's guards racked up 20 assists to EWU's five.
"Our main goal is to get 'Shady' started," Jackson said of Arthur. "It's what we say at practice and in the locker room. Get the ball to 'Shady' and the game is easier for us all."
"Just feed him the ball, let him get started. That's how he's going to have a big-time game," noted Brandon Rush.
"It's another step for 'Shady,''' Robinson added of the big man's effort. "We get it inside, they will kick it out, and everything will be dandy."
KU had some problems from the outside Wednesday, missing 12 of 17 3-pointers. Yet the inside game as well as a pressing defense that accounted for 15 steals and 22 EWU turnovers propelled the Jayhawks to 8-0.
EWU fell to 3-7.
"I thought it was good for us to play out of a scramble situation," Self said, noting the Jayhawks figure to play even more full-court defense when Sherron Collins returns from injury and Rush is closer to 100 percent recovered from his ACL surgery.
"They wanted to slow it down, but we created some pace defensively. We did not score as much off our defense as I thought we would, especially when we had 15 steals (career-high six by Chalmers), but I thought our defense was good. I thought our big guys flew around. They scored off of breakdowns, but for the most part, we defended pretty well. We played a lot better than we did Sunday, that's for sure."
Eastern Washington, buried by an 18-2 run that upped KU's 39-26 lead to 57-28 early in the second half, was led by guard Adris DeLeon, who had 24 points off 8-of-11 shooting. The Eagles hit eight of 26 threes to KU's 5-of-17.
KU had just two double-digit scorers, big men Arthur and Jackson. Arthur, by the way, did drift outside the second half to cash a 3-pointer.
"It's good to start inside then go out," said Arthur, who now has made two of six 3s on the year. "I was wide-open (on the 3). It was an open look, so I knocked it down. I still have confidence in my outside game.
"The main thing is I was not as sped up tonight as I was against USC. It was our first road game. We were all sped up. I'd been shooting too quickly. I've been working on a lot of things with coach (Danny) Manning, like driving to the hole. I'm trying to get to the hole, work inside/out."
Next test for No. 3 rated KU is Saturday's game against 2-2 DePaul. Tipoff is 1 p.m. at Allen Fieldhouse.
Go figure
32.7
EWU's field-goal shooting percentage
45.5
KU's field-goal shooting percentage
21
Kansas' rebounding advantage (48 to 27)
15
Kansas' advantage in points from the free-throw line
5:22
Eastern Washington's assist-to-turnover ratio
20:11
Kansas' assist-to-turnover ratio
6
Steals by all EWU players combined
6
Steals by Kansas' Mario Chalmers alone (KU had 15 total)
More like this story on KUsports.com