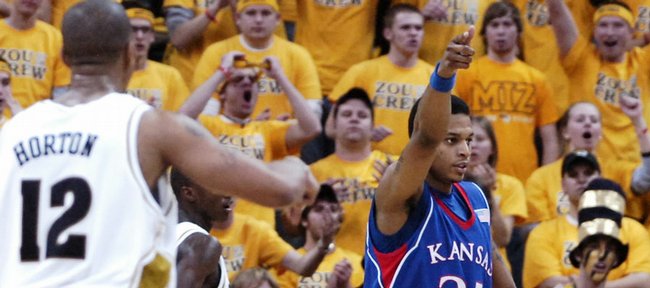 Go figure
21
Points scored by KU from the free-throw line in the second half
38
Points scored by KU in the second half
17
Points by which Kansas outscored MU from the free-throw line
28, 22
Free throws made by KU, free throws attempted by MU
71
Field goals attempted by the Tigers
55
Field goals attempted by the Jayhawks
77
Missed field goals by both teams combined (33 for KU, 44 for MU)
95
Rebounds by both teams combined (52 for KU, 43 for MU)
Columbia, Mo. — Bundled up in his winter garb, a white and blue Kansas University stocking cap covering his ears, Brandon Rush was in a hurry to head out into the bitter cold and board the team bus Saturday night outside Mizzou Arena.
"I'm going to go text my brother. I will say I got him : again," Rush said with a grin.
He was referring to needling his brother, former Missouri player Kareem Rush, in the wake of the Jayhawks' 76-70 victory over the Tigers.
KU's Rush was in a great mood after defeating MU for the fourth time in five tries in his career and his second time in Columbia against a sole defeat his freshman year.
The 6-foot-6 Kansas Citian was not dwelling on the fact he missed 12 of 14 shots, including four threes without a make.
He preferred to focus on the fact he did make nine of 14 free throws - including four of six the final minute - and grabbed nine rebounds in helping KU keep its perfect season intact at 18-0, 3-0 in the Big 12 Conference.
"It was a little frustrating because my shot didn't go down," Rush said. "I tried to not pay too much attention to it. I tried to do my part rebounding and guarding Matt. He didn't shoot it too well, either."
Rush, whose nine rebounds were matched by Darrell Arthur and Darnell Jackson for team-high honors, held Matt Lawrence to a 2-for-10 game, including just one three in nine tries.
"I expected a grind-it-out game," Rush said of a game in which the defenses dominated.
Missouri (11-7, 1-2) hit just 38 percent of its shots, including five of 28 threes and 11 of 22 free throws. KU hit 40 percent of its shots, including four of 12 threes and 28 of 45 free throws.
"Missouri's defense confused us. They pressured us a lot, then they laid back in the 2-3 (zone). It was confusing, but we still managed to win the game," Rush said.
It was perhaps KU's toughest game of the season.
Missouri jumped to an early 7-1 lead, the Tigers' biggest lead of the game.
KU led by just two, 38-36, at halftime and never led by more than eight points - 64-56 - with seven minutes to play. MU couldn't creep closer than five, despite the fact the Jayhawks made one of two free throws on four straight trips to the stripe.
"It wasn't very good, obviously. I'm certainly not going to complain about the number we shot (45). That doesn't happen a lot on the road," KU coach Bill Self said of free throws.
His team did sink 10 of 14 the final 3:20, with Mario Chalmers making two at 3:20 and two at :11.5.
"We made just enough to win the game. We made it harder on ourselves down the stretch, consistently making one of two," Self said. "We've got to do better than that."
KU made just one field goal the last 7 1/2 minutes, a layup by Chalmers, who finished with 18 points and three steals, including a huge steal with 1:10 left. That steal led to an intentional foul on Rush and three of four Rush free throws on two possessions, giving KU a 71-63 lead at :58.
"That's a little misleading," Self said of KU's netting just one field goal late. "How many free throws did we shoot? Our goal late was to use the clock, hopefully create inside scoring opportunities. We didn't take many shots the last seven minutes (six shots, one basket)."
The victory obviously wasn't a thing of beauty, with both teams combining for nine threes in 40 tries, but it was a huge workmanlike victory, with KU outboarding rival Mizzou, 52-43.
"I thought our guards got sped up, tried to make some great plays instead of just moving the ball," Self said. "I attribute that to Missouri's guards. I certainly am pleased to get the victory. I think the reason we played poorly in large part is because Missouri got after us."
He grinned when asked if he and his players were expecting a blowout.
"I expected a low-scoring game, to be honest," he said. "I thought two teams would really guard.
"If anybody thought we'd win this game big, they probably don't understand college athletics. It was a big game for Missouri and a huge game for us, a rivalry game," Self added.
And a good game for Rush, who received family bragging rights over Indiana Pacers player Kareem, despite a horrid night offensively.
"He just didn't make shots. I'm proud of him, his aggressiveness, the way he rebounded the ball," Self said. "This is a big game for Brandon and a hard game for him. He likes a lot of people here. Missouri was good to his brother. He catches crap when he comes over here (from fans), which he should."
Yet the insults of The Antlers, who yelled "traitor" at him in pregame introductions, didn't matter at the end.
More like this story on KUsports.com