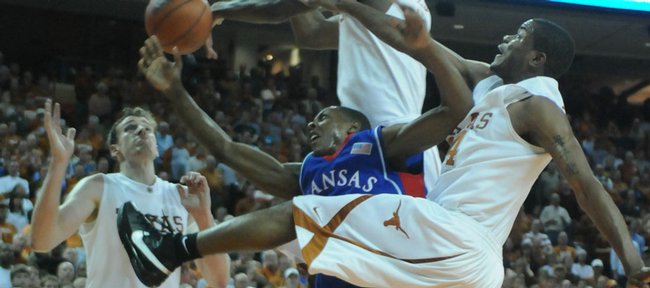 Audio clips
2007-08 Feb. 11 KU-Texas Hoops
Go figure
+10
Kansas' rebounding margin in the first half (23 to 13)
-11
KU's rebounding margin in the second half (23 to 12)
4
Three-pointers made by the Jayhawks
4
Three-pointers made by UT's Connor Atchley by himself (UT had 8 total)
9
Points by which Texas outscored KU from the free-throw line
3
Longhorns who played at least 36 minutes (2 played the full 40)
0
Jayhawks who played at least 36 minutes (Russell Robinson played 34)
0
Career victories, in three tries, for KU coach Bill Self in Austin, Texas
Austin, Texas — Mario Chalmers walked slowly off the Erwin Center court, shaking his head slowly from side to side as he headed to the visitor's locker room late Monday night.
He appeared more mad than sad after missing an off-balance potential game-tying three at the buzzer of No. 3-ranked Kansas University's 72-69 loss to No. 11 Texas.
"We're still the favorite. That's what's in our minds," a defiant Chalmers said 15 minutes after the final horn.
He was referring to the Big 12 race that now has Kansas State with one loss, KU and Texas with two and Texas A&M; and Baylor with three.
"We think we're the best team in the conference still," he said.
Chalmers' last-second shot from the side, which came off a shovel pass from Russell Robinson, was the end result of what coach Bill Self called "a bad possession."
"We had something we wanted to run, (but) we took it to the wrong side of the floor," Self said. "It killed the play. Eight seconds is enough time to do it."
Chalmers was KU's go-to guy down the stretch. He hit a three at :32 to slice a 69-64 deficit to two points and missed a three at :12 with KU down four, though Darrell Arthur scored a second later.
Chalmers didn't have time to set himself for his final trey.
"It was the last shot. I had the ball with a second left. I just tried to throw it up there and send it to overtime," Chalmers said.
His late threes weren't the only important ones on a night UT big man Connor Atchley canned four in four tries and scored 16 points.
Brandon Rush, who had 10 points (he took just three shots the second half), had a three from the corner rejected by 5-foot-11 A.J. Abrams with :54 left, KU down, 67-64.
"He was open. He had a good look," Self said of Rush. "We were not necessarily trying to shoot a three there. He was open. Brandon took time getting it off. A.J. did a good job of closing."
Abrams - he and guard D.J. Augustin were held to 24 points off 6-of-26 shooting - surprised the 6-6 Rush with his hops.
"I was pretty shocked. He had full-bore steam," Rush said. "He jumped high, (but) we still had a chance after that."
In fact, KU nearly forced a 10-second backcourt violation, at :21, when the Longhorns barely got it past halfcourt with a two-point lead. Abrams was fouled at :21 and hit two free throws, upping the margin to 71-67.
"I thought Mario had the loose ball. I don't know if it was 10 seconds. It had to be close," Self said. "It was the right no-call."
KU's Robinson, who said the final play which resulted in the Chalmers three "got twisted up," said he felt the game was actually lost "the first five minutes of the second half. They took back control of the game. It was downhill since."
The Longhorns led 42-38 at the half, but led by a point just three minutes into the final half.
Damion James, who played three minutes the first half because of foul problems, grabbed 13 rebounds the second half while playing all 20 minutes. Justin Mason had six of his eight boards the second 20 minutes as Texas outrebounded KU, 23-12, after halftime. KU won the board war, 23-13, the first half.
"They 'outmanned' us the second half," Self said, stressing the 'man' part of the word. "It does surprise me because all we talked about at halftime is how they would come at us on the glass."
The Jayhawks were disappointed at the rebound discrepancy after intermission.
"The second half, they killed us on the glass," said Darrell Arthur, who had 22 points and six boards. "Their second-chance buckets killed us. We had opportunities. We couldn't complete them. Damion was extra aggressive the second half and made big plays for them.
"We couldn't get our hands on the ball. We couldn't grab the rebounds. Balls were flying out of bounds. One came off Brandon's head. We couldn't get a rebound the second half."
Now it leaves the Jayhawks scrambling in the league chase.
"We can win it. Some things have to happen. We have to win 'em all out from here," guard Sherron Collins said.
"We can't lose another one or we are out of the race," Rush said.
"It's not over," Robinson declared, echoing the sentiments of his backcourt buddy, Chalmers.
KU will meet Colorado at 12:45 p.m. Saturday at Allen Fieldhouse.
More like this story on KUsports.com