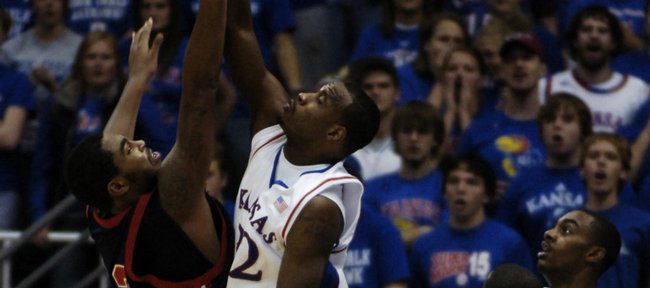 An emotional guy, Darnell Jackson admits that being introduced as a starter at Allen Fieldhouse really gets his blood churning.
"When they call your name," said Jackson, who made his first start of the season and fifth of his four-year Kansas University basketball career Wednesday night, "and you run out there and everybody is yelling, it gives me a lot of energy. I was real comfortable starting the game."
The 6-foot-8, 250-pounder from Oklahoma City who opened in the place of fellow senior Sasha Kaun, scored four of KU's first 10 points en route to KU's 87-49 waxing of ex-Jayhawk Rex Walters' Florida Atlantic Owls.
Jackson finished with 13 points off 4-of-5 shooting and 4-of-4 free throwing. He also swished the second 3-pointer of his career and second this season.
"I wouldn't say I'm a 3-point shooter now," said Jackson, who has made two of four on the year. He also made two in three tries in an exhibition victory over Fort Hays State.
"I do have a lot of confidence in my shot. I used to shoot line drives. Coach (Bill) Self tells me to get some arc under it. I work on it a lot with coach (Danny) Manning. We run a drill where he stands there and we have to shoot over his arms."
Jackson - his 3-pointer off a feed from Jeremy Case gave KU a 62-28 second-half lead - said he may fire up an occasional trey this year to help open it up inside for KU's other big men.
"I think I can help 'Shady' out when we are in the game together," he said of Darrell Arthur, who had 12 points and two boards in 17 minutes. "Or I can help Sasha (seven points, seven boards, 16 minutes). If I can knock that shot down, it will help give them room to make a move in the post. If they (defenders) come out on me, I can throw high/low to one of my teammates."
KU coach Self, who often is amused by his players' postgame quotes, grinned when asked about that Jackson theory.
"I guarantee you he is not thinking when lining it up, 'I am doing this to open up the high/low.' The reason he likes shooting it is because he likes shooting it. It is better if guys can stretch the defense.
"I trust his shot," Self added. "Next to Wayne (Simien), he is probably the best big man shooter we've had, hands down."
Jackson - he said he learned at Tuesday's practice he'd get the starting nod - also offered a theory about the game-opening lineup.
"Coach wanted to try something new. He was going to rotate the big guys to see which guys start off better," Jackson said. "It's early. He'll see who is out there improving on the court, who will start and who will come off the bench. Either way doesn't matter to me at all. We have to be focused at all times, starting or coming off the bench."
Self said he mentioned the rotating of big men starters weeks ago, but noted, "I don't have that on my mind at all now."
What does he have in mind?
"I think he (Jackson) has earned that (starting slot). He's played well, and I think Sasha has labored," Self said. "Maybe that will get Sasha going a little bit. If we are going to experiment and do different things, it's best to do it early on. Now I'd say Darnell has earned that right to start."
Self said Jackson likely would start Sunday's 1 p.m. battle at Southern California.
"He did fine. Sasha played a lot better. He went after the ball hard. Shady didn't play as much. He had two quick fouls and tweaked his ankle early (but continued to play) He did fine as well as Darnell and Cole (Aldrich, four points, three steals, 15 minutes)."
It was a fine effort by the Jayhawks, who hit 56.9 percent of their shots compared to FAU's 31.4 mark. Brandon Rush continued to fare well, scoring 17 points for the second straight game, this time in 19 minutes. Mario Chalmers had 11 points and Conner Teahan nine, both cashing three 3-pointers.
Go figure
31.4
FAU's field-goal shooting percentage
56.9
Kansas' field-goal shooting percentage
8:19
Florida Atlantic's assist-to-turnover ratio
22:10
Kansas' assist-to-turnover ratio
45-10
KU's scoring advantage in bench points
18
Points by which Kansas outscored FAU from 3-point range
4-5, 4-4
Field-goal, free-throw shooting for Darnell Jackson in his first start
9, 8
FAU players who took the court, FAU players with at least 1 turnover
More like this story on KUsports.com