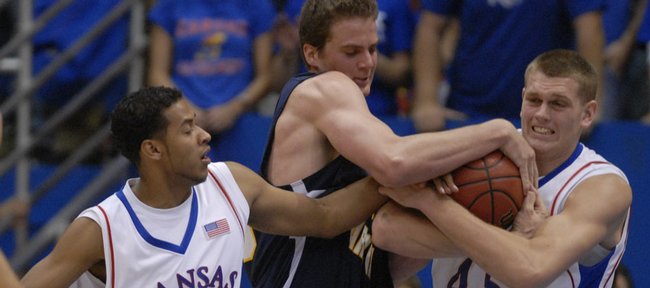 Like most everybody on the planet, Kansas University basketball coach Bill Self has some things to be thankful for today.
For starters ...
¢ His health.
¢ His family.
¢ And a perfect 4-0 record following KU's 87-46 Thanksgiving Eve basting of Northern Arizona in a game that celebrated the return of the proud Jayhawk defense, which had been missing in routs of Louisiana-Monroe, UMKC and Washburn.
"We guarded them like we should be guarding them," Self said after a suffocating effort that held the Lumberjacks to 10 points off 16.7-percent shooting the first half as KU built an insurmountable 44-10 lead at the break.
It seems KU's fifth-year coach challenged his team to step up the defensive effort before a game against a Northern Arizona team that dropped a narrow 76-69 decision at Pac-10 power Arizona on Nov. 13.
"Coach was like, 'Go out and try to not let them get comfortable and try to hold them under 40 (points),'" sophomore forward Darrell Arthur said after recording three of KU's nine blocks and contributing 17 points in 24 minutes. "Pretty close. They got 46."
KU held NAU (3-2) scoreless the first six minutes, 38 seconds, when Zarko Comagic busted his team's 0-for-8 start by putting in a stickback off a Matt Johnson miss.
KU led 20-2 and 26-4 en route to the 44-10 halftime margin. NAU's 10 points were the fewest scored by an opponent in a half since Cornell totaled nine in the second half on Jan. 2, 1996. The 10 points were fewest in the first half since KU held Mississippi Valley State to 10 on Dec. 12, 1992.
That's 15 years for those counting.
"The first half I'll give it a '10,''' senior Darnell Jackson said of a perfect score on defense. "The intensity on defense was going through the roof. The second half we were average."
KU won the second half, 43-36, in a game mercilessly played in just one hour, 45 minutes.
"Coach Self was on us every day. We were letting them score too much. Coach Self challenged us not to let them score," said Jackson, who hit the first three-pointer of his career - in his first attempt - and finished with 13 points and eight rebounds.
By the way, he also missed a three on a night KU hit 61.4 percent of its shots, including 10 of 24 threes. Northern Arizona finished at 31.5 percent shooting, canning six of 18 threes.
"I really enjoyed watching them (Jayhawks) play tonight," Self said. "I will not get overly excited about one half. We were more sound defensively. We gave up 10 points the first half, and six of those were on threes that were bonehead plays. If we would have been sound on those two plays, we would have really (shut NAU) down. It was a good win. I was really pleased with our defense."
Arthur and Jackson were the only Jayhawks who scored in double figures on a night KU shared the ball to the tune of 25 assists. NAU had just 10 assists against 18 turnovers.
"One great thing about our team is balance," Self said. "But a negative thing about our team is balance. You can look at it and say, 'Shady (Arthur) only got five shots in the first half. He needs to get more shots than that (good for seven points). With balance, that is the way it plays out a lot of the time. I thought we executed well. We haven't been in a game where we've needed to run anything yet. That will all change on Sunday."
That's when Arizona comes to town for a 7 p.m. tipoff.
"I will not get too excited about this. The real games begin on Sunday," Self said.
Go figure
10
Points scored by Northern Arizona in the first half
2-for-8
Field-goal shooting by three of NAU's starters
1
Number of NAU starters to shoot .500 or better
31.5
NAU's overall field-goal percentage (17 for 54)
600
Kansas' victory total in Allen Fieldhouse (against 106 losses)
0
Free throws made (and attempted) by NAU in the first half
1
Free throws made (in 5 attempts) by KU in the second half
1
KU's scoring edge from the free-throw line (7 for 14 to 6 for 6)
More like this story on KUsports.com