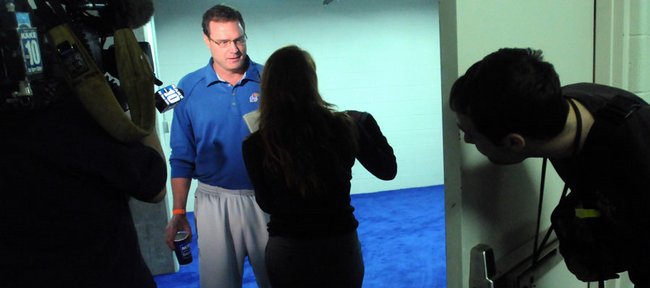 Feature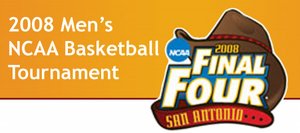 Get your March Madness fix at KUSports.com.
Detroit — Bill Self doesn't know how he'll react if Kansas University's basketball team tops Davidson College today and advances to the Final Four.
He might pump his fist in the air.
He might hug a player, or an assistant coach or two.
He might wave at his wife and kids and/or mom and dad in the Ford Field stands.
Heck : the tough-guy coach might need to wipe away a tear before clipping the nets.
It'd all be uncharted waters for Self, who is 0-for-4 in the Elite Eight - 0-for-2 as head coach at KU and zip-for-1 at Tulsa and Illinois.
"I imagine it'd be joy - and a little bit of relief," Self said Saturday, eve of today's 4:05 p.m. game against No. 10 seed Davidson (29-6), a Southern Conference squad that has won 25 in a row.
Any type of victory - whether it be one point in overtime or by the 19.3-point average margin of victory claimed in 2008 NCAA Tourney games against Portland State, UNLV and Villanova - would be OK with Self, now in his fifth year at KU and 15th overall as a head coach.
"It's something I think about all the time," Self said of reaching the Final Four, in this case next week's extravaganza in San Antonio. "I think about it every day in some form or fashion. And a lot of times many times a day."
While last year's Elite Eight loss to UCLA (68-55) might be most fresh in his mind, it's no more disappointing than the 79-71 overtime loss to Georgia Tech in 2004, or his Illinois team's 87-81 loss to Arizona in 2001, or his Tulsa team's 59-55 setback to North Carolina in 2000.
"I don't know, other than losing a championship game, if one could hurt as much as losing in the Elite Eight, because all season long there's a buildup in your players' minds and everything: The Road to the Final Four,'' Self said. "This is obviously the last step. It doesn't sit well with us, but I've told our guys this in the past: 'I'd much rather be in the game than not in the game.'''
Billy bleeds KU blue today
One of Self's closest friends, Kentucky coach Billy Gillispie, is thrilled Self today is back in an Elite Eight contest.
"I'll have my ears and eyes on the game," Gillispie told the Journal-World in a phone interview, indicating he'd be here in person if not for the fact he has to work.
Coaches at places like KU and UK do not take many days off.
"As a friend, it'd be pure joy for me (if KU wins). Nothing against the opponent, but this would be very emotional for me. I will be pulling for him as hard as I can. This is like pulling for a brother trying to advance to the Final Four for the first time. He is absolutely the reason I've had any opportunities in coaching," Gillispie added.
Gillispie said he'd make one of the happiest phone calls of his life this evening if KU comes out on top.
"I'll leave a message alongside a million of his other friends. The love and respect : the friendship I have with Bill Self, it could be a very emotional day," Gillispie said.
Barry a KU fan, too
Today could also be a red-letter day for former Missouri State coach Barry Hinson, another man in the profession who considers Self a brother figure.
"I'd be absolutely elated. Nobody wants it more than he does," said Hinson, who attended KU's Sweet 16 victory over Villanova on Friday, but flew back to Springfield, Mo., on Saturday, "to take care of our dogs.
"When you are out of a job, your wife puts you to work," he cracked. "My two Labrador retrievers and I will be watching and cheering him on.
"I am waving the wheat, singing the school song. I've been a true Jayhawk the last two rounds."
Hinson said if he knows his buddy as much as he thinks he knows his buddy, there'd be some Self-imposed relief today if KU wins.
"But I don't think relief comes from the fan side of it or expectations side of it," Hinson said. "I think he wants it for the players (and the fact) the pinnacle in college basketball is getting to the Final Four. People don't understand how driven he is to do this. For him to get it : it'd be emotional for me to see it happen."
Dooley awed by boss
KU assistant Joe Dooley, who has worked with the 45-year-old Self at KU the past five seasons, would love to see the players' and his boss' hard work rewarded with a trip to San Antonio.
"He's an extremely hard worker. I don't think people understand the amount of time that goes in," Dooley said. "Every recruit we have is a process - how many hours we spend recruiting him, spending time in the home.
"I don't even know how many practices we've had, how many walkthroughs, film sessions. It all started with individual workouts back in August."
And it has continued through this weekend.
"It's one of the goals at Kansas. It's why you want to work at Kansas. You have the opportunity to do this," Dooley said. "The pride and tradition of the program : it is expected. If we make it, knowing Bill, he'll be happiest for the kids. They've put a lot of time and effort in it. It would be nice to see them rewarded."
Lee has been there
One new member of the staff, graduate student manager Michael Lee, has been to a pair of Final Fours. He also played on Self's first Elite Eight team at KU.
"I know coach Self wants it a lot. He's very competitive," Lee said. "He has the team set goals every year. At the beginning of the season, these were the expectations we had for the team, and we're trying to fulfill them."
Lee said Self doesn't show any outward signs of pressure in trying to fulfill team goals and at the same time reach the Final Four coaching fraternity.
"I'm sure he realizes it. It's the business of basketball," Lee said. "It's how things work. As good as you may be, there's sort of an asterisk by your head if you don't make the Final Four. It's the same with the athletes. It's like your legacy. That's just the business part of it. But the fact of the matter is, no matter what, he's one of the best coaches in basketball."
Even players know the stakes
Fifth-year senior Jeremy Case said the team is motivated to win one for Self, but also for fans and themselves.
"Coach has been close so many times. I know he's excited to be here, but not satisfied," Case said. "We are all aware we are right there with him. He is not alone being 0-fer. We remember the taste we had last year against UCLA. To get so close so many times, he's got to want it a lot. We want it, too."
Self, however, has not personalized it with the players.
"He's never talked about not getting there. He's talked about what we need to do to get there," Case said.
Junior Brandon Rush, who has been talking the past two weeks about reaching the Final Four for Self, noted: "We know what he's been through, not making it to the Final Four. We want to do it for him and a lot of other reasons. Our fans expect us to be in the Final Four. That's the whole thing playing at Kansas. We know what's in our hearts and minds, trying to win for coach and everybody else."
Lew loves his Self
The leader of KU athletics is rooting for Self and the Jayhawk players as much as anybody today.
"I want it very badly for Bill. Bill is great," athletic director Lew Perkins said. "He deserves it. He's worked very hard. He is great for college basketball and the University of Kansas. He's no different from any coach I've been with. He doesn't lie awake at night thinking, 'I have to clarify my career by making the Final Four.' He wants to do it for the right reasons. He wants it for the kids.
"If we win, it'd be a great moment not just for Bill, but the whole team and the seniors. Those kids haven't had that opportunity. We've been close. It's the third year we've been to the final eight."
Perkins worked at Connecticut when Jim Calhoun reached his first Final Four.
"I don't evaluate Bill as going to the Final Four or not," Perkins said. "The next question you'd ask would be, 'Do you evaluate winning national championships?' It never ends. With coach Calhoun, people were saying, 'Can he be a Hall of Fame coach without a Final Four?' All of those things. Jim Calhoun is a Hall of Fame coach.
"I want it for everybody. The University of Kansas has history and tradition, has played a major role in college basketball. We want to continue that tradition with this team, the kids that are trying to make it happen," Perkins said.
Best coach, period?
So he's currently known as the "best coach in America not to reach a Final Four."
That title could change today.
If it does, great. If not :
"This does not eat his insides out," UK coach Gillispie said. "I don't think coach approaches life that way. He loves his players. He knows he will make the Final Four and win national championships, perhaps many times. He's a great coach and person no matter what."