Feature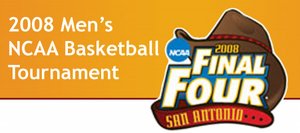 Get your March Madness fix at KUSports.com.
About Davidson
Here's the skinny on Davidson College: It's located about 20 minutes north of Charlotte, N.C., in the town of Davidson. The town has a population of about 9,000, and the campus has an enrollment of 1,700 students. The college is known for its strong academics.
"Our basketball team is putting us in the national spotlight now," guard Jason Richards said. "I heard from a couple of friends last night that campus was going crazy. People are driving down Main Street, honking their horns and yelling out their windows.
"Davidson is a small town. There's one main street, a couple of shops on the street. It's a nice small town, and we're happy to be a part of it."
Helping out
Curry is the son of former NBA sharpshooter Dell Curry, and that has paid off in unconventional ways.
"Matt Matheny, one of our assistants, and I sat down with Dell a few weeks ago when Steph was being hounded (and) we weren't getting enough shots," coach Bob McKillop said. "I asked him to give me three to four to five of his best quick-hitters that got him shots when he was with the Hornets.
"He was gracious enough to come up. We X'd and O'd on the board. That's how special he is, and that's how special our relationship is."
Know the names
They are two of the country's top college basketball players. But their seemingly common names often get butchered.
Davidson College's Stephen Curry and Jason Richards have dealt with that for some time now. Curry's first name (pronounced STEF-en) often gets pronounced STEVE-en.
Richards, meanwhile, was accidentally called "Jason Richardson" by a KU player Saturday.
"It's not that big of a deal to me," Richards said with a grin. "It's just my name."
Richards averages 12.9 points and 8.1 assists per game and had 13 assists versus zero turnovers in Davidson's 73-56 victory over Wisconsin. Curry, of course, scores 25.9 points per game.
"I've gone through that my whole life," Curry said of the mix-up. "It's spelled the same way as the normal 'Stephen' you hear."
More like this story on KUsports.com