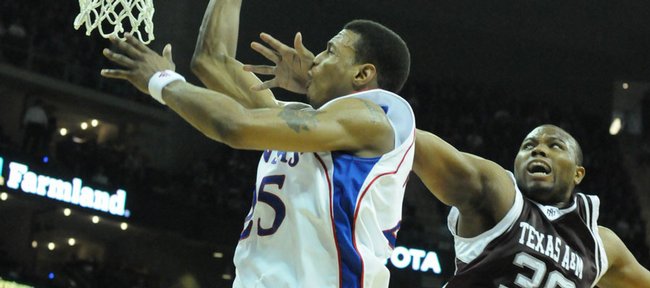 Go figure
8
Points by KU's Brandon Rush in the first half
20
Points by Rush in the second half
43.3
Field-goal shooting by the Jayhawks in the first half
68.2
Field-goal shooting by the Jayhawks in the second half
10
Number by which A&M; outrebounded KU (35-25)
21-11
A&M;'s advantage in second-chance points
2
Start time (p.m.) for today's KU-Texas Big 12 title game
5
Start time (p.m.) for today's NCAA selection show on CBS
Kansas City, Mo. — Sure, he was happy Kansas University's basketball team won the game.
But Brandon Rush also was upset - and a little embarrassed - after missing seven of 10 shots and committing four turnovers in Friday's Big 12 tournament quarterfinal victory over Nebraska.
"I played terrible yesterday," Rush said of his nine-point, five-rebound effort in the Sprint Center building located just a few blocks from his Kansas City home.
"I wanted to come out today and show everybody what I can do."
What the 6-foot-6 junior did Saturday in front of a batch of family and friends was score a career-high 28 points - 20 in the second half - of the Jayhawks' pulsating 77-71 semifinal victory over Texas A&M.;
Rush hit nine of 13 shots, including five of eight threes, and also was 5-for-5 from the free-throw line. He had just two rebounds, but played strong defense on A&M; forward Josh Carter, who bricked eight of 10 shots and scored just five points.
He didn't hesitate when asked if it was the best of his 102 games in a KU jersey.
"By far," Rush said.
"I couldn't miss so I kept shooting and shooting, and they kept falling and falling. I'd rather have it in the fieldhouse," he added of his career-best performance. "I didn't play well there at times this year. It feels good to get my career high here, though. It feels good to be in Kansas City and put on a good show."
Rush, who was aggressive in calling for the basketball, sank six of eight shots the second half, including three of five three-pointers.
His two free throws and a three-pointer from his favorite spot - the corner - boosted a 65-63 lead to seven points at 3:53.
"It's the hottest I've ever seen him," said senior guard Russell Robinson, who had one key bucket himself - a driving layup that stretched a 73-71 lead to four points at :31. Rush concluded the scoring with a pair of free throws at 6.4 seconds.
"It's as focused as I've seen him play in a very long time. He knocked down shot after shot, and it wasn't all in one bunch," Robinson added.
KU coach Bill Self, who throughout the course of this and the past two seasons often has had to remind Rush to be aggressive, marveled at the silky-smooth player's effort the second half.
"I thought Brandon was as good today as I've ever seen him," said Self, who ran some plays specifically designed for Rush - the same guy who made just two of nine shots and had three turnovers in last Saturday's 72-55 victory at Texas A&M.;
"The thing I'm most proud of ... Brandon didn't play at all yesterday. From him to come back from that I think is a good sign for him. He needs to have some breakout games when it counts the most. Certainly this is one of those type of games."
In adding that Rush (his previous career-high was 24 points three different times) looked like an "NBA guard today," Self said: "If he keeps playing like this or close to it, then I can't imagine this wouldn't be very impressive for a lot of people (scouts) down the road."
Rush nodded in agreement when asked if his performance was one that probably would impress NBA talent evaluators.
"I played good defense, didn't turn it over much (once) slashed to the hole and went to the free-throw line," he said. "I showed I can do more than shoot.
"I'm not worrying about that," he added of NBA talk. "We're trying to win the Big 12 championship, make the Final Four, win a (national) championship."
Thanks in large part to Rush, as well as Robinson (seven assists), Darnell Jackson (14 points, four boards) and Mario Chalmers (five assists, three steals), the Jayhawks advanced to today's 2 p.m. title game against Texas.
KU and the Longhorns tied for the Big 12 regular-season crown at 13-3.
UT stopped KU, 72-69, on Feb. 11 in Austin.
"I wanted another shot at Texas so we can really see who is the best team in the league," Rush said.
KU has beaten Texas in the past two Big 12 title games - 88-84 in overtime last year in Oklahoma City and 80-68 in 2006 in Dallas.
"We definitely want to win it. We want to give our seniors something special. It'd be my third time to win, too," Rush said.
A victory also might give the winner a No. 1 seed in the NCAA Tournament. Tennessee's loss to Arkansas on Saturday might open a slot for the KU-UT victor.
"Maybe," Rush said. "It'd be good if that happened, too. Right now we just want to win the game, win the championship for our seniors."
More like this story on KUsports.com