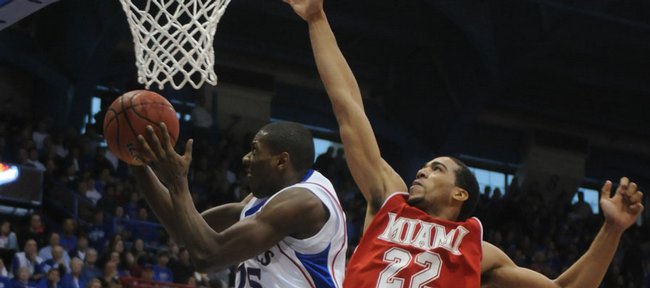 Go figure
44
Consecutive games Miami had held opponents under 70 points
28.0
Miami's first-half field-goal percentage
55.2
KU's first-half field-goal percentage
14, 10
Points, rebounds by Kansas' Darrell Arthur
6
Season-low turnovers by the Jayhawks
14
Turnovers by Miami
10-for-16
Combined free-throw shooting by both teams
1
Points by which Miami's reserves outscored Kansas'
Just like that, there goes Miami of Ohio's streak of holding teams under 70 points a game.
"I'm a little surprised a lot of teams don't get 70 on them more often," KU senior guard Russell Robinson said after the Jayhawks' 78-54 rout of the RedHawks on Saturday at Allen Fieldhouse.
"They didn't pressure at all in the half court. We pretty much got the shots that we wanted."
The Jayhawks, who used an early 13-0 run to grab a 20-6 advantage and led by a comfy 39-20 at halftime, became the first team to score 70 on the Mid-America Conference school in 45 games. Miami last allowed 70 in a 73-58 loss to Ohio in the 2006 MAC Postseason Tournament.
It was the most points scored on Miami since Michigan tallied 87 on Dec. 22, 2005.
"We take pride in that," KU junior Brandon Rush said after scoring 10 points and holding high-scoring RedHawk guard Michael Bramos to six points in 25 minutes.
The Jayhawks' 78 points came off sizzling 57.9 percent shooting. KU had four players in double figures: Darrell Arthur and Darnell Jackson with 14 each, and Rush and Mario Chalmers with 10 apiece.
KU had just six turnovers in what coach Bill Self called "a crisp offensive performance."
"That's a remarkable deal. Nobody has hung 70 on them, and they play games away from home," Self said of the (6-5) RedHawks, who defeated Illinois, 61-58, in overtime on Thursday at Assembly Hall in Champaign, Ill.
"They control the tempo. They've got post guys they can play through. (But) we played pretty well. We shot 58 percent. If we shot 43, 44, we probably wouldn't have done it. That's what opponents usually shoot against them."
The RedHawks held Louisville to a mere 47 points in a three-point loss on Dec. 1 at the Cardinals' Freedom Hall.
"Teams like that : they have to play the way we play. We like to play fast. That's what we did," Jackson said after hitting six of seven shots and also grabbing eight rebounds.
KU in some ways set the tone against a smaller RedHawks team on the Jayhawks' first possession.
Arthur, a 6-foot-9 sophomore from Dallas, missed three inside shots, grabbing the rebound each time before making shot attempt No. 4. Arthur put up 14 shots on the day, converting seven for baskets.
"Our whole thing today was, 'Attack and get it inside,''' Rush said. "Their low post is small at 6-(foot)-5, 6-6. 'Shady' could shoot over them. We dumped it down low, and our inside guys did the work."
Arthur took and missed his only three-point try, doing most of his damage in the paint. He had two points, while Sasha Kaun had five and Jackson two during the early, important 13-0 surge.
"We told him, 'Just shoot over everybody,''' Rush said of Arthur. "He's 6-9, athletic, can jump out of the gym. He can get the shot anytime he wants. It's his jumpshot that isn't working right now, (so) we pound it into him down low."
Robinson had four assists against two turnovers.
"He's doing a good job," Robinson said of Arthur. "They were really small inside. I was guarding the post awhile, and I can only imagine what Darrell was thinking," added Robinson, eight inches shorter than Arthur.
Inside players Kaun and Cole Aldrich combined for nine points and four boards on a day Arthur recorded his second double-double of the season.
"I'm surprised he doesn't get more of those. I think as the season goes on he is going to figure it out and start getting more," Robinson said.
The Jayhawks were never threatened the second half despite the fact Miami hit 51.9 percent of its second-half shots and finished at 40.4 percent to KU's 57.9 mark. KU held a game-high lead of 30 points (61-31) with 8:52 left.
"That was a good win for us," Self said. "I was nervous about this game. In large part the guys looking ahead to going home for Christmas and all those things, which I would be, too, but they focused for two hours."
The were focused enough to put 70 points on the stingy RedHawks.
"I think we could have had more," Self said. "It wasn't a fast game, and we missed bunnies, but we did execute. Seventeen assists and only six turnovers, and two were by Russell in a span of about 15 seconds. We made them look not as good as they are which is always a positive."
The Jayhawks, who enter a four-day holiday break at 12-0, will not practice again until Wednesday night. The squad will hold its annual holiday clinic Thursday morning and next play a game against Yale. Tipoff is 7 p.m., Saturday, Dec. 29, at Allen Fieldhouse.
More like this story on KUsports.com