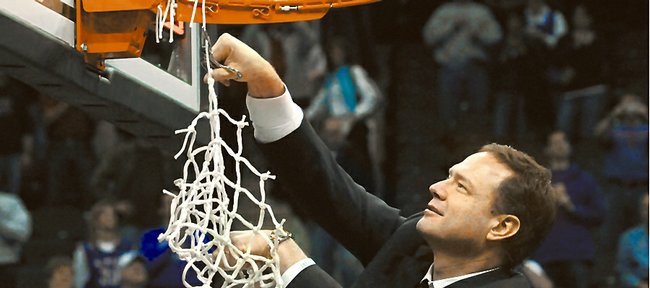 Go figure
3
Consecutive years Kansas has defeated Texas in the Big 12 title game
14
Lead changes in Sunday's championship game
47
Combined points scored in semis, finals by tourney MVP Brandon Rush
2
Points scored by Texas' bench in Sunday's title game
8
3-pointers by KU's Mario Chalmers, second most in KU history
36
Minutes played by KU's Darrell Arthur
1
Fouls charged to Arthur
1, 2
Seeds awarded to Kansas, Texas in the NCAA Tournament
Kansas City, Mo. — Bill Self stood off to the side and watched with pride as his Big 12 champions played with, and posed with, the league tournament title trophy high atop a podium Sunday afternoon at Sprint Center.
"That was a heck of a basketball game ... what an unbelievable game," Self, Kansas University's basketball coach, exclaimed after shaking hands with his assistant coaches following the Jayhawks' thrilling 84-74 victory over Texas.
The win not only avenged a regular-season loss to the Longhorns, but gave the Jayhawks (31-3) a No. 1 seed in the NCAA Tournament's Midwest Regional over UT (28-6), which fell to a No. 2 seed in the South.
KU will meet Portland State in a first-round game at 11:25 a.m. Thursday at Qwest Center in Omaha, Neb.
"That's about as well played a game as you can get," Self said. "It was one of the best games I've been a part of. It was humbling sitting on the sidelines watching those guys play. There were some hard-rocking guys out there today."
The 2008 title game proved to be an old-fashioned shootout.
KU hit a Big 12 tourney-record 15 threes - one off the school record set against Baylor in 2005 - in 25 tries to the Longhorns' 12 threes in 28 attempts.
Junior Mario Chalmers, who made the all-tournament team, hit eight three-pointers in 12 tries, good for a career-high 30 points, while tourney MVP Brandon Rush canned six treys in nine tries and scored 19 points.
Chalmers - his previous career high was 23 points twice - scored 17 points the first half to Rush's 12. Texas' D.J. Augustin answered with 18 points off 7-of-9 shooting (4-for-4 threes), however, and the Longhorns led, 46-45, at the break.
"It is pretty corny, but at halftime I told the team in front of Danny (Manning, assistant coach) ... I said, 'That's probably as good a half of basketball played in Kansas City since the '88 championship game,'" Self said of a 50-50 halftime score in KU's 83-79 victory over Oklahoma on April 4, 1988, at Kemper Arena.
"I asked Danny, 'What happened the second half of that game?' He said the game slowed down and we guarded. That's what happened today. We defended and rebounded the ball much better the second half and played about as complete a game as we've ever played."
Augustin hit missed nine shots without a make the final half and scored just two points off free throws. Chalmers and Rush, meanwhile, continued to sizz, scoring 13 and seven respectively.
Chalmers - his 30 points were most by a Jayhawk since Julian Wright's 33 versus Missouri last February - scored KU's first eight points of the final half. His back-to-back threes turned a 49-47 deficit into a 53-49 lead with 13:51 to play.
The Anchorage, Alaska native also iced a three to stretch a 72-71 lead to four points with 1:51 remaining.
And he stole an Augustin pass, was fouled and hit two free throws at :40.1, giving the Jayhawks an insurmountable 80-73 advantage.
He was so good on Sunday that teammate Sherron Collins made sure Chalmers had the ball in his hands as the clock expired.
The sophomore guard, who had seven assists and nine points, hand-delivered the ball to Chalmers, who tossed it high in the air and jumped into Rush's arms at the final horn.
"That's the best game Mario has ever played. I thought he deserved to be the one to end that game. I think it meant a lot to him," said Collins, whose clutch three-pointer with 5:40 left erased a 69-67 deficit.
Chalmers agreed it was his finest performance ... with one stipulation.
"It's the greatest game of my college career," he said after tying Billy Thomas (eight versus Texas in 1998) for second-most threes in a game in KU history, trailing only Terry Brown's 11 against North Carolina State in 1991.
What other game could possibly be better?
"One back in high school," he said with a smile, not providing any specifics.
Chalmers - he said the sprained patellar tendon in his left knee gave him no problems Sunday - certainly impressed his teammates with his performance and demeanor.
Chalmers was trading barbs with the Longhorn guards all day.
"They were talking back to us everytime they'd score," Rush said. "It was going up and down. Somebody gets hot and you're going to talk a little smack. I was hot. 'Rio was hot. 'Rio kept shooting the ball and giving his little 'yap-yap' to everybody. We spun it into a positive that way and got the win."
Thanks in great part to Chalmers. "I've never seen him that hot," Rush said.
Darrell Arthur was dandy with 16 points and nine rebounds. Rush was sensational as well, his 28-point semifinal effort against Texas A&M; and 19-point, six-rebound, six-assist outing against UT earning him MVP honors in his hometown.
"It's definitely a special feeling now, having everybody in the city see how I played and getting the MVP," Rush said, noting the Jayhawks do not want to rest after sharing the regular-season title with Texas and winning the postseason event.
"We feel this is the year. We've got to do it. We've got five seniors leaving and some others might be leaving early (for NBA). We've got to make it happen now."
More like this story on KUsports.com