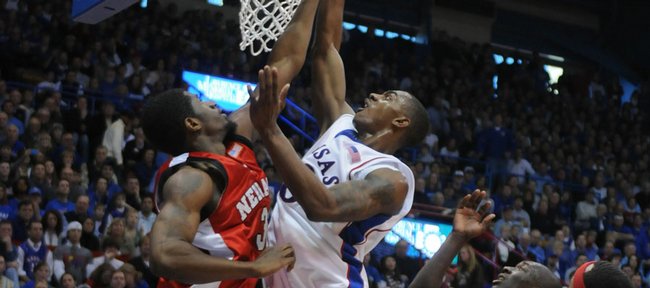 Go figure
15
Points scored by Nebraska in the first half
14
Points by Darrell Arthur and Brandon Rush in the first half - each
1
First-half assists on six first-half baskets by the Huskers
5
Jayhawks with at least one assist in the first half
0
Points by NU's Aleks Maric, 16.6 below his team-leading average
5
Assists by the Huskers
2
Jayhawks with at least five assists each
25
Total assists by the Jayhawks, on 32 baskets
Brandon Rush insists he doesn't see red when he takes the court against Nebraska's basketball team.
"I've got nothing against Nebraska," Rush, Kansas University's 6-foot-6 junior guard, said, indicating he's as fired up to play the Cornhuskers as any other Big 12 squad.
Then how does he explain hitting five of seven threes and scoring 17 points in Saturday's 84-49 rout of the Big Red just two weeks after sinking an identical five of seven from beyond the arc and scoring 19 points in a 21-point victory in Lincoln?
"It's the way they leave me open. They leave me open all the time, especially that corner," Rush said of the deep corner in which he repeatedly torched NU.
"I love that corner."
All of Rush's threes Saturday came from the side, which is odd considering that's not his favorite place to launch threes.
"I think the top of the key is easiest to make," Rush said. "I think it's the easiest three in college basketball."
For the year, Rush has made 10 of 14 threes versus NU for 71.4 percent. He has made 25 of 66 against everybody else for 37.9 percent.
He swished three treys in the first 10 minutes Saturday in helping KU to a 21-7 lead. He had four in five tries at halftime and scored 14 points as KU led, 44-15.
"It's the way we play, too. We get the ball inside, they double-team and we kick it outside," Rush said. "My teammates did a good job finding the open man."
The open man was Rush, who has made 17 of his last 30 threes (56.7 percent) the past five games.
"Brandon does shoot it pretty well against Nebraska. We've played pretty well against Nebraska," KU coach Bill Self said.
The Jayhawks (20-0, 5-0) have beaten NU (11-6, 0-4) 10 straight times and have won 19 of the past 20 meetings.
This year's routs were due in large part to the play of Rush.
"Brandon sometimes doesn't show too much emotion. We try to get him the ball and put it in his head early (that he's going to have a good game)," KU sophomore guard Sherron Collins said after scoring 10 points off 4-of-5 shooting in 17 minutes. "Brandon is like our bigs. Once they get going, our team rolls."
Darrell Arthur scored 18 points, Darnell Jackson 13, Sasha Kaun six and Cole Aldrich two as the Jayhawk inside players outscored NU senior big man Aleks Maric, 39-0.
Amazingly, the 6-foot-11 Maric, who entered with a 16.6-point scoring average, did not score for the first time since a 74-60 loss to Florida State on Dec. 31 of his sophomore season.
Maric - he was 0-for-6 from the field and 0-for-2 from the line in 21 minutes - has been blanked five times in his career, twice against KU, a team he against which he has averaged just 10 points and 5.5 boards in nine losses.
"We trapped him some when they had two bigs in the game, but for the most part just guarded him," Self said.
Maric had scored 19 versus KU in the first meeting in Lincoln, but six points came late, well after the game had been decided.
"He got off some good looks he'd normally make, but for the most part had limited touches," Self added. "Darnell, Sasha and Cole did great jobs on him. Our perimeter pressure was good enough they didn't get the ball to him very easily."
KU's Jackson grinned when asked if it was a "thrill" to hold Maric without a point.
"Not a thrill. It's our job," he said. "We are supposed to make it tough on other teams' big men."
Noted Arthur: "We tried to keep the ball out of his hands. We threw a lot of guys at him who did a good job on him."
Maric did grab nine rebounds on a day NU was whipped on the boards, 46-39 - 25-19 the first half. Russell Robinson had four of KU's 14 steals as the Jayhawks forced 16 turnovers and held NU to horrific 30 percent shooting - 20.7 the first half.
KU hit 52.5 percent of its shots, but just 11 of 21 free throws to NU's 10 of 19. Nebraska had just five assists to KU's 25.
"Our energy level was great the first half, creating some havoc defensively," Self said. "We got sloppy in the second half, very sloppy. We had a lot of substitutions and different lineups, but I thought we were very sloppy in the second half, and I didn't expect that."
KU outscored NU, 40-34, the second half - one which frankly didn't even need to be played, the game having been decided in the first 20 minutes. Hapless NU limped into intermission after having converted just one field goal from 7:43 to :09.
"We didn't get off to an unbelievable start offensively, but we did defensively," said Self, whose troops stretched an 8-5 lead to 31-11. "We did a good job on everybody but Harley."
Steve Harley scored 16 points off 6-of-12 shooting and 4-of-6 free throwing, the only Husker in double figures.
The game was such a rout most of the KU postgame interviews centered on Wednesday's game at Kansas State as well as the possibility of KU going undefeated this season.
"I won't think about that until we have zero games left," Jackson said after his latest strong outing that included a career-high five assists. "Before that, you don't even think about running the table. It's one game at a time here."
It has worked so far to the tune of 20 victories, no defeats.
More like this story on KUsports.com