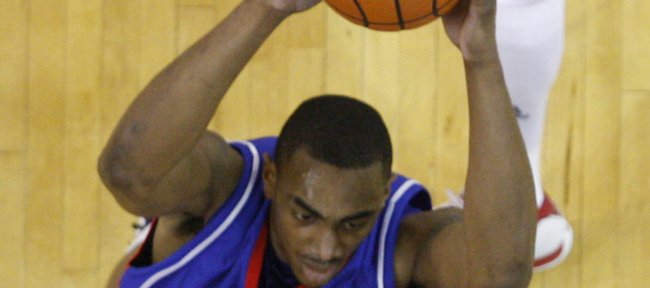 Lincoln, Neb. — Message received.
Loud and clear.
"That's going to be the last time he (coach Bill Self) ever says anything to me about being aggressive," Kansas University junior guard Brandon Rush said Saturday night after scoring a season-high 19 points - 16 in the first half - of the Jayhawks' 79-58 victory over Nebraska in the Big 12 opener for both teams.
Rush scored eight of KU's first 14 points, helping the Jayhawks to a 14-5 lead, just four days after Self demanded Rush turn up the offensive intensity after taking just three shots the first half of the Loyola game.
"I know it's the way I've got to help the team out, by taking shots, by putting myself in position to make plays for my teammates."
Rush hit four of six shots in the first half, including four threes in four tries in helping KU to a 42-30 halftime lead. He was 1-of-5 in the second half as KU's lead never dipped below 10 points.
"I was thinking about what he said, staying aggressive and trying to help my teammates out," Rush said of his thoughts during his game-opening sizz that helped improve KU to 16-0 and drop the Huskers to 11-3. "I was dying to get out there. In practice I've been more aggressive, taking a lot of shots and helping the team out rebounding."
Self told Rush about the need to get more aggressive after Tuesday's game, and also related those thoughts to the media. The coach applauded Rush's performance Saturday night.
"He was aggressive. He looked like the old Brandon, to be honest," said Self, who had said all along he thought Rush would be ready to explode off his surgically repaired right knee at the time of the conference campaign.
"He put himself in position to score. He did a much better job of that the first half. He had four assists. He played smart. He picked his spots."
Mario Chalmers, KU's second-leading scorer on the night with 14 points off 4-of-9 shooting, grinned when asked if he thought Tuesday was the last time Self would have to tell Rush to be more aggressive on the offensive end.
"No, I don't believe it. But I hope it is," said Chalmers, who was joined in double figures by Russell Robinson and Sasha Kaun, who had 10 points each. "I don't want coach Self yelling at us, talking about getting Brandon aggressive and stuff. I hope it's the last time."
Chalmers said there's a way to keep Self and Rush happy.
"Try to keep feeding him the ball early in the game like we did today. He got a lot of open looks, and he was knocking them down, so anytime you do that, you've got to keep feeding the hot hand," Chalmers said.
Rush also probably took the hardest hit of the season on his knee early in the game, falling hard under the goal in the opening moments.
"I think the brace helped. I got right back up," Rush said, adding, "I think I'm back. I'm starting to rebound well, do some other things."
Self, whose team had nine turnovers the first half and 14 for the game, said he was pleased with conference game No. 1.
KU had the Huskers down by as many as 15 the first half and led by 17 four minutes into the second against a hungry team playing before a sellout crowd.
"It's great," Self said of the victory. "Anytime you win on the road, it's good. I don't think we were as crisp tonight. They got the ball where they wanted it more than we liked, but didn't come away with points. We were pretty lucky there. They played hard and tough. I thought the crowd was great and really helped their team. It was a good first win because we experienced a lot of things we're going to experience on the road."
KU will meet Oklahoma at 8 p.m. Monday at Allen Fieldhouse.
"We'll get home at 3 a.m., practice at 4 (p.m.) or so. The scout (report) is complete," Self said. "We'll be ready. Oklahoma's got a good team."
¢
Just 15 can make trip: KU walk-ons Brennan Bechard and Chase Buford did not suit up for the game. They sat behind KU's bench in the stands after driving to the game on their own. Big 12 rules allow for just 15 players to make trips to games as part of the official traveling party. KU walk-ons Buford, Bechard and Brad Witherspoon will take turns skipping league road games. Red-shirt Brady Morningstar, as a scholarship player, will make the road trips, as will Conner Teahan, who has emerged as a deadly three-point threat. As a fourth-year player, Matt Kleinmann also will make all the trips.
¢Stats, facts: Aleks Maric had a five-stitch cut on his eyelid after banging his head on the floor. ... NU had a 12-game homecourt win streak snapped. ... It was NU's first sellout since Creighton came to Lincoln for the second game of the 2006-07 season. ... Paul Velander scored all of his eight points in the first half. ... KU outrebounded NU, 37-24.
More like this story on KUsports.com