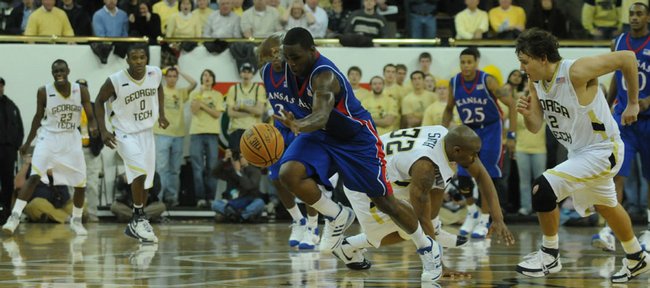 Go figure
40
Combined foul-plagued minutes by Darrell Arthur (19) and Darnell Jackson (21)
10, 9
Combined points, rebounds by Arthur and Jackson
52.2
KU's shooting percentage (24 for 46)
44.4
Georgia Tech's shooting percentage (24 for 54)
1
Kansas' rebounding advantage in the first half
6
Kansas' rebounding deficit in the second half
6
Points by which KU outscored Tech from the free-throw line
3
Missed free throws by the Jayhawks in the final minute
Atlanta — Kansas University basketball is not a dictatorship.
"We talked about it. I asked the guys what they wanted to do. They said, 'Coach let's defend 'em," KU coach Bill Self said of strategy devised during a timeout with 8.2 seconds left in the Jayhawks' nail-biting 71-66 victory over Georgia Tech on Tuesday at Alexander Memorial Coliseum.
The Jayhawks - who led by a game-high 13 points with 5:21 left, 11 at 3:31 and eight with 1:04 to play - held a 69-66 advantage following two free throws by Sherron Collins at 8.2.
During the ensuing timeout, the Jayhawks were left with the option of fouling the Yellow Jackets and letting them step to the line for two free throws or letting the crucial, possible game-tying possession simply play itself out.
"Russell (Robinson) and I said, 'Coach, let's play defense. Let's not foul.' We wanted to grind it out at the end," Collins said.
Self acquiesced, allowing Collins to become the hero.
The sophomore guard stole the ball from Matt Causey near midcourt with four seconds left and raced in for a layup at 1.8, thwarting what could have been an overtime-inducing possession - had Tech converted a three.
"Coach said, 'Do you want to play defense or foul?' I said, 'We need to guard 'em. We can grind out nine seconds,''' said senior leader Robinson, who scored 17 points, but missed two free throws with :30 left, KU up by just three points.
His misses followed a missed front end of a 1-and-1 by Mario Chalmers at :59.9 with KU up by five.
Tech scored after both missed free-throw opportunities.
"I didn't feel confident we could block out any missed free throws (had KU chosen to foul). We guarded 'em well," Robinson said.
Well, sort of.
Causey's turnover could be called an "unforced error."
"He may get credit for a steal, but honestly I think it was mishandled," Self said of Causey's fumbling the ball, which Tech coach Paul Hewitt said was caused by a bad cut by Causey and bad pass by Zack Peacock. "There were a lot of mishandled balls tonight on both sides."
Collins, who scored 11 points, admits it didn't require great defense to force the turnover.
"I was carrying out my assignment. I think he and (Jeremis) Smith made a mistake on who was going to get the ball," Collins said.
When Collins saw the ball flip around Causey's hands, "My eyes got big. I said, 'Go get it,''' Collins said.
His two free throws, steal and bucket made up for one of the biggest blunders of the game.
After stumbling under KU's goal with 32 seconds left, Collins tried to throw the ball off Causey's legs. Causey instead caught the gift pass and scored, cutting KU's five point lead to 67-64.
"It was a bonehead play. I should have called timeout," Collins said.
It was one of various boneheaded plays late.
"We did some things : Darnell's fifth foul on a ball screen that didn't have to do with anything (Jackson fouled out with 2:03 left, KU up by eight with the ball) : and then throwing the ball back inbounds under our basket when we had three timeouts left. Those are plays you don't make," Self said.
Oh, but 11-0, No. 3-rated KU made them on a night the Jayhawks never could quite put the 4-5 Yellow Jackets away.
It reminded Self of a 59-55 KU victory over Southern Cal.
"We've got an eight-point lead against USC with 2 1/2 left, you should finish that off We had an eight-point lead with two left tonight and didn't finish it off. Hopefully it's not a characteristic that we don't finish. It is nice to see us make a couple of plays at the end," Self said.
Of course. the free throw misses proved maddening. For the night, KU hit 17 of 25 to Tech's 11 of 16.
"We had our two best free-throw shooters on the line and come away 0-for-4, basically. Mario missed the front end and Russell two," Self said. "Fortunately Sherron knocked 'em down.
"We hurt ourselves at the end by not putting the game away by making free throws. But it's good to win games on the road where you have to grind it out. That's not a bad thing. We played out of foul trouble (Darrell Arthur had two early fouls and had just six points in 19 minutes) and we played out of weird rotations (using Rodrick Stewart at power forward). We hadn't played small all year, so there were some things that happened tonight that should give us confidence we can still win when things don't go as scripted."
Robinson led KU with 17 points, while Chalmers, Brandon Rush and Collins each had 11. Tech was led by Lewis Clinch, who scored 22. Anthony Morrow, who had foul problems of his own, had 12 points.
KU will meet Miami of Ohio at noon Saturday at Allen Fieldhouse.
More like this story on KUsports.com