Auburn Hills, Mich — Dan Cook dipped into his lucky Skoal, Dan Chandler slipped into his Body Glove underwear and Danni Boatwright played hooky.
But no matter how much the KU fans and others leaned on their previously successful superstitions, they couldn't carry Kansas University to victory Friday night against underdog Bradley University.
KU lost to the Braves, 77-73, and in doing so debunked what had been billed superstitions that were guaranteed to bring victory.
At a Friday pep rally attended by about 300 fans at the team hotel, the Hilton Suites in Auburn Hills, Mich., the talk was confident.
"Every time I've been to a game we've won," said Boatwright, who also made it to KU's regular-season wins over Oklahoma and Missouri before heading into Dallas for Sunday's Big 12 Championship win over Texas.
In Auburn Hills she was sipping a Red Bull, squeezing into a Jayhawk T-shirt and smiling even bigger than she had when she won $1 million on CBS' "Survivor: Guatemala."
This weekend she was supposed to be in Austin, Texas, to work a Kansas City Brigade game, but slipped out of that by claiming illness. The woman who once proved strong enough to survive more than a month in the jungle still couldn't shake her lifelong infection of crimson and blue.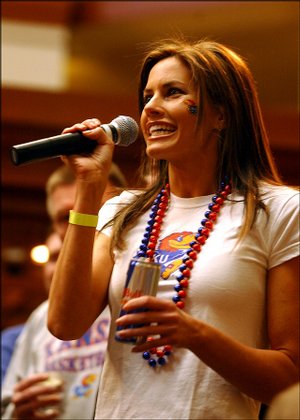 "I told them I was sick so I could come up," said Boatwright, who's from Tonganoxie and attended KU in 1994 and 1995. "I guess I have the bird flu - the Jayhawk flu. I've got it, and I'm a diehard."
¢
Chandler did his part, too, by dressing for victory before the game and heading to The Palace fully optimistic about sticking around for Sunday.
"My clothes are 6-0," said Chandler, the owner of Salty Iguana restaurants who hasn't missed attending a KU tournament game since 1977. "Black adidas KU shirt, black Under Armor sweatpants, white Body Glove underwear, white Body Glove socks and Ashworth Weather Systems jacket.
"Can't lose."
¢
Then there's Cook, known as "Cookie" to 'Hawk-abiding friends across the country. He said his friends call him whenever KU's playing, making sure that he's still going hand to mouth with the smokeless tobacco that had become synonymous - in their mind, anyway - with winning.
"It's all about the rally dip," he said, breaking out the tin of long-cut straight Skoal from his left front pocket. "And I always carry a backup. If the first one doesn't work, I go to No. 2.
"I pretty much control the destiny of the Jayhawks. It's all how and when I do the rally dip. That's it."
There's no telling how many tins Cook went through Friday night, nor whether he would follow through with yet another tradition. Last season he broke out the matches after the shocking loss - this time to a No. 14 seed - at the Ford Center in Oklahoma City.
"I burned every single shred of clothing that I had on in the Bucknell game," he said before the pep rally. "Every shred."
Looks like Cook may be shopping for a new wardrobe, again much sooner than he anticipated.
¢
Max Falkenstien called his last game as a KU radio announcer Friday night, unable to put off the inevitable one more time.
For 60 years his folksy observations and analysis helped KU fans understand their team.
"Barring a miracle, I knew it would end on a downer," Falkenstien said soon after the game, his eyes wet as he slung his bag over his shoulder at courtside. "That's just the way the cookie crumbles in the NCAA Tournament.
"It's been a great run for me, and I knew it would end like this - somewhere, somehow. But the future looks good for them, and I'll be pulling for them."
More like this story on KUsports.com