Chicago — All it takes is one mention, and the smile cracks J.R. Duffey's face as the memories come rushing back.
The Niagara University senior is finishing a long college basketball career, making him a grizzled veteran for the 23-11 Purple Eagles.
But he was once the wide-eyed young guy, too.
Duffey played prep ball on a talented North Crowley High team in Fort Worth, Texas. For two years on varsity, he suited up alongside an older superstar who dazzled fans every night while Duffey waited his turn.
That player's name? Keith Langford.
"It was great playing with him," Duffey said of the former Kansas University standout. "I looked to him to bring all the scouts in, and then I'd just play hard when everybody was there."
Duffey, who turns 23 in August, is just one year younger than Langford. That makes him the senior citizen of the court today, when Niagara plays Kansas at 6:10 p.m. in the United Center in the first round of the NCAA Tournament.
Langford played at Kansas from 2001-05. Duffey has followed the Jayhawks ever since his buddy enrolled and knew plenty about their team even before 16th-seeded Niagara drew KU in a first-round matchup in the West region.
Notebook
¢ KU leads the all-time series, 1-0. The Jayhawks defeated the Purple Eagles, 134-75, on Jan. 9, 1997, in Allen Fieldhouse.¢ KU is 10-1 against teams from the Metro Atlantic Athletic Conference, 2-0 versus Canisius, 2-0 vs. Rider, 2-0 vs. versus Saint Peter's, 1-0 vs. Fairfield, Niagara and 2-1 versus Iona with the loss in 1980.¢ No. 16-seed Niagara won its second game in NCAA Tournament history, 77-69, vs. Florida A&M; on Tuesday. Niagara is 2-3 overall in NCAA play. The Purple Eagles have wins over Pennsylvania (1970) and Florida A&M; and losses to Villanova (1970), N.C. State (1970, regional consolation game) and Oklahoma (2005). ¢ Niagara has won 12 games in a row and 14 of 15; KU has won 11 in a row.¢ Niagara is located in Niagara, N.Y. Enrollment is 3,548. Colors are Purple and White. The team plays in the Metro Atlantic Athletic Conference.¢ This marks KU's 36th overall appearance in the NCAAs and second trip to Chicago. KU's 1993 Final Four team beat Ball State and BYU in first-round games in the Windy City.¢ KU's 36 appearances are fourth nationally behind only Kentucky (48), UCLA (39) and North Carolina (39).
"They're still young, a bunch of freshmen and sophomores," Duffey said. "We've got to come out and use that to our advantage."
And that's where Duffey feels he can be an asset. A 6-foot-8 forward who can shoot the ball from long range, Duffey red-shirted his first year at Niagara and now is a fifth-year senior. He already has earned his bachelor's degree in sociology, and he's expected to have a master's degree in school counseling this summer.
That's all good, but Duffey admits he's focused on basketball at this point. He averages 10.4 points and 5.5 rebounds per game and has made 93 consecutive starts dating back to the beginning of his sophomore season.
"J.R. is like a big brother on the team," forward Greg Noel said. "He always tells us what to do, what he's seen and what he's experienced. Everybody is looking up to him because he knows what to do."
And that knowledge dates back to his North Crowley days playing on that star-studded team. Duffey still keeps in contact with Langford, who currently is playing professionally overseas. He also keeps in touch with Langford's little brother, Kevin, a 6-8 sophomore forward at TCU.
"I played with both of them," Duffey said. "I knew both of them really well."
Duffey, though, has made his own mark as Niagara's leader and enjoys playing on a team that has had plenty of success in the Metro Atlantic Athletic Conference.
This is Duffey's second trip to the NCAA Tournament. After winning the MAAC championship as a sophomore, Duffey decided to give his conference title ring to his father as a token of his appreciation for helping him succeed.
The plan, of course, was to get another one for himself. And he did earlier this month.
"He's not getting this one," Duffey quipped.
Of course, the Purple Eagles can one-up any accomplishment they've had in program history today. Though the Jayhawks are heavily favored, it's not because Niagara's players are mentally beat.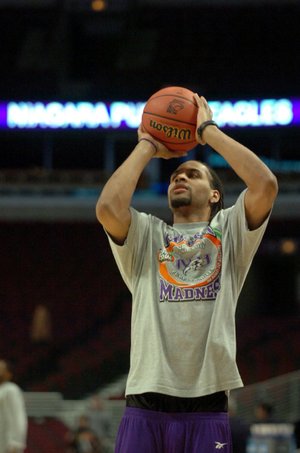 Not by a long shot.
"We definitely feel like we're a quicker team," senior Clif Brown said of Niagara's big men. "We're definitely a scrappy team. We've been that way all year so it won't be anything different.
"We have some tricks up our sleeve that we want to go out and do. We're definitely going to go out there and play our hardest."
Duffey agreed, and if anyone is enough of a veteran to know what he's saying, it'd be him.
"We feel good. We're real confident in ourselves," Duffey said. "We respect everyone, but we fear no one. That's our motto."
More like this story on KUsports.com