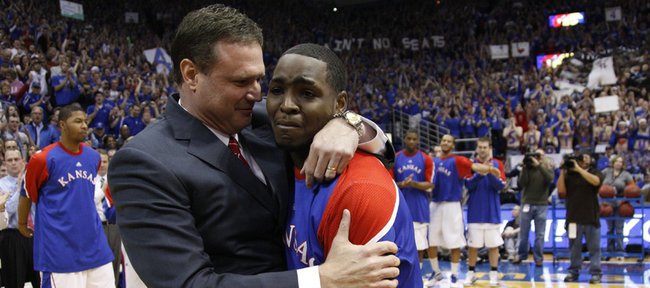 Reader poll
No. 1

9%

746 votes

Top 5

44%

3560 votes

Top 10

30%

2472 votes

Top 20

11%

888 votes

Top 30

2%

197 votes

Top 100

1%

102 votes

He wouldn't rank in my top 100

0%

75 votes

Undecided

0%

26 votes
8066 total votes.
Audio clips
Kansas-Kansas State
KU vs. KSU
9:33 p.m.
Sherron Collins Senior Speech Cliff's Notes Version
• I don't know where to start, but I have a notecard.
• Thanks Scooter, Andrea Hudy, Bill Cowgill. Also thanks teammates. "We're like brothers."
• Brady and I have a relationship like a brother (Collins stops to compose himself; Brady crying also). He and his family treated me like their child.
• Thanks Cole. He was 50 percent of my decision to come back to school. He called me every day to have me come back and win another championship.
• Thanks coaches — what Collins thinks is the best coaching staff in America. They care about you on and off the court. Coach Barry Hinson with his barbecue. Coach Townsend recruited me. He's a positive role model. He means the world to me (Townsend crying on bench).
• Brett Ballard cares more than anybody about the university. After Saturday's loss, he hurt more than the players.
• For a guy who has all the money in the world, the first thing coach Manning talked about was how to save money.
• Coach Dooley is one of the funniest dudes he's ever been around. He cares for the team. He helped me with my dieting.
• Coach Self ... I've had so many ups and downs with coach. I always thought he was picking on me. Everything that he's said would happen has happened. He's been one of the most positive role models in my life.
• Thanks 26 people here from Chicago. Turning me loose has made the difference. I love all of you (starts to cry again).
• Now to my other family (fans). "Nobody gets louder than here. Nobody." Some teams lose, no one talks to them. When we lose, it's like we won. Everybody is so happy to see us. Thanks for making my four years so wonderful.
• This is the last home game, but it's not the last game for us. We still have goals. We have a goal to win another title. Hopefully, this isn't my last trip to the Fieldhouse. We need the fans' help. "Let's do this. Let's win another title. Rock Chalk Jayhawk." (Raises fist to crowd at end of speech)
9:32 p.m.
Self after the game, after the fans started chanting, "One more year!" for Aldrich.
"That'd be great, but don't hold your breath on that one," he said.
FINAL: KU defeats KSU, 82-65
Clemente puts in a jumper, breaking KSU's eight-minute, 15-second field-goal drought.
Collins is double-teamed, but he finds Marcus Morris, who dribbles around a defender for a layup.
KU milks the shot clock, and Taylor drives to the basket, putting in a one-handed floater off the glass to extend KU's lead to 19. That should about do it.
Fans start the "Sher-ron Col-lins" chant with 45.3 seconds left.
Collins puts in a drive and layup off the glass with 33 seconds left. Those will be his final points at home.
With 30.4 seconds left, Self was about to check Collins out of the game, but Martin called timeout first. The KU fans send a few boos Martin's direction for interrupting Collins' final minute.
Collins checks out after the break, and he gives Self a hug as he gets to the bench.
KU dribbles out an 82-65 victory.
KU 75/KSU 57 — 3:45 left in game
Another tough shot from Collins, as he puts a fadeaway off the glass and in with the shot clock running low.
Clemente races down the floor, but he misses a layup. Markieff comes away with the rebound, and it seems like he's about the only Jayhawk that's coming away with the boards right now.
Markieff misses in the lane, but Aldrich grabs the rebound. Taylor steps confidently into a three and swishses it. Suddenly, KU has extended its lead to 72-56.
Pullen takes it to the rim, but Aldrich extends to block it out of bounds. The KU fans "ooh" after that block.
Aldrich rips away a defensive rebound. He's getting better as this game goes on.
KSU has not had a field goal since Clemente's three at the 11:49 mark. That's no field goals in the last eight minutes, four seconds.
KU 67/KSU 55 — 7:35 left in game
KU gets it into the middle of the zone, and Markieff Morris tosses a nice feed over the top to Aldrich for a two and foul. That's also Kelly's fourth whistle.
Nice bounce pass from Taylor, and Collins steps in to a three. Swish. That breaks a long drought for him. He was 0-for-5 from deep before that shot. The KU fans erupt.
KSU gets two offensive boards, but the possession ends when Samuels is called for a travel. It was so loud here that I never heard the whistle.
Collins with another tough shot, putting in a runner from the baseline over two defenders. Afterwards, Collins gives Samuels a two-handed shove in the back. KSU calls timeout, and Collins screams toward the fans.
KU 57/KSU 53 — 11:36 left in game
Colon gets a layup over Aldrich, but a crosscourt pass gets Reed an open three that he swishes.
KSU is now in a 2-3 zone, and after a few quick passes, Markieff Morris hits a 14-footer from the baseline.
Sutton misses a three, and Collins has the rebound go off his hands and out of bounds. Somehow, the officials give it to KU, even after having a conference. Martin stomps down the sidelines with hands extended, wondering how in the world the ball wasn't given to KSU. Big break for KU.
The Jayhawks finally get it to the big man, and Aldrich composes himself before putting in a layup. Martin calls timeout with KU on a 7-2 run.
Out of the timeout, Reed pokes away a pass, and Collins comes away with the steal. The senior throws a long pass up the court to Henry, who puts in a two-handed slam behind the defense. The crowd rises to its feet.
Cheap foul called on Marcus Morris on a rebound attempt, and that's his fourth whistle. It also puts KSU in the bonus at the 12:48 second half. This game could last till midnight.
Aldrich has a shot blocked, and no one steps up to guard Clemente on the fast break. Big mistake. The guard buries an unguarded three, and KSU once again is down just four.
KU 48/KSU 45 — 15:54 left in game
KU comes out awful offensively in the second half.
Collins misses a three. Marcus has two straight turnovers — he's averaging less than two per game.
Taylor and Morningstar both add their own turnovers, and Pullen follows with a layup while Clemente hits a tough fadeaway three. That's a 7-0 run to start the second half, and Self calls timeout, chucking the rolled up paper he had in his hand under the seats on the bench.
KU had two turnovers in the first half before racking up four giveaways in the first three minutes of the second half.
Morningstar breaks the drought with a much-needed three for the team — and him. He hadn't made a three-pointer in his last five games.
Another turnover from KU, as Morningstar is called for a charge on a drive. The 3-2 zone is once again making it tough on the Jayhawks.
KU scoring — X. Henry 15 (5-for-6 from floor, 3-for-3 from three-point range), Collins 8, Markieff Morris 8, Taylor 6, Marcus Morris 3, Reed 3, Aldrich 2.
KU was 13-for-30 from the floor (43.3 percent), 4-for-10 from three (40 percent) and 15-for-18 from the free-throw line (83.3 percent).
KSU was 13-for-26 from the floor (50 percent), 3-for-7 from three (42.9 percent) and 9-for-13 from the free-throw line (69.2 percent).
KSU out-rebounded KU, 20-13, in the first half. KSU had eight turnovers, while KU had two.
Jacob Pullen had 15 first-half points on 4-for-6 shooting (3-for-5 shooting from three).
Halftime thoughts
• Anyone else reminded a bit of Raef LaFrentz's Senior Night? Though it was LaFrentz that was honored, it was the underclassman playing in what would be his final home game (Paul Pierce) that performed the best. Let's not forget that this is probably Xavier Henry's last home game at Allen Fieldhouse, and he's halfway to a 30-point game.
• KU with only two first-half turnovers? That's a great number for the Jayhawks. KSU forces 17.3 turnovers per game, so KU has done a great job with ball security so far.
• Aldrich and Collins combined to go just 2-for-11 in the first half. Aldrich had just one rebound. And still KU is up seven over a top-five team. This is what makes KU so dangerous.
• In the Cram Session above, I said a big key for KU was to get to the free-throw line. So far, so good with that one. KU has 18 free-throw attempts and has made 15 of those tries.
• Great half for Markieff Morris, who had eight points with five rebounds. No other Jayhawk had more than two boards in the first half.
• Collins might be best served by letting the game come to him a little more. He seems to be pressing a bit on his Senior Night.
KU 45/KSU 38 — Halftime
Collins gets an open three in transition, but again his shot misses. The senior guard has eight points, but he's just 1-for-8 from the floor.
Perfect execution for KU with a minute left. Self called a play, and the Jayhawks did what he wanted, getting the ball to the corner for a three from Tyrel Reed. The shot goes through, and KU shot quickly enough to get a two-for-one. The Jayhawks will have the last possession.
Collins splits two defenders but misses his floater in the lane.
KU takes a seven-point lead into the break. The Marching Cobras are up next.
KU 40/KSU 36 — 1:42 left in 1st half
K-State throws a trapping press at KU, and Taylor's risky pass over a double-team barely makes it to Henry. The freshman knows what to do from there, driving straight to the lane to shoot in a 5-foot jumper.
Aldrich can't catch an inbounds pass intended for him, and Rodney McGruder finishes on the other end with a dunk. Collins has the ball knocked away on a drive, and Pullen is left open for a three that swishes through. Timeout Self, as KU can't afford to give away possessions without shot attempts.
K-State has switched to a 3-2 zone defense, and so far, it has given KU some fits. Henry finally drives baseline, and he's bumped by Luis Colon. Henry makes both free throws.
Henry gets loose for another three, and he buries it from the side. Great move by Self to get him back into the game with two fouls. Henry is 5-for-6 shooting for 15 points.
KU finds a way to break the zone, as Marcus Morris gets in the middle, then lobs to Aldrich for a slam.
You've got to give KSU credit. The Wildcats are hitting shots to stay in this game. McGruder hits a baseline jumper, and Pullen drains a transition three with a hand in his face. Clemente misses, but Wally Judge barrels down the lane for a stickback jam. Self calls timeout with KU's lead down to four.
Marcus Morris drives down the lane, and he draws Samuels' third foul. KSU's big men are in deep trouble with the whistles.
KU 29/KSU 19 — 7:56 left in 1st half
KU goes back to the Triangle-and-Two defense that it also used against the Wildcats in Manhattan. Taylor pokes away a steal from behind.
The Wildcats don't know the shot clock is running out, and Pullen dribbles up top when the buzzer goes off. The crowd making lots of noise helped get that violation.
Collins runs into Jamar Samuels, and the innocent bystander Samuels is whistled for his second foul. Not a good call from my view, but there have been a lot of ticky-tack whistles so far.
Collins breaks the press, but he makes an unwise decision, jacking up a quick, fadeaway three. It fails to draw iron.
Pullen with a deep three, and KSU has pulled to within six.
Collins pokes in his hand for a steal, and he's grabbed from behind by Denis Clemente. The KSU guard is lucky he didn't get an intentional foul called that play. Collins makes his two free throws.
Xavier Henry checks back into the game, and that's something rare for Self. Typically, when he has a player get two fouls, that player sits for the rest of the half.
The move pays immediate dividends. Henry drives around two defenders for a layup and foul, and he also draws the third whistle on KSU's Kelly.
Henry misses his free throw, but Aldrich is there for the offensive board. Taylor twirls around a defender, then takes three big steps to go around a defender and put in a layup off the glass. It looked like a travel from here, but it happened so fast, the officials must have missed it.
KSU calls timeout to stop the mini KU run.
KU 20/KSU 12 — 11:58 left in 1st half
Brady Morningstar tracks down a loose ball in the lane, and he fires a quick pass to Markieff Morris for a layup that rattles in.
Morningstar drives inside to get Collins an open three, but his open shot bounces away.
Marcus Morris misses a fadeaway, but Markieff Morris beats Wally Judge inside to get the offensive rebound and stickback with a foul.
There are actually a lot of K-State fans in the building. There's a pretty loud cheer that goes up every time the Wildcats score.
Elijah Johnson checks in for some first-half action. He'll have the challenge of guarding the quick Pullen.
Aldrich loses the handle on the way up for a shot, but Markieff Morris comes down with it and muscles up a shot over two defenders that somehow goes in. Good display of toughness from Markieff there.
Johnson picks up two quick hand-check whistles, and KSU already is shooting one-and-ones at the 12:30 mark. The Wildcats' next foul will result in free throws for the Jayhawks as well.
KSU misses a fast-break layup, but the ball is given to KSU after it goes out of bounds. Self is furious, yelling at the closest official while pointing to the other end of the floor. Self hasn't been happy with the whistle-happy referees so far.
KU 13/KSU 4 — 15:54 left in 1st half
KU wins the tip, and Collins makes a nifty move to the basket, going behind the back with his dribble to get to the rim. Unfortunately for the senior, his layup bounces away.
Tyshawn Taylor gets KU's first points on a layup, and Xavier Henry follows with a three from the corner. The building is "juiced," as Self would say.
Curtis Kelly picks up his second foul on a drive by Marcus Morris. Kelly doesn't like the call, but he'll have to sit just two minutes in.
Collins is pulling out moves on the dribble I didn't think that he still had. He goes behind the back once again to get by a defender, then kicks out to Taylor. KSU's defenders are all in the lane with Collins, and Taylor makes the easy pass to Henry for another three that swishes through. Give Collins the hockey assist on that shot.
Henry fouls KSU's Jacob Pullen in the lane, and that's his second whistle. Already both teams have starters on the bench with two fouls.
Collins with another drive, and this time he fakes a pass before putting in a layup off the glass. The senior guard has more boost today than I've seen from him in a while.
Taylor with a steal, and he's fouled from behind on a layup attempt by Pullen. Taylor's free throws give KU a 13-4 lead.
Cole Aldrich picks up his first foul trying to help out on a screen 40 feet from the basket. It's vital for the Jayhawks that Aldrich avoids his second foul this half.
7:07 p.m.
Decibel meter up to 106.5 before tipoff. That's the highest this year.
7:04 p.m.
A Collins- and Aldrich-themed introduction video. Mostly Collins, but still some Aldrich tucked in there. The big man does deserve some recognition on what is most likely his final home game.
6:52 p.m.
Sherron Collins didn't even make it to the court for his Senior Day recognition. He was crying already.
Joined by his brother and mother, Sherron received a bear hug from KU coach Bill Self.
He waved his arms a few times to the crowd, then held up a framed jersey given to him by the athletic department.
He then disappeared back to the locker room with his teammates.
6:35 p.m.
This probably has not been discussed before, and it probably won't be discussed again, but I think it's worth saying.
For the last two years, Sherron Collins has been great to deal with from a reporter's perspective.
I've covered KU teams in the past where interviews were more difficult. Some players seemed annoyed when talking. Others stayed in the training room to avoid reporters altogether. Others talked in short cliches, hoping that the bad responses would get them out of the interview quicker.
Collins was never like that in the time I've been here. He's always made himself available for interviews and didn't dodge them when losses came. He's also taken responsibility even when perhaps it wasn't his fault.*
* — Like last game, where he took the blame for KU's loss to Oklahoma State. I looked back, and KU was outscored 15-1 in the first half when Collins was not in the game. There's only so much leading you can do when your team gets outscored by that much while you're on the bench.
Collins was polite and friendly and didn't take himself too seriously. He also was honest and didn't dodge tough questions or give canned responses to questions when he could have.
As a leader, I think he's also set the tone for the rest of the team. As a whole, the entire team has been good to deal with this season from a reporter's perspective. I think that starts with Collins.
This isn't something that will make headlines. And maybe that's why I think it's such a big deal.
That, more than anything, will be what I remember from Collins after his KU playing days are over.
6:02 p.m.
Welcome back to the Newell Post Live, coming to you from Allen Fieldhouse where the second-ranked Kansas Jayhawks are getting set to take on the fifth-ranked Kansas State Wildcats.
Obviously, this is Sherron Collins Day at the Fieldhouse, as the faithful here will honor the senior guard in his final home game.
I figured the comments section of this blog would be a good place for folks to post their favorite Sherron Collins' memories. What memories stand out to you about Collins' career? Bonus points got to those folks that don't pick the national championship game.
I'll give you some of my thoughts about Collins as we get closer to gametime.
For now, be sure to vote in the poll on the left and also use the hashtag #kubball to have your Tweets appear in our grid. Be sure to check out our pregame videos on the left side of the page as well.