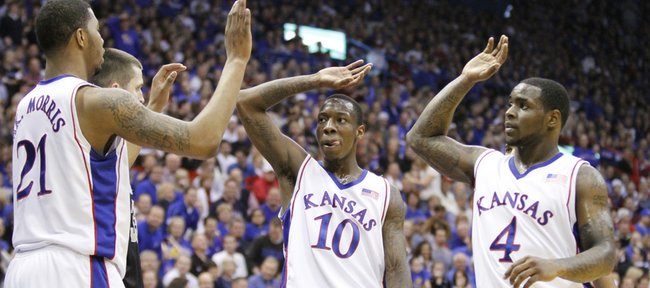 Tyshawn Taylor, who had a stellar game himself, refused to enter the interview room before Kansas University senior leader Sherron Collins late Saturday afternoon in Allen Fieldhouse.
"This is Sherron's show," Taylor said of Collins, who Saturday scored 13 points and dished seven assists in a 94-74 victory over Colorado — the 123rd victory in Collins' four-year career.
The Chicago senior (as well as teammate Brady Morningstar, who red-shirted in 2007-08) tied C.B. McGrath, Raef LaFrentz and Billy Thomas (1995-98) as winningest players in a four-year span in Jayhawk history.
"It's a big deal," said Collins, who at 123-17 has the exact record as the 1998 graduates. "I just try not to think too much about it with the season going so well.
"There's a lot of names. A lot of greats have played here. It's special. It's been great playing here, the best."
KU coach Bill Self, who was a bit miffed at the Jayhawks' play at the end of the game, appeared mad at himself for not acknowledging the feat in his postgame talk to the team.
"I talk about it all the time, but forgot to mention it in the locker room after the game," Self said, adding, "I think it's really cool. He's a long ways from this, and we'd have to get unbelievably hot down the stretch, but if I'm not mistaken, we are 10 wins away from him (being the winningest collegiate player of all time, tying Duke's Class of 2001 that won 133 games). It's a remarkable deal."
"He probably won't say anything until tomorrow in practice," Collins said. "He was a little upset at how we finished the game. He'll let me know. I think he's real proud of me."
Title can come Monday
KU (26-1 overall, 12-0 Big 12 Conference) can wrap up at least a share of the Big 12 regular-season title by beating Oklahoma at 8 p.m. Monday in Allen Fieldhouse. Second-place Kansas State stands 9-3 with four games to play.
"We talked about it for the first time in the locker room. Worst-case scenario, we've got a chance to clinch a tie Monday. That's a big deal," Self said. "It's a big deal if you are the best team in a league that is as good as any league in the country — the RPI-rated No. 1 league. We haven't won it yet by any means. ... I'd be pretty proud of our guys ... we'd have sold out for that before the season started, probably at Game 16 let alone Game 13."
KU is closing in on its sixth straight league title, which would tie for the most consecutive crowns in school history (1922-27). It'd be the most consecutive crowns by a BCS Conference team since UCLA won 13 from 1967-79. Kentucky won six straight SEC Eastern Division crowns from 2000 to '05. Gonzaga of the West Coast Conference has won nine straight WCC titles and is on the verge of No. 10.
Focused Henrys
Carl Henry, father of KU's Xavier and C.J., said his sons aren't thinking about the future right now. Xavier is expected to be a one-and-done (to NBA), while C.J. has been injured most of his freshman year.
"We're just trying to win a national championship," Carl Henry said.
Stats, facts
Perry Ellis, a 6-8 sophomore standout from Wichita Heights High, attended and sat behind KU's bench. ... Cole Aldrich (10 rebounds) moved into 12th place on KU's all-time rebound list (779). ... Aldrich (five blocks) became the first Jayhawk to block more than 100 shots in a season. He has 103. ... KU's 94 points were most in the last 18 games ... KU's plus-15 rebounding margin (40-25) was its third-biggest this season (30 vs. Alcorn State and 28 vs. Missouri).
More like this story on KUsports.com