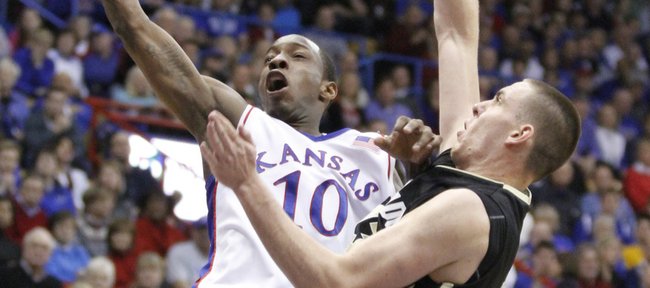 To do the Hokey Pokey, you put your right hand in, you put your right hand out, you put your right hand in, and you shake it all about.
To do the Tyshawn Taylor, you turn yourself around, you take your mouth guard out, you slump your shoulders forward, and, cringing, you slowly look toward your coach and wait to hear it.
Taylor plays for a tough coach, one who often loudly lets a preening player who thinks he's having quite the day know otherwise during a break in the action. The best approach to playing for Bill Self is to realize he's not going to let any mental lapse go unnoticed, let him sear the commentary on your mistakes into your ears and don't give him an explanation because he's been around long enough to have heard it all, and he's not interested in hearing it again.
Too many times in the past, Taylor played the role of the answer man, thinking an excuse would placate the coach. From his fearful facial expressions to his inane Facebook posts to his broken hand from the fight with the football team, it has been some sophomore slump for the long, lean guard from Hoboken, N.J., Frank Sinatra's hometown.
Taylor played his way out of the starting lineup for nine games and at one point strayed so far from understanding what it takes in the way of concentrating and paying attention to detail that Self threatened to bump him from the rotation if he didn't start playing better. After that, Taylor improved in games and practice. He was rewarded with a return to the starting lineup for Saturday's game in Allen Fieldhouse against Colorado.
It was a terrific opportunity for Taylor to restore lost confidence. In choosing to make the move against Colorado, Self picked the right opponent for Taylor to exploit with superior quickness.
In a (big) word, Taylor was splendiferous. Sure, he committed three turnovers in the 94-74 victory, but they were overshadowed by 17 points, six assists and two steals. He made all but one of his field-goal attempts and all of his free throws.
He never looked like a terrified child waiting to take his medicine. When his coach talked, he listened. He played strong defense and left his defensiveness at home.
"I think me not wanting to mess up, when I play like that, that's when I mess up the most," Taylor said. "If I just play with a free mind and be aggressive like I played tonight, I think I can have games like this more often."
Taylor knew he had to justify his coach's born-again faith in him.
"It was in the back of my head, but once I got on the court and started playing, I was just playing," Taylor said. "I really wasn't thinking about how he was feeling."
Smart approach for the sensitive sophomore.
"My confidence has been up a little," Taylor said. "Coach has been on my good side because I've been practicing well."
Self smiled when he thought about Taylor's season.
"It's been fairly well-documented that Tyshawn has had a little bit of a roller-coaster year, but I think his head's right," Self said. "I think part of getting his head right was for us to kind of do what we did. He sees it the same way we do."
Finally.