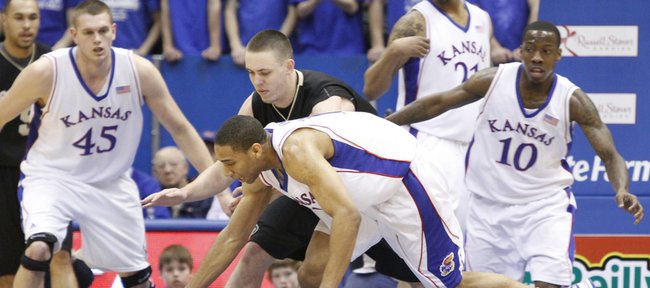 Colorado coach Jeff Bzdelik had a simple explanation for the Buffaloes' struggles Saturday: They played a pretty darned good basketball team in No. 1 Kansas.
"I am not going to be one of those guys that just says, 'We didn't do this,' or, 'We didn't do that,'" Bzdelik said following CU's 94-74 loss at Allen Fieldhouse. "Let's give Kansas a lot of credit."
After taking KU to overtime in the teams' first meeting on Feb. 3, CU couldn't hang defensively with the Jayhawks in the rematch.
"I can't speak for them, but I think we had their attention," Bzdelik said. "The last game we played here (a 66-61 CU loss on Jan. 31, 2009) was really a one-possession game with just a few ticks left on the clock. We had a very competitive game at our place. I think the combination of the two … I think that they respected us."
The Jayhawks made 54.7 percent of their shots Saturday after shooting just 36.4 percent against the Buffs in Boulder.
"They are an exceptionally good basketball team," Bzdelik said. "They had a real bounce to their step today. They hit us hard, and we were kind of reeling after that."
Another significant difference in the two games was rebounding. The Buffs stayed close to the Jayhawks in Boulder, only getting outrebounded, 45-41.
The Jayhawks dominated that facet Saturday, beating CU on the boards, 40-25. That included 14 offensive rebounds for KU.
"You have to finish defensive possessions, and it was hard for us to even get them to miss one time, let alone to give them a second chance," Bzdelik said. "We didn't do a very good job putting bodies on people."
The undersized Buffaloes also had trouble figuring out how to get shots above or around KU's Cole Aldrich. The junior center finished with five blocks in 28 minutes.
"If anybody does get beat (defensively), they've got the eraser back there," CU guard Dwight Thorne II said.
Bzdelik also left impressed by KU's Tyshawn Taylor, who scored 17 points on 6-for-7 shooting in his first start since Jan. 16.
"I thought he played very hungry and desperate to show that he warrants maybe more time — what he thinks he should be getting, I'll say it politically correct," Bzdelik said with a grin.
"So I think he was a very hungry basketball player who is very talented, and that showed."
More like this story on KUsports.com