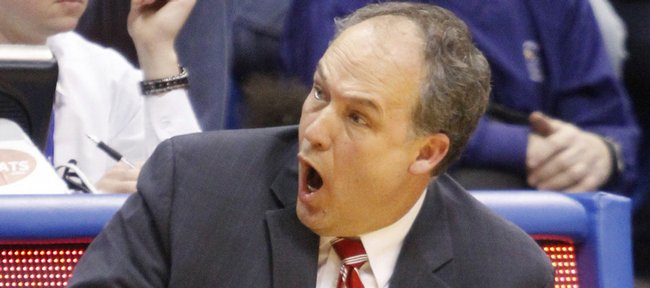 KU vs. Nebraska
Reader poll
Cole Aldrich

19%

338 votes

Sherron Collins

13%

243 votes

Marcus Morris

58%

1038 votes

Markieff Morris

6%

122 votes

Other

1%

31 votes
1772 total votes.
Reader poll
Thomas Robinson

28%

6 votes

Jeff Withey

66%

14 votes

Undecided

4%

1 vote
21 total votes.
Doc Sadler — apparently well versed in the rules and expectations of the Big 12 Conference — had little interest in criticizing the officiating following his team's 75-64 loss to Kansas University on Saturday.
But the Nebraska men's basketball coach wasn't prepared to provide a ringing endorsement, either.

"Please don't write that I think they did a great job," he told reporters following the game. "I would appreciate it if you don't."
The source of his apparent frustration, most likely, was the fact that the Huskers were whistled for 14 second-half fouls (compared to just four for Kansas) Saturday, including four during a two-minute stretch in which the Jayhawks managed to turn a narrow 44-43 lead into a 50-44 advantage.
In addition, Kansas shot 19 second-half free throws to Nebraska's four, converting on 11 to help pull away from a Huskers team that Sadler insisted did all it could, effort-wise, to hand KU its first conference loss of the season.

"We wanted to win," NU center Jorge Brian Diaz said. "We didn't come here just to play. We needed a win, and we wanted a win. But things happen. We didn't execute like we were supposed to at the end."
Before a late-game breakdown, there wasn't much to complain about from a Nebraska team that had dropped six of its last seven after opening the season 12-3.
The Huskers shot 10-of-17 from three-point range (59 percent). Diaz, a red-shirt freshman listed at 6-foot-11, performed surprisingly well against Kansas' big men, finishing with 20 points and nine rebounds despite entering the game averaging just 8.5 points and 4.1 rebounds an outing, and after entering halftime trailing by four, the Huskers opened the second half on a 10-2 run to take a 43-39 lead at the 15:48 mark.
But, as is wont to happen within the unfriendly confines of Allen Fieldhouse, things turned in Kansas' favor down the stretch, as the Jayhawks bore down noticeably on defense to force eight second-half turnovers they converted into 10 points and effectively extend their home winning streak to 55 games.
"Man," said guard Ryan Anderson, shaking his head. "Like coach said, one mistake can just snowball. You make mistakes against a good team like that, they capitalize. I think we went from up 41-38 to down 44-41 in like two minutes. It was boom-boom."
In the end, the Huskers' downfall proved to be an inability to execute at pivotal moments — something the team has struggled with during a 1-7 start to Big 12 play.

"The key plays that had to be made in the ball game, Kansas made them," Sadler said. "And that's why they're where they're at, and that's why we're where we're at."
More like this story on KUsports.com