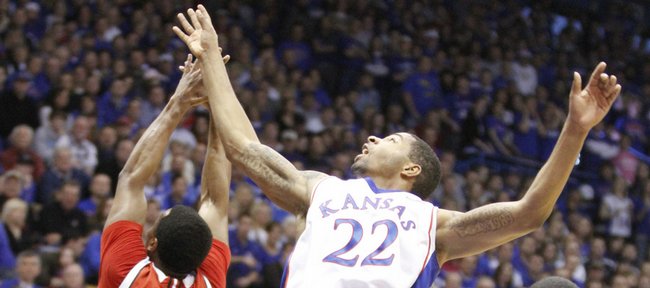 KU vs. Nebraska
Reader poll
Cole Aldrich

19%

338 votes

Sherron Collins

13%

243 votes

Marcus Morris

58%

1038 votes

Markieff Morris

6%

122 votes

Other

1%

31 votes
1772 total votes.
Reader poll
Thomas Robinson

28%

6 votes

Jeff Withey

66%

14 votes

Undecided

4%

1 vote
21 total votes.
The only consistent thing about most young men living the college life is that they behave inconsistently.
And then there is Marcus Morris, Kansas University's sophomore power forward from Philadelphia. He's as predictable as gray skies in Cleveland, an episode of "Curb Your Enthusiasm" having a few cringe moments, turning on your television and seeing a Geico commercial featuring Art Carney's son, Brian, falling backward onto a green, talking gecko. It never stops playing, yet never gets old.
College basketball players tend toward inconsistency because they are so thoroughly scouted, so young and sometimes so immature. None of that seems to apply to Morris.
The Big 12 portion of the schedule arrived, and the shorter twin became the steadiest player on the team again ranked No. 1 in the nation.
Eight games into conference play, Morris has played eight strong games. He's averaging 17.8 points and 8.5 rebounds against Big 12 competition. His most amazing stat: five offensive boards a game.
The sweat hadn't dried from his 20-point, 11-rebound effort in Saturday's 75-64 victory against Nebraska and already he was thinking about the next game.
"Everybody knows Texas is tough," Morris said. "It's going to be a dogfight. No kids can play in this game. It's going to be a man's game. Every loose ball, people are going to be flying after it, jumping everywhere."
He was tired from playing 34 minutes, and he was looking forward to "jumping everywhere," after loose balls.
Clearly, Morris brings consistent effort and has matured so much in one year, but there is more to it than that. His versatility lends itself to consistent performance. He's the perfect sidekick to Cole Aldrich because when Aldrich gets doubled and fires a pass his way, he never drops it. Nobody on the team has better hands. His tireless work on the offensive boards gives him another way to score.
He handles the ball well and shoots well, which makes him a threat on the perimeter as well. But it's in the mid-range that he does his most impressive work. His turnaround jumper, executed with such precision it gives him the space to get off shots without hurrying, is deadly. He has moves and counter moves that create space for shots, and his touch is soft, even though he misses too many bunnies.
He has so many ways to score that there is no one type of defender best suited to guard him, no one area to try to take away from him.
Defensively, coach Bill Self loves having him on the floor because he moves his feet so well he can switch onto any player and stay in front of him.
Rare is the Final Four team that doesn't have at least three terrific players. A year ago, Kansas had Sherron Collins and Cole Aldrich and a pack of inconsistent young talents. It never felt like a team bound for the Final Four.
Morris gives KU a third terrific player, and this feels like a team with a strong shot at making it to Indianapolis.
First, Austin.
"This is a big game," Marcus said. "We never look past any opponents, but this is one we've wanted."
More like this story on KUsports.com