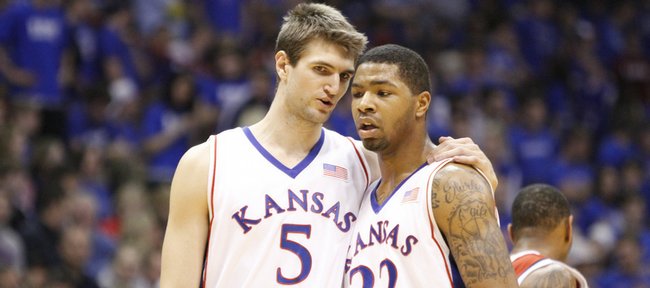 KU vs. Nebraska
Reader poll
Cole Aldrich

19%

338 votes

Sherron Collins

13%

243 votes

Marcus Morris

58%

1038 votes

Markieff Morris

6%

122 votes

Other

1%

31 votes
1772 total votes.
Reader poll
Thomas Robinson

28%

6 votes

Jeff Withey

66%

14 votes

Undecided

4%

1 vote
21 total votes.
Kansas center Cole Aldrich says he sees a little bit of himself in teammate Jeff Withey.
"He's a little better than I was as a freshman," Aldrich said following KU's 75-64 victory over Nebraska. "But he's long. He can block some shots. He's going to be good someday."
KU fans saw a glimpse of how good Withey could be on Saturday.
Withey, in nine first-half minutes, contributed four points, six rebounds, two blocks and a steal with no turnovers.
"Coach always tells me to be ready, and that if I get in I have to hit some people and rebound," Withey said. "I think I did that tonight."
Withey was inserted into the game partly because of necessity, as Aldrich, Markieff Morris and Thomas Robinson all racked up at least two early fouls.
"I thought he kind of bailed us out in the first half," KU coach Bill Self said of Withey.
As the whistles piled up, teammate Elijah Johnson jokingly turned to Withey and told him to get his legs warm.
"We were just having fun on the bench," Withey said. "He just told me to get ready. I started stretching."
Even with the advanced warning, Withey said he wasn't entirely prepared for the extended minutes.
"I don't have my 'game wind' yet," Withey said. "I was pretty tired, but the energy of the crowd helped a lot."
Self said afterward that Withey will play more in games where opposing teams use two true big men instead of a big man and a guard down low.
One team that plays two true post players often is Texas, which also happens to be KU's opponent Monday.
Despite playing well in the first half, Withey didn't play in the second half.
"It's all right. I understand my role on the team and understand that coach is a basketball genius," Withey said. "I'm not going to take anything away from that. He knows what he's doing."
So does Withey believe that, right now, he's better than Aldrich was as a freshman?
"I don't know. Cole's a great player. Only time will tell, I guess. I can't say too much," Withey said with a laugh. "I want to be a little bit humble on that one."
Aldrich has noticed that whenever Withey plays, he seems to be having fun.
"He's just a young kid still," Aldrich said, "just living the dream."
More like this story on KUsports.com