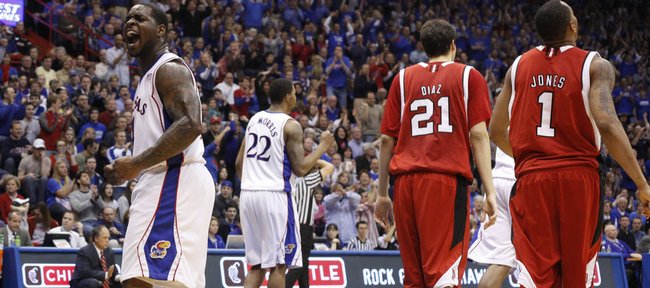 KU vs. Nebraska
Reader poll
Cole Aldrich

19%

338 votes

Sherron Collins

13%

243 votes

Marcus Morris

58%

1038 votes

Markieff Morris

6%

122 votes

Other

1%

31 votes
1772 total votes.
Reader poll
Thomas Robinson

28%

6 votes

Jeff Withey

66%

14 votes

Undecided

4%

1 vote
21 total votes.
Kansas University point guard Sherron Collins received a batch of phone calls and text messages from family members and friends all day Saturday.
"Most people were saying, 'Good luck Monday against Texas.' I was like, 'We've got a game today.' Talking to different people, they were all looking past this one," Collins said.
Lucky for KU, Collins took a one-game-at-a-time mentality into Saturday's late-afternoon, pre-Texas confrontation against Nebraska.
The senior — who was infuriated by pregame comments from Husker guard Sek Henry in both the press and in person — scored 17 points and dished six assists in the Jayhawks' 75-64 victory.
To show how fired up he was about No. 1-ranked KU's 22nd victory in 23 tries and eighth win without a loss in league play, he bounced the ball hard off the floor following the final horn.
It was quite an emphatic statement after a victory over the Big 12's last-place team.
"There was a little chipping," Collins said of barking between him and Henry during stretching well before the game.
"He said something. I told him, 'We're going to come right at you.' He kept trying to make it about me. I kept reminding him it's about a team effort. I think there's a difference. Some players focus on themselves and worry about themselves and don't worry about their team and winning. I'd rather score no points and go zero-for-whatever and still win."
Henry reminded huskersillustrated.com on Friday that Collins scored just eight of his 22 points in KU's Jan. 13 victory in Lincoln with Henry guarding him.
Henry told the Web site he "contained him" and "did slow him down."
"I don't think it's too smart to do that," Collins said of Henry boasting about his own defensive prowess.
The two chatted briefly in the handshake line after Saturday's game.
"It was friendly. I asked him, 'How many points did you catch today?''' Collins said. "He didn't reply. It's all love. He won't say anything. I got the best of him."
Henry, by the way, had six points, four assists and four turnovers.
KU's Marcus Morris, who scored 20 points off 9-of-15 shooting (two of six from the line), noticed an extra-focused Collins before tip.
"A couple guys threw shots at him, and he was ready," Morris said. "You could just see in the locker room that he was ready."
What kind of shots?
"Verbal shots. Stare-downs, trying to scare him, trying to play the intimidation factor, which never works with Sherron," Morris said. "That wasn't smart, but they did it."
Morris was asked if Collins is the last guy a team should try that with.
"Last guy," Morris stated. "Ask coach. He'll tell you."
Even with all the extracurricular activity firing up the Jayhawks, NU led, 43-39, 25 minutes into the game.
After a timeout in which coach Bill Self lit into his troops, Collins came out and iced a three-pointer. That opened KU runs of 15-1 and 28-5 that gave the Jayhawks a comfy, 67-48, lead with 5:13 remaining.
NU was able to cut the deficit to nine points, but inched no closer than that.
All in all, not a bad victory with the long-awaited 8 p.m. Big Monday game against Texas looming in Austin. It remains a big game, even though Texas has fallen to 5-3 in the league following Saturday's loss at Oklahoma, compared to KU's 8-0 mark.
"That's what we talked about in the locker room afterward," KU coach Bill Self said. "I don't want to take anything away from Nebraska, but this is one of those games, 'Let's get through this game so we can get to that game.' I think we'll go down there very excited to play.
"I'm not really excited," he added of KU's play in victories over Colorado and NU, "but when you really look at it, did I expect us to play great this week? I probably didn't expect to play great coming off last week (wins over Missouri and Kansas State), and our guys are tired. I thought they played tired today."
He said the Jayhawks likely would practice just 40 minutes today "to have fresh minds and legs going to Austin."
Collins won't need any pregame comments from any Longhorns to be ready for that one.
"It'll be a man's game, running-up-and-down pace. It'll be fun," he said.
More like this story on KUsports.com