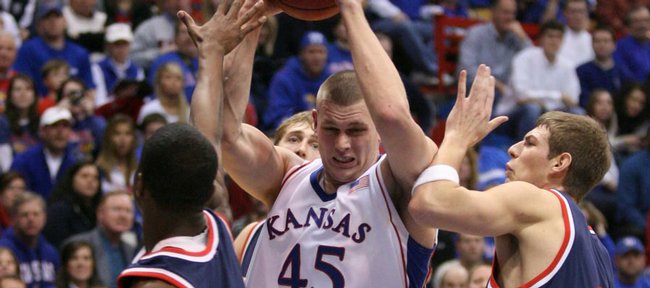 Rick Byrd trod lightly.
Byrd, the 24th-year Belmont men's basketball coach, wanted to be nice, didn't want to trample upon anyone's feelings or come off as mean-spirited, but at one point during his team's matchup at top-ranked Kansas University on Tuesday night, he looked at the monstrosity that was KU center Cole Aldrich and the havoc he was wreaking on the Bruins' post game and decided that honesty — brutal as it might be — was the best route to go.

"I basically told (our post players), 'You're not going to be able to score against him,'" Byrd said. "'I'm sorry; I'm not trying to hurt your feelings.'"
It was hard to argue with his viewpoint.
Thanks to an especially dominant game from a recently slumping Aldrich, the Bruins' inside game was rendered essentially useless in an 81-51 Kansas victory at Allen Fieldhouse.
Belmont's top three front-court players — center Mick Hedgepeth, the team's leading scorer this season, and forwards Keaton Belcher and Scott Saunders — combined to shoot just 7-of-22 from the field, and Byrd didn't hesitate to say following the game that Aldrich single-handedly forced the Bruins to alter their game plan.
Despite featuring a front court that has been its bread-and-butter through the first 12 games of the season, Belmont (7-5) couldn't overcome Aldrich, who finished with 14 rebounds and six blocks in what was arguably the Bloomington, Minn., native's best defensive outing of the season.
"I figured out after he blocked my first three shots," said Hedgepeth, who entering the game shooting 66 percent from the field but finished with just seven points on 3-of-9 shooting, "that I needed to mix my shots up against him."
As Byrd pointed out, Aldrich's fingerprints were all over Tuesday's game.
The Bruins, finding themselves with a broken post game and left scrambling to piece together some semblance of an effective offense, tried things they haven't been forced to try all season. They tried to use Hedgepeth as a passer out of the post. They hoisted 27 three-point attempts. They tried to alter their shots in an effort to get the ball past Aldrich's 7-foot-4 wingspan.
Problem was, none of them worked particularly well.
The Bruins, who came in shooting 47 percent from the field, finished just 20-of-65 from the field Tuesday (31 percent), turned the ball over 23 times (Aldrich finished with a game-high three steals) and were outscored 40-18 in the paint — all of which could be directly or indirectly tied to Aldrich's impact.
Even Kansas' lopsided 21-0 advantage in fast-break points, Byrd said, was tied to Kansas' man in the middle.
"We anchor our break off of our 5-man, and a lot of times we get a one-pass shot because they're worried about our 5-man," Byrd said. "They weren't worried about our 5-man."
Perhaps Aldrich's biggest impact, however, came in the psychological deterioration of a Belmont team averaging nearly 80 points per game and not used to being thwarted offensively.
After Aldrich blocked four shots in the game's first four minutes, Belcher said, the reality of the Bruins' predicament began to set in quickly.
"It makes you not want to drive the ball in there and try to shoot over him," Belcher said, "because you're either going to miss it or he's going to swat it."