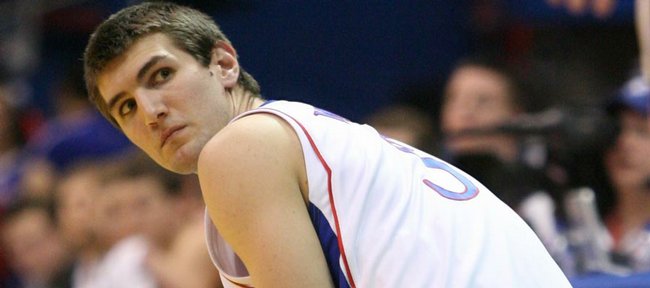 Jeff Withey still isn't sure he actually stepped foot on the Allen Fieldhouse floor during his first minutes as a Kansas University basketball player Tuesday.
"I felt like I was flying out there, to be honest," the freshman center said following KU's 81-51 victory over Belmont. "I couldn't feel my legs running up and down the court. It was a good feeling."
Withey, who sat out a full season after transferring from Arizona, finally was able to play for KU after recovering in recent weeks from a stress fracture in his right knee.
The 7-footer checked in for the first time midway through the second half Tuesday.
"I can't explain how excited I was to just step out there and hear all the fans," Withey said. "It was awesome."
After receiving a standing ovation from the crowd, Withey picked up his first defensive rebound in just five seconds.
Before Tuesday, he hadn't played in an organized game since competing in the state tournament during his senior year of high school.
"Coach (Bill) Self before every game just tells me to be ready and just be focused," Withey said. "I think that was great advice, because you never know when you're going to get your name called. I was just ready the entire game."
The freshman's first points came in the final minute, as he brought in a pass from Elijah Johnson and threw down a slam.
Withey's final line looked like this: two points on 1-for-2 shooting with two rebounds and two fouls in six minutes.
"For the short time I was in, I felt like I did OK," Withey said. "I wish I wouldn't have fouled as much. I wish I would have gotten a couple blocks. But, for the most part, I felt like I did pretty well for the first game in two years."
Added Self: "(Jeff)'s so rusty now. He's going to be a good player, and he's nervous. But I'm glad he got in there, and it was nice his first basket was a dunk."
Withey admitted that a few times he was a bit lost on the court.
"I'm still trying to learn the offense and trying to get in the flow of everything," Withey said. "Until I really get totally in sync with the team, I'll probably just be seeing a little bit of (playing) time."
Still, Withey believes there is a role for him on this year's squad.
"We do have such a great team and such a deep team. I have no idea (where my minutes will come from)," Withey said. "Coach has his schemes. Every game's different with the lineup.
"If we're playing a bigger team, I'll probably get a little more time. Right now, I'm just starting to finally get my feet wet."
More like this story on KUsports.com