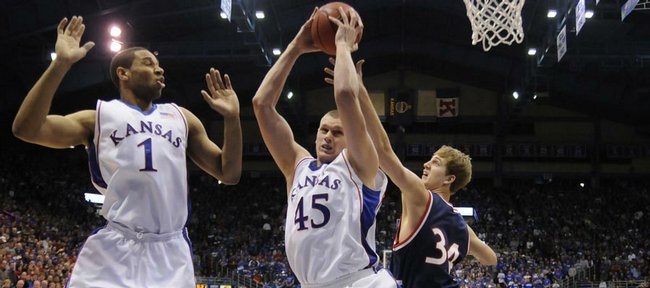 It wasn't so funny at the time, not with Kansas University's basketball team struggling mightily against tiny Belmont.
But later on Tuesday night, after the Jayhawks had comfortably disposed of the Atlantic Sun Conference school, 81-51, jokes could be cracked about perhaps the only possession in KU and Allen Fieldhouse history that started with just four Jayhawks on the floor.
"It was great because it was probably our best offensive possession of the game," KU coach Bill Self said of a possession that began out of a timeout with 7:50 left in the first half, with KU up, 21-15.
"I was really proud of our team. We totally baffled their defense and were able to make a good play. Tyshawn made a great play. I thought that was pretty sweet to come off the bench and in a few seconds make a great play like that," Self added in a sarcastic tone.
Tyshawn Taylor, who had been in the game before the timeout, was told to take a seat by Self. Shortly after, he found himself frantically waved into the game by Self and Sherron Collins, who noticed just four Jayhawks on the offensive end of the floor.
Taylor was allowed to jump off the bench and sprint onto the court without heading to the scorer's table since Tyrel Reed, who didn't hear Self tell him to check into the game for Taylor, never did.
"I almost got an assist. Cole missed a layup, but it looked good," joked Taylor, who after exiting the bench, ran down the court, and with 16,300 fans both gasping and laughing, accepted a pass then dished inside to Cole Aldrich, who missed an inside shot, but was fouled.
Aldrich, who came close to a triple-double with 11 points, 14 rebounds and six blocks, hit one of two free throws, making the crazy possession a success.
"I don't think coach told Tyrel he was supposed to sub for me," Taylor said. "Coach told me, 'You get a break,' but didn't tell Tyrel to go in. I was ready to sit down on the bench, but Elijah (Johnson) was like, 'There's only four people out there.' Coach looked at me so I ran out there. I knew I wasn't in trouble 'cause coach told me to sit down."
Freshman Elijah Johnson, who had seven points off 3-of-3 shooting with three assists in 10 minutes, laughed when informed that Taylor gave him an assist for noticing an incomplete lineup.
"Tyrel was looking for a seat on the bench, and we didn't have any. I told Tyrel, 'If you don't have a seat, then there must be only four on the floor.' I was joking around, but then I counted, and there were four out there. I told coach, and coach told him to get out there. That's the first time I've seen that."
Self had it happen to one of his teams at Illinois.
For the record, he took the blame for this one.
"I told Ty (Taylor) he was out. I thought I told Tyrel to go get him. Tyrel didn't hear me," Self said. "I guess that was my fault."
At any rate, it provided at least one humorous moment on a night the coach was displeased, to put it mildly, with his team's play.
The Jayhawks opened with an 11-0 run, but trailed at 15-14 and led by just 36-26 at halftime. KU opened the second half on another 11-0 spurt, finally gaining a 47-26 lead and safely securing the program's 50th straight victory in the fieldhouse.
"We know we can play a lot better than that," Taylor said.
Much better than that.
KU's coach said, among other things, that his team played "poorly," "awful," and "soft" the majority of the contest.
"We had a size advantage, and I have a guy coming out of the game saying, 'Coach, I am not that big,' and I'm saying, 'It's Belmont. They aren't either,'" Self said, not identifying the player.
Chances are that player wasn't the 6-foot-11 Aldrich, who hit four of five shots and three of four free throws in 27 minutes.
"I had a bug. It's finally starting to clear up," said Aldrich, who was not himself the past four weeks or so. "I feel my health was holding me back."
He said he was aware he was challenging for the second official triple-double in KU history. He had one against Dayton in last year's NCAA Tournament.
"I knew I had quite a few blocks the first half (five)," he said. "I come in with the same mind-set every game, to try to hold the paint down by rebounding and blocking shots."
Marcus Morris led the way with 14 points on a day KU had two double-digit scorers.
Next up is Saturday's nonconference clash at Temple. Tipoff for the game against the Owls is 4:30 p.m. Central Time at Liacouras Center in Philadelphia.
More like this story on KUsports.com