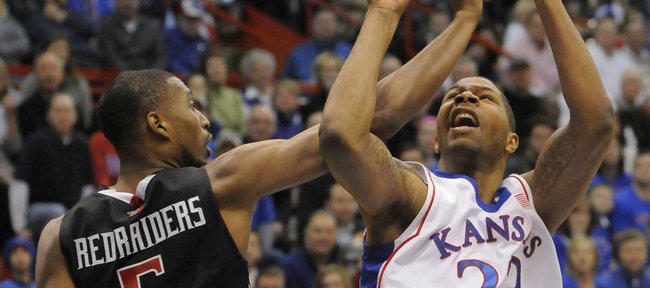 KU vs. Texas Tech
Audio clips
2010 KU-Texas Tech
Reader poll
Marcus Morris

50%

1176 votes

Brady Morningstar

31%

736 votes

Tyrel Reed

10%

238 votes

Cole Aldrich

6%

152 votes

Undecided

1%

42 votes
2344 total votes.
Ever-honest Marcus Morris, who is Kansas University's leading scorer and No. 2 rebounder through two games of the still-young Big 12 season, shrugs his shoulders when asked if he can keep up his highly productive pace.
"I can't predict the future," the 6-foot-8 sophomore forward said after scoring 20 points off 7-of-10 shooting and grabbing eight rebounds while playing 22 minutes in the Jayhawks' 89-63 rout of Texas Tech on Saturday in Allen Fieldhouse.
He had 19 points and seven boards in Wednesday's league lid-lifter at Nebraska.
"I can try to do what my team asks me to do and what coach (Bill) Self asks me to do. Every game I will try to give my best because I want us to win, but if I don't score, I can try to do other things," he added.
Morris has hit 14 of 18 shots and nine of 12 free throws in conference play, but insists it's a mere coincidence that he has blossomed since Self sat him at the beginning of the Nebraska game.
"It wasn't the non-start," said Morris, who was back in the starting lineup Saturday. "I listened to Brady (Morningstar) and the coaches. Coach Self pulled me in front of everybody (after loss at Tennessee) and said, 'I don't think you or your brother are playing hard. You need to turn it up.'
"I sat back and looked at the film and saw I was taking plays off, and the coaches were right about what I was doing. You think you are doing well, then when you watch tape, you see, 'I missed a screen here or didn't try to go for the offensive rebound here.' That plays a major role."
Morris had 11 points the first half and also took a turn defensively on Tech's Mike Singletary, who missed his only two shot attempts the first half (0-for-4, zero points for the game) as KU blazed to a 42-18 lead.
"Defensively, I turned up the intensity. I tried to grab my man and keep him off the glass," said Morris, who had five offensive rebounds, three defensive. "I brought my intensity a little more than usual, but took a couple plays off."
A reporter asked Morris why his effort varies game to game.
"I feel it varies with everybody," he said. "If you don't bring effort and intensity to the game and the other team takes the first shot at you, it can get you back on your heels. Just bringing intensity to the game can put the intimidation factor on the other team."
A work in progress, Morris said he'll simply try to bring the same juice to Wednesday's 8 p.m. home clash against Baylor.
"When he plays well, he's more active," Self said. "Usually being more active is getting his hands on more balls. He's played very well the last couple of games."
Marcus had seven points and brother Markieff four during a 23-5 run that closed the first half. Cole Aldrich sat out the final 9:26 and Sherron Collins the last 4:26 with two fouls apiece, and Tyshawn Taylor sat the final 10 minutes after committing a wild turnover.
"I think it's a good sign when your two best players combine for six (actually four) points total and you're up 24," Self said. "It tells me our bench is playing well. Over time, that's going to be real important."
Aldrich did score 14 points and grab seven rebounds, while starters Xavier Henry and Collins had 14 and nine, respectively.
Brady Morningstar had eight points, six rebounds and four assists and Tyrel Reed five points, three assists and three steals. Thomas Robinson and Markieff Morris combined for 11 points and eight boards as 11 Jayhawks scored.
The No. 3-ranked Jayhawks (16-1 overall, 2-0 Big 12) also showed some flash against the Red Raiders (12-5, 0-3), with Morris firing home a dunk to close the first half and Elijah Johnson a slam to beat the final buzzer.
"It was OK," Morris said of his one-handed slam. "I wanted to actually do something else. The game moved so fast, the only thing I thought about was scoring."
Where would he rank the dunk on his all-time list?
"Maybe fifth," he said with a smile.
As far as the game, Morris wouldn't rank it as one of KU's finest.
"We held them to 18 points the first 20 minutes, which is excellent," Morris said. "The second half we took our foot off the gas and kind of fell back because we were up so much and playing by the score."
That's what Self told his team after the contest.
"We played the score the second half as opposed to in our mind the score being 0-0," Self said. "We've had a lot of good teams here ... the younger teams do that more often than the experienced teams."
More like this story on KUsports.com