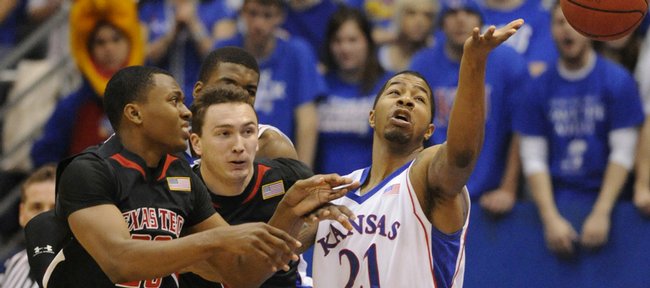 KU vs. Texas Tech
Audio clips
2010 KU-Texas Tech
Reader poll
Marcus Morris

50%

1176 votes

Brady Morningstar

31%

736 votes

Tyrel Reed

10%

238 votes

Cole Aldrich

6%

152 votes

Undecided

1%

42 votes
2344 total votes.
Kansas no longer sits atop the polls, so it's not necessary to hold the Jayhawks to the standards demanded of the No. 1 team in the nation. Just as well, or the column on Saturday's game against Texas Tech would have read something like:
Tyshawn Taylor made so many poor decisions on the fast break that once he fired a cross-court pass to the scorer's table, coach Bill Self had seen enough and benched him for the rest of the first half and the start of the second half, letting him watch roughly 17 consecutive minutes of action from his seat.
Taylor wasn't alone in his first-half sloppiness, either. That noise you heard emanating from Memorial Park Cemetery might have been Dr. James Naismith apologizing for inventing the game once he saw Kansas eat 4 minutes and 28 seconds of game clock without scoring a point. Last season's three leading scorers — Sherron Collins, Cole Aldrich and Tyshawn Taylor — combined for just eight first-half points. That would be the same half in which Xavier Henry, the freshman McDonald's All-American, made one of five shots and didn't have a rebound.
Wait, it gets worse. KU committed 10 first-half turnovers and surrendered 45 second-half points.
Since Kansas now ranks third in the nation, the unreasonable expectations for perfection on every single possession can be shelved, and the truth can be told: This is about where an extremely deep, yet not all that experienced Kansas team should be at the beginning of conference play. Stretches of brilliance surrounded by frustrating spells.
Don't forget, Kansas starts a freshman, two sophomores, a junior and a senior, so the March version of the Jayhawks figures to be better than the January one. And Kansas did win, 89-63, and did play extraordinary defense for a half, limiting the Red Raiders to 18 points.
Is this a special team?
"I don't know if you can say you're special yet," KU coach Bill Self said. "It's a little premature on that. I don't even know if the '08 team was special when we go to USC and Georgia Tech and labor to win against teams that were barely tournament teams, and Georgia Tech wasn't even a tournament team. I can't really say that team was special until we kind of got into it. I will say one thing about that team. That team enjoyed making other people look bad, and this team doesn't really treasure that like that team did. At least, so far we don't. We're a lot younger, too. ... I think it's a good team that has a chance to be special."
If the ego-driving force becomes a desire to embarrass the opponents, make them look as bad as they have looked in their lives, then this team can get to Indianapolis and even win it all.
Texas Tech made five field goals in the first half Saturday. Afterward, the KU players beat themselves up for easing up the defensive heat in the second half. They weren't happy. That's encouraging.
More like this story on KUsports.com