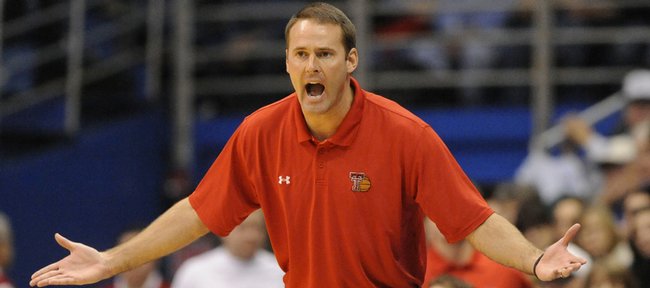 KU vs. Texas Tech
Audio clips
2010 KU-Texas Tech
Reader poll
Marcus Morris

50%

1176 votes

Brady Morningstar

31%

736 votes

Tyrel Reed

10%

238 votes

Cole Aldrich

6%

152 votes

Undecided

1%

42 votes
2344 total votes.
Scoring never has represented much of a problem for Texas Tech junior forward Mike Singletary.
In his first collegiate start two years ago, he finished with 15 points. He dropped 43 in a Big 12 tournament victory over Texas A&M; last season, and so far this year has turned in 28-, 27- and 25-point performances as the Red Raiders' leading scorer.
Which is what made Saturday's outing — Singletary finished without a point on 0-for-4 shooting in a 89-63 road loss to Kansas University — so inexplicable.
"If you find out, let me know," said Red Raiders coach Pat Knight, asked following the game what, exactly, Singletary's problem was. "We're having a hard time on the road the last couple times, and I think he presses himself too much. He knows we're playing against Kansas, one of the best teams in the country, so I think he presses a little bit too much."
If Singletary felt his coach's analysis was accurate, however, it was impossible to know.
The player wasn't made available to the media following the game — nor were any of his teammates — which left members of the winning team to explain how one of the Big 12's top scorers left Allen Fieldhouse with a goose egg.
"It happens," said KU guard Brady Morningstar, who finished with eight points, six rebounds and four assists. "Sometimes you hit shots, sometimes you don't."
Added Kansas forward Marcus Morris, "Singletary's a good player. He just wasn't making any shots today."
While Tech's dismal performance can't be attributed entirely to Singletary, it's not a stretch to say that as Singletary has gone, so too have the Red Raiders (12-5 overall, 0-3 in the Big 12).
In the team's five losses this season, he has averaged just 9.4 points — well below his season average of 15.4 — and without Singletary's usual production Saturday, the Tech offense looked bleak, particularly during a first half in which the Red Raiders shot just 21 percent (5-for-24) and fell behind, 42-18, at halftime.
Since opening the season 12-2 and moving as high as 16th in the national polls, the Red Raiders have hit a rough patch, dropping five of their last eight and their first three Big 12 games.
"Honestly, (Kansas is) at a different level than us," Knight said. "And, really, I think they're probably at a different level than most teams in this league. Every once in a while, special teams come around. I was fortunate enough at Indiana to be on one, where we were just loaded with NBA-caliber guys, and (Kansas has) a special team."
More like this story on KUsports.com