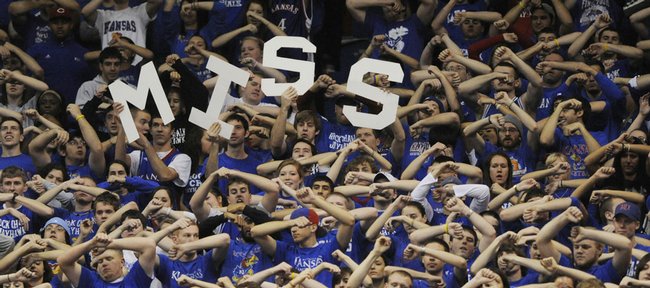 KU vs. Texas Tech
Audio clips
2010 KU-Texas Tech
Reader poll
Marcus Morris

50%

1176 votes

Brady Morningstar

31%

736 votes

Tyrel Reed

10%

238 votes

Cole Aldrich

6%

152 votes

Undecided

1%

42 votes
2344 total votes.
'Active' Aldrich
Kansas University center Cole Aldrich scored 14 points and grabbed seven rebounds with three blocks in 22 minutes.
It marked the 6-foot-11 junior's first double-digit scoring outing in three games.
"They put three guys around Cole again. That's how people are going to play us," KU coach Bill Self said. "He was more active. We did get the ball to Cole better."
Aldrich hit three of six shots and eight of nine free throws.
Tough critics
Self was asked if the No. 3-ranked Jayhawks, who are 16-1, have been "overanalyzed" this season.
"I don't know. I would say, probably,'' Self said. "We have some faults. There's no question about that. I think the media here takes the ball and runs with it in certain areas ... like I ever talk to my guys about some of the questions you ask them. That doesn't even register with them.
"I do think it's overanalyzed to an extent, but we can play better. We shouldn't apologize by beating an opponent by 26, still that was a game ... when you are up 30 with 17 minutes left, we had a chance to really crack somebody today and didn't do it."
Live and learn
Freshman guard Elijah Johnson thrilled the crowd with a slam dunk to beat the final buzzer. But he felt badly about the play after the game.
"I actually didn't get a chance to speak to them (Tech coaches). I do apologize for that," Johnson said of not running out the clock. "I was trying to back out of a situation (in which he was guarded closely). I saw it and went. After I dunked it, I realized there was not much time on the clock. I felt I should have come out. I shouldn't have gone in like that. I should have brought the ball out and let the clock run out."
Johnson, who played the final three minutes, added: "I know that's what the fans want (high-flying dunks), but sometimes it's about sportsmanship. I had all intentions of having good sportsmanship. I wasn't thinking to go try to put a last ending on a team like that when we were already up a lot of points at home with the crowd celebrating already."
This, that
Members of the 1952 national title team and 1974 Final Four team attended and were introduced to the crowd during a second-half time out. ... The national anthem was sung by 8-year-old Paige Padgett, granddaughter of former KU player Gary Padgett (1954-55). ... Intense Brady Morningstar (six) and Tyrel Reed (five) combined for 11 floor burns. ... KU is 2-0 in conference play for the fourth straight season. ... KU is 18-4 versus Tech, 11-0 in Allen Fieldhouse. ... KU has won 52 straight home games.
More like this story on KUsports.com