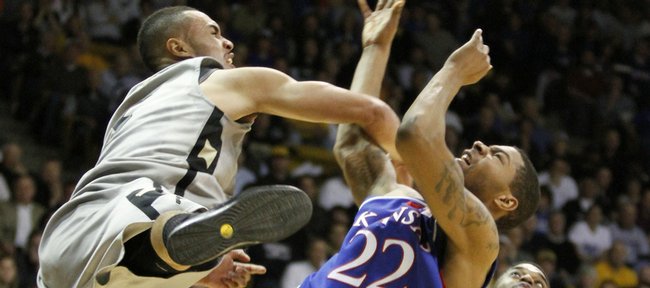 Boulder, Colo. — Sherron Collins pinpointed the reason for Kansas University's abysmal free-throw shooting late Wednesday night in Coors Events Center.
"It HAD to be the altitude," Collins said after the No. 1-ranked Jayhawks went just 18-of-38 from the line in a tense, 72-66 overtime victory over the .500 Buffs.
Of course, he was kidding, folks.
Collins, who actually had a decent 4-of-6 free-throw outing on a night he missed 11 of 17 floor shots and all five three-point tries, was baffled that a team that had hit 72.6 percent of its charities in Big 12 games could fare so poorly in Mile High Country.
"Tomorrow I guarantee you we will shoot over 150 free throws," Collins said.
The lousy free throwing — KU was 14-of-30 in regulation — and inability to demoralize the Buffs after bolting to a 24-8 lead had Collins feeling mighty fortunate following CU's last possession of the second half.
Cory Higgins (14 points, 4-of-15 shooting) had the ball in his hands with 10.6 seconds to play and 8 on the shot clock in a tie game.
Higgins hoisted a deep three with about five ticks left. That shot, after missing the mark, turned the ball over to KU with two seconds to play. The Jayhawks weren't able to bust the tie, but were able at least to take the game into OT.
"I was just praying it didn't go in. I think the altitude took that one, too far, too," Collins said with a smile.
Seriously, folks, Collins said Marcus Morris (15 points, eight boards; six points, seven boards in OT) played tight defense on Higgins on the play.
"Marcus was right on him," Collins said.
Morris accepted the credit modestly.
"Higgins is a great player," Morris said. "I thought he was going to drive it, so I gave him a little space. When I saw he was going to shoot, I got a hand up. I think he was three or four feet behind the line. If he hits it from there ..." Morris added, not completing the thought, wincing at the idea of losing on such a deep attempt.
Morris was a force in overtime, scoring half of KU's 12 points as the Jayhawks won the five-minute session, 12-6.
His driving layup, which followed an eight-footer by Brady Morningstar and free throw by Cole Aldrich, gave KU a 65-60 lead with 3:13 left.
After a Morningstar steal of an ill-advised Higgins pass, Morris grabbed a rebound of a Morningstar miss. He missed an inside shot and grabbed the board, missed again and grabbed the board, then converted as KU led, 67-60, at 2:41.
"Marcus made the play of the game, the best basketball play of the game," KU coach Bill Self said. "The guy goes after his own ball three or four times."
The Buffs, who were playing without freshman sensation Alec Burks (knee injury), cut that gap to 67-64 with 1:52 left in OT, meaning KU still had some work to do.
Collins hit a driving layup, but missed a free throw, and Morningstar made one of two charities at :34 to give KU a 70-64 lead. Higgins made two charities at :27.1 to slice it to four points. But Morris finally swished a pair of free throws at :26, which accounted for the final scoring of the game.
"We'll look back on this as a game where we made it hard on ourselves (because of free-throw woes), but as a good win," Self said.
"It was contagious," Self added of the poor charity work. "We weren't even close. We almost had two airballs the first half. We had numerous chances to put it away from the free-throw line, but couldn't, obviously. I don't know how that happens, but it's something we'll address in a short period of time."
Cole Aldrich scored 16 points and had 14 boards, while Collins also had 16 off 6-of-17 shooting with five assists and three turnovers. Morris had 15 points. Marcus Relphorde led the Buffs (11-11, 2-6) with 18 points.
KU will meet Nebraska at 5 p.m. Saturday in Allen Fieldhouse.
More like this story on KUsports.com