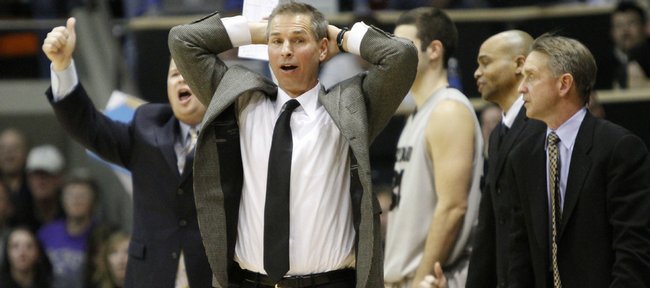 Boulder, Colo. — Before Wednesday, Colorado had never taken a No. 1-ranked team to overtime.
The Buffaloes still weren't in a celebrating mood after falling, 72-66, to Kansas at the Coors Events Center.
"With a team like that, you've got to take the chances you have and take advantage of them," CU guard Cory Higgins said. "We missed a big one at the end of regulation."
With the game tied at 60, the Buffaloes had the ball with 38 seconds remaining, essentially giving them the opportunity for the last shot.
Following a timeout, CU attempted a ball screen for Higgins, but KU switched on it, which caused a traffic jam on the perimeter.
With the shot clock running down, Higgins hoisted a long three-pointer that only hit backboard.
Afterward, the junior regretted not at least attempting to drive.
"I think I waited too long, and the clock got too close to zero," Higgins said, "and I ended up with that shot."
CU coach Jeff Bzdelik said that settling for shots not only haunted his team at the end, it also was the main cause for the Buffaloes falling into a 21-8 hole in the first half.
"We took quick shots," Bzdelik said. "First possession there, Marcus (Relphorde) took a quick three. Well, Kansas doesn't want to guard our stuff. They hate that. So, you can't accommodate them by taking quick shots and letting them off the hook. You need to make them defend."
Later, CU was successful by freeing up its outside shooters.
"What we needed to do was (make them) defend — they're an early help team — and kick," Bzdelik said. "That's something that was a key to tonight's game, and we didn't do it early on. We want to drive and make good decisions."
After the game, Bzdelik said freshman guard Alec Burks, who sprained his left knee on Saturday, was cleared to play by doctors.
Burks was second on the team in scoring (16.3 points) and tops on the team in rebounding (4.7 per game).
"I'm the one who said no, because he wasn't 100 percent," Bzdelik said. "He's a young, talented guy. That was my decision. I want the risk when he steps back on the court to be as minimal as possible."
Would Burks' presence have made a difference Wednesday?
"Wouldas, couldas and shouldas. It's all part of the game," Bzdelik said. "I'd like to think if we'd had him at Iowa State, if we'd had him for two minutes, that might have been different, too. It's part of the game."