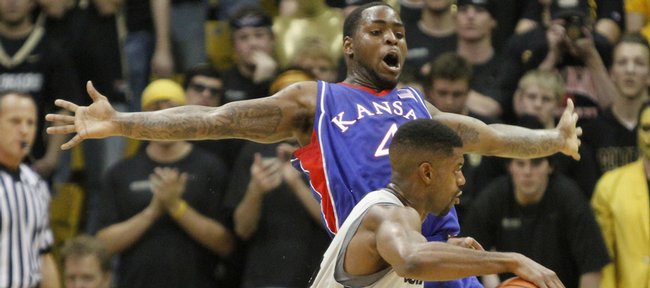 Altitude matters
Cole Aldrich huffed and puffed his way to 16 points and 14 rebounds in 35 minutes Wednesday night.
The 6-foot-11 junior admits he was one tired Jayhawk competing in the high altitude of Boulder.
"It's tough," Aldrich said. "You come up here. Coach (Bill Self) always jokes, 'Once you guys are indoors, the altitude doesn't matter.' It's his little joke. The freshmen believed it. All the veterans just laugh at him. It's a little different up here. It's always a tough place to play, but a fun place to win."
KU appeared to have about 2,000 fans of the announced crowd of 11,027.
"We had our fans, but they had theirs, too. They were loud. The fans were great," Aldrich said.
He said that no matter how much the Jayhawks practice against the Princeton-style offense of Colorado, it remains tough to guard.
"They have five guys that can shoot," Aldrich said. "They bring our bigs away from the hoop, and then they can drive. It also creates lanes. It was tough to guard them again. It's always tough here for some reason."
Self impressed
Self applauded the play of the Buffs.
"As I told the players, 'When you talk to the team, when you talk to the media or whoever, you have to respect their effort,''' Self said. "They do respect Colorado's effort."
Self thought it was neat the Buffs stayed around after a disappointing loss to thank the CU students for their support.
"After the game, the players went over and thanked the fans. We have never had it like this here before," he added of a hostile environment in which Buffs fans actually were a major factor. "It's good for our league for all of our teams to get better. I am not going to say we played poorly because it doesn't give them the credit they deserve."
Whew
Self was asked if he was more excited or relieved.
"Probably more relieved," he said. "We didn't play our best by any stretch. Not that Colorado didn't play great. I thought they were the better team. We were the best team by far the first 10 minutes. I thought without question they (were) the next 30. Then we were pretty good in overtime.
"Relphorde had a terrific game," he added of Marcus Relphorde, who had 18 points and 11 boards. "He was probably the hardest for us to guard tonight."
Stats, facts
KU is 21-1, the same record it had during the 2007-08 NCAA title season. ... KU is 7-0 in the league for the second straight year. ... KU has won 14 straight games versus CU. ... KU leads the all-time series, 118-39, including a 38-26 KU advantage in Boulder and 23-7 in Coors Events Center. KU is 27-1 versus CU since the start of the Big 12 in 1996-97. ... KU is 8-1 away from Allen this season. ... KU played its first overtime game against the Buffaloes since March 2, 1964, a KU 73-71 victory. It was also KU's first overtime game in Boulder since losing 50-48 on Feb. 6, 1950. ... The Jayhawks played their first back-to-back overtime games since the 2004-05 season. ... KU held Colorado to 37.5 percent shooting and has held 17 of 22 opponents to under 40 percent shooting this season. ... KU shot a season-low 47.4 percent from the free-throw line. ... Aldrich pulled down 14 rebounds to pass Mark Randall (1987, 89-91) for the 13th-most career rebounds in KU history with 734. He has nine or more rebounds in 11 of his last 13 games. Aldrich also moved up to the No. 6 spot for single-season blocked shots, recording five blocks to give him 80. He passed Eric Chenowith (1999). He has three-plus blocks in 20 games in 2009-10. ... Sherron Collins scored in double figures for the eighth time in the last 11 games with 16 points. Fourteen of his points came after halftime. He also had four assists and has three-plus assists 18 times this season. ... Xavier Henry had one steal and moved up one spot on the KU freshmen steals list. He is tied for the No. 6 spot with Jeff Boschee (1999) with 40 steals. ... Tyrel Reed tied a season high with three rebounds.
Mad AD
Colorado AD Mike Bohn spoke to Big 12 officials observer Tom Robinson angrily during a timeout in the first half near the press section. Bohn apparently was upset at the officiating. He returned at halftime and spoke to Robinson in a much calmer tone.
More like this story on KUsports.com