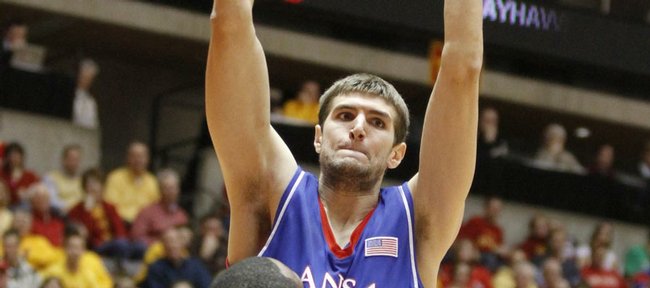 Ames, Iowa — Early foul trouble Saturday forced Kansas University basketball coach Bill Self to take a deep breath, summon courage and tell seldom-used red-shirt freshman center Jeff Withey to enter the game early in the first half against Iowa State.
It didn't take Withey long to show his inexperience. He wasn't equipped to do something almost as basic as tying his shoelaces. Taken out after his first stretch of playing time, Withey went to the bench and took a seat, the head coach's seat, right between assistants Joe Dooley and Kurtis Townsend.
Withey had a much easier time finding his way on the court and played like a veteran against one of the best big men in the Big 12. He played 12 minutes and contributed eight points, five rebounds, a blocked shot and terrific defense on Craig Brackins in KU's 84-61 victory in Hilton Coliseum.
You know you're watching a deep basketball team when a bad break instantly turns good.
"We had a new guy jump on the scene I never would have given a chance if we hadn't had foul problems," Self said. "I thought Jeff was great. He gave us some good minutes, so that'll give me some confidence and our staff and our team some confidence going to him more often, so it was a fun game for us."
Especially for Withey, whose practice time had been limited by a leg injury before he became eligible Dec. 19. The fifth post man, playing behind junior Cole Aldrich, sophomores Marcus and Markieff Morris and freshman Thomas Robinson, Withey totaled 11 minutes of playing time heading into Saturday.
Forgive Withey for a momentary freeze when he heard his name called at the first media timeout with 15:58 left in the first half.
"I was a little bit in shock, did a little double-take look at coach," Withey said. "Yeah, I was shocked. I was a little bit nervous, but I was confident also."
The nerves didn't show. The confidence did. He looked sure of his footwork in the post, scoring on a soft bank, athletic scoring on a follow slam, sure-handed and blessed with quick feet and skinny long arms that came in handy defensively.
Withey earned a No. 36 overall national ranking, No. 8 among centers, coming out of high school. A 7-foot, 225-pound freshman from San Diego who originally enrolled at the University of Arizona, Withey never played there and transferred a year ago at the semester break.
The odd man out until Saturday, Withey had one of two means available to cope with the lack of playing time. He could either pout, send off bad body language in practice and on the bench, or realize he's fortunate to work against so much talent daily and figure out how to earn playing time. Because he chose the wise path, he maximized the opportunity when it arrived against the Cyclones.
"All our big men can be NBA players some day," Withey said. "Cole is probably going to be one next year, and I'm getting better every day going against him and the twins and Thomas. Every day is a battle, and I feel myself getting better and more confident every day."
On the day Kansas established itself as the favorite to win the Big 12 title, it became a better team by 7 feet.
More like this story on KUsports.com