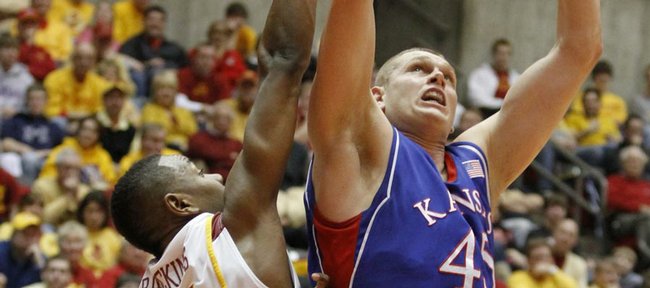 Ames, Iowa — A loving mom who is willing to give her son some space, Kathleen Aldrich does not spy on her son Cole's Facebook page.
She's about to make a request to see a recent entry, however, one that provides a hint into how heavy of a heart Kansas University's 6-foot-11 junior center has been burdened with lately.
"We had a couple people tell us he wrote a nice poem on Facebook. They said after they read it, they could tell his grandmother had passed," Kathleen said of Ann Aldrich, Cole's grandmother, who died nine days ago and had her memorial service Friday in Northfield, Minn.
"I wonder where he got that ability to write like that. Nobody in our family (is good at that)," she added with a laugh.
Cole Aldrich, who admittedly hasn't been himself since last June when Ann was diagnosed with lung cancer — the diagnosis came when Cole was back home in Minnesota — has felt revitalized since his grandmother's pain finally subsided.
"It just feels good to be back," Aldrich said after hitting eight of 11 shots and going 3-for-3 from the line en route to 19 points and 11 rebounds in Saturday's 84-61 victory over Iowa State in Hilton Coliseum. "I've gone through a lot of slumps this year and gone through a lot of stuff. It's tough, and it weighs on me. I'm just going out and giving my heart."
Aldrich's dad, Walt, indicated there also has been a stress-fracture problem in Cole's lower left leg, though Cole laughed and indicated he's 100 percent healthy. Cole admitted, however, that a bout of bronchitis hindered him for several weeks this season.
He still appears a bit winded at times, including late in Saturday's rout.
He was energized by having so many family members make the relatively short drive from Minnesota in rainy, foggy weather.
"Grandparents, parents, aunts and uncles, cousins and all that. I wanted to go out and play with my heart," Aldrich said. "There will be big games when I am in the mix for a lot of minutes. I need to keep pushing myself, fighting through that barrier and having fun."
Aldrich scored a team-leading nine points and grabbed four rebounds while playing 15 minutes the first half as KU led, 38-25, at the break.
"I told him on the bench, 'That's the Cole I know," said sophomore forward Marcus Morris, who hit his first six shots and finished with 16 points off 8-of-16 shooting.
Morris — he and his teammates actually applauded for Aldrich as he entered the locker room after the game — spent a lot of time guarding Craig Brackins, who was held to 13 points off 5-of-13 shooting after scoring 42 against KU in Ames last season. Seldom-used Jeff Withey (eight points, five boards) also provided some dandy 'D' on Brackins.
"He was frustrated a little bit with the (KU) double-team," Morris said of Brackins. "He actually told me that. He said, 'I hate when teams double-team me.' I said, 'You're a great player, you should expect double-teams.'''
Aldrich moved the ball well the times he was trapped. He also finished with three blocks in 31 minutes.
"Hopefully the big fella is getting out of his funk. It's over with. Nineteen and 11. He's back," said senior guard Sherron Collins, who had 11 points off chilly 3-of-10 shooting (0-for-3 from three) with six assists in 33 minutes.
Xavier Henry was also off the mark, missing eight of 10 shots and all of six threes en route to just four points in 19 minutes.
None of the negatives mattered as KU never saw its halftime lead dip below 12 the rest of the way. KU claimed its sixth straight victory at Hilton Coliseum with the big fella the main storyline.
"We have a very close family. It's the first death he's had to deal with," mom Kathleen said, noting Cole was unable to attend Friday's memorial service because he wasn't able to schedule a flight that could get him to Minnesota and back to Lawrence to be with the team in time for its bus ride to Ames on Friday.
"We're going to have another service in the spring, and hopefully that will work out," Kathleen said.
KU coach Bill Self, who has called Aldrich a "stud" for how he has handled adversity this season, noticed an inspired big man Saturday, not a dejected big man.
"I don't know if that's the sole reason, but Cole was better today, no question," Self said of Aldrich feeling better after his grandmother's suffering came to an end. "He moved better. He was freer offensively. He has a freer mind."
And if he wants, he has something to talk about on Facebook.
"Something positive on Facebook," Walt Aldrich said with a big smile, referring to the oft-controversial Web site.
• A previous version of this story contained an error.
More like this story on KUsports.com