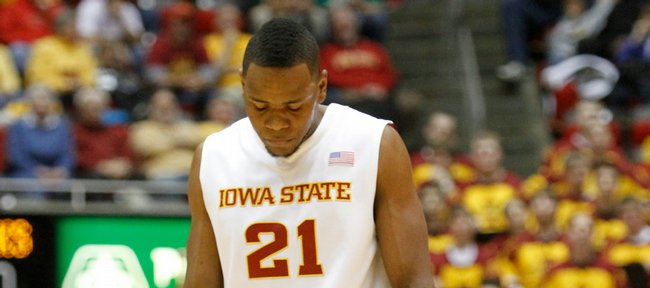 Ames, Iowa — Right after Kansas University forward Marcus Morris made a long two-pointer, Iowa State's Craig Brackins couldn't help but crack a smile.
"When did you get a jump shot?" the ISU forward asked Morris on the court.
Morris grinned.
"I've been working, man," Morris replied.
Brackins could tell.
"He should be most improved player from last year," Brackins said after KU's 84-61 victory Saturday. "We've played teams already, and he's just an all-complete player. He's making jump shots, he can drive it a little bit. His aggressiveness ... we were talking a little bit on the court. He's just a good guy. He plays hard, and he's really improved."
Brackins said the two continued their friendly banter throughout the game.
At one point, Brackins got to the basket by twirling around Morris.
"Oh, man, you don't spin," Morris said.
"Hey, you've got to learn how to do something," Brackins quipped back.
"He's just a hard player," Brackins said of Morris. "He loves to compete. He loves guarding me. He says it.
"We've talked off the court sometimes, and when we were walking away, he was just like, 'Man, I love playing you. You bring the best out.' Everybody loves to compete. That's all it's about."
At another point, Brackins remembered telling Morris, "Man, you're balling."
In just 19 minutes, Marcus finished with 16 points off 8-for-16 shooting to go with seven rebounds.
Brackins, meanwhile, scored 13 points on 5-for-13 shooting while having lots of defenders thrown at him.
Last year, when Brackins scored 42 points against KU, the Jayhawks double-teamed him once he received the ball in the post. This game, KU double-teamed Brackins every time he touched the ball.
After the game, Morris told Brackins: "Just keep working, man. You're doing good. We had to double- and triple-(team) you, man. That's what we have to do."
"It's always respect," Brackins said. "I respect Sherron (Collins). I respect their whole team, their coach."
Brackins also has earned Collins' admiration.
"Sherron goes out there after we hand shake and says, 'It's all love. It's all respect,'" Brackins said. "We all just respect each other. We're all fans of each other. I watch him. He probably watches me. I watch other players in the Big 12 and all over the country. We just respect one another."
More like this story on KUsports.com