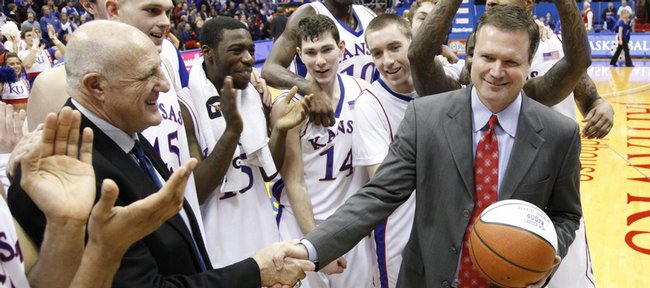 Kansas University's basketball players huddled around Bill Self as athletic director Lew Perkins presented a game-ball memento to the Jayhawks' seventh-year coach moments after Saturday's 73-59 victory over Iowa State in Allen Fieldhouse.
One player appeared more animated than most in congratulating Self following the 400th victory of his 17-year career.
"That wasn't really much of a celebration," Self said, his eyes brightening as he entered into one of the patented postgame stories that show his sense of humor.
"Brady was the ringleader, saying, 'Great job (coach). Great job.' I told him no thanks to him," Self cracked after an off night by Morningstar (two points, 0-of-4 from three-point range).
"He was trying to make a big deal of something so I wouldn't get on his butt in the locker room. It is nice to have coached as many good players as we have. If you coach long enough, you should win some games. We've kind of won at an accelerated rate lately in large part because we've had such good players," Self added after the No. 1-ranked Jayhawks improved to 24-1 overall and 10-0 in league play.
It took just one significant KU run to make this a happy occasion.
Tyrel Reed hit two free throws and Tyshawn Taylor followed with a steal off the inbounds pass and a layup to open runs of 14-0, 17-2 and 21-3 that stretched a 40-38 lead with 13:41 left to 61-41 at 7:55.
Reed, Taylor, Xavier Henry (16 points, 5-of-9 shooting) and the Morris twins were the ones in the game during the 14-0 spurt, with Cole Aldrich (11 points, 12 boards) and Sherron Collins (11 points, 4-for-14 shooting) taking a breather.
"I mean, it just came to me. I was in the right place at the right time. I guess it was miscommunication between their two guards," Taylor said in explaining the steal. "It fell right in my hands. I'm glad I made that layup. I needed it 'cause I hadn't done anything yet. I think that started a good run for us."
Taylor finished with all seven of his points in the game-breaking 21-3 surge. His strong performance came on a night when he needed one. The sophomore guard has had a heavy heart of late following the death of his great uncle.
Taylor flew to New Jersey for the funeral Thursday and flew back to Lawrence on Friday.
"It's sad, but he was the oldest person in the family. He was 72. It's not like he didn't lead a great life. He was in the Army. I hate to see him go, but I'm glad he's at peace now," Taylor said.
Of Taylor, Self said: "He's been a mystery to us. I don't mean that in a negative way. He's got so much talent, but he played like he was going half-speed out there in the first half. We challenged him at halftime. We told him we're not going to play him any more unless he plays like he's capable of playing. He pushed the ball and put pressure on the defense in the second half, and all of a sudden got confidence and played well."
Coincidentally, that 14-0 run started immediately after a timeout in which Self reminded his troops that this was a similar situation to the last home game against Nebraska, in which KU trailed five minutes into the second half before busting that game open.
"It's coach Self on the sideline. He's a great motivator," Collins said of the reason for the surge. "When he gets on you, he tells us what we need to know and what we can't do, to make us better."
What triggered the run?
"Defense," Collins said. "We went on that run, and it started with defense."
Self noted: "Our first-shot defense was pretty good. That 14-0 run was started by Tyshawn, Tyrel, Xavier and the twins. It was our best lineup tonight, in that stretch. That certainly put the game away."
And it made possible the brief postgame ceremony in which Self earned his milestone memento.
"He's a great coach. I'm glad I was a part of that," Taylor said.
KU will travel to Texas A&M; for Big Monday. Tipoff is 8 p.m. in Reed Arena in College Station.
More like this story on KUsports.com