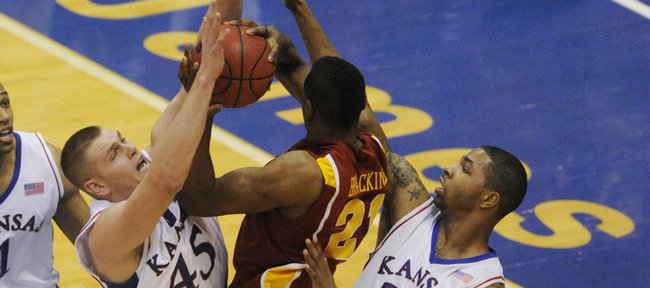 Iowa State forward Craig Brackins has the feeling that in a few years he'll still be hearing about Kansas University sophomore Marcus Morris.
"I'm definitely going to see him," Brackins said, "or see him on TV."
Brackins, who has been projected by many scouting services to be a first-round pick in the upcoming NBA Draft, isn't ruling out the possibility that the two players might guard each other in the pros.
"I hope so," Brackins said. "That'd be the dream."
Following KU's 73-59 victory over ISU on Saturday, Brackins said he enjoyed going up against his buddy, Marcus.
KU's 6-foot-8 sophomore finished with 11 points and 10 rebounds on 4-for-12 shooting.
"He's versatile. He can shoot, he can drive, he can pass," Brackins said. "It's kind of a playing-against-each-other-type of deal, because I'm just as versatile as he is. It's kind of a challenge, and we like it."
For the second straight game, the two shared some friendly banter as well.
Marcus fumbled one shot on the way up, later telling Brackins that the ball slipped.
"Man, you trying to do some of my turn-arounds?" Brackins replied with a smile before Marcus shared the laugh.
"The Kansas guys are a great group of guys," Brackins said. "They don't try to go out there and hurt you. If they knock you down, they pick you up."
Brackins left disappointed with his own offensive showing.
The first-team All-Big 12 selection from a year ago finished with 18 points on 6-for-19 shooting.
"That's the worst is when your shot is feeling good and you feel like you're letting your team down, missing some shots," Brackins said. "My team has faith in me, and I really appreciate my team and the faith that they have in me. I'm just going to keep doing what I have to do."
In his two games against KU this season, Brackins made a combined 11 of 32 shots (34 percent).
"They were really aggressive with their double-(team). Kansas is always like that," Brackins said. "Once I dribbled out of that, if I tried to go in, the guards would come and help. It was a team effort by them, and it frustrated me a little bit.
"I've got to watch tape and figure it out so that if another team tries to do it, I've got an answer for it."
ISU changed up its defensive look against KU in the rematch.
In the first game, ISU's guards helped double-team the post, and the Jayhawks either kicked it out for three-point attempts or slashed to the basket.
On Saturday, ISU only double-teamed with its bigs down low.
The Cyclones also avoided the whistles, finishing with just 12 personal fouls.
"We had eight capable players, so we couldn't afford to be in foul trouble," ISU coach Greg McDermott said. "I thought or guys executed the plan very well. It's just Kansas is a very talented team."
More like this story on KUsports.com