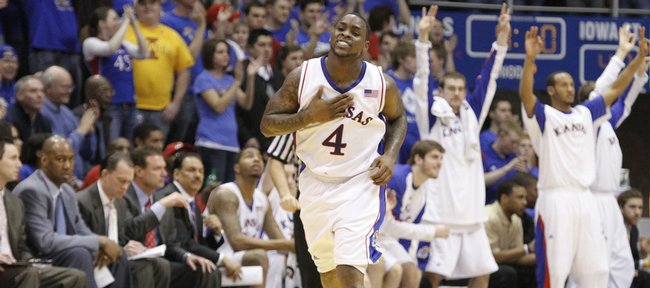 Jackson in the 'house
Former Kansas University power forward Darnell Jackson decided to work up a sweat before Saturday's KU-Iowa State game.
"I walked by the practice gym, and Darnell is in there working out. I told him, 'When you were here, I never saw you do that once,''' KU basketball coach Bill Self said, joking with the second-year member of the Cleveland Cavaliers. "He looks great, so confident."
Jackson, whose contract runs out after this season — "If they keep me I'll be happy, if not I'll go somewhere else," he said simply — loves KU's new practice digs.
"It made me upset because as soon as I left, they get this," he said with a smile. "Nah ... they deserve it."
Jackson thinks KU has what it takes to win the national title, just as his '08 team did.
"I feel they can pull it off as long as they stay focused and keep their minds right," Jackson said. "They'll have their ups and downs, but have guys who have been through it — Cole (Aldrich), Sherron (Collins) and Brady (Morningstar)."
Jackson wore his national title ring to the game and flashed it to the fans when he was introduced on the videoboard.
"It was great to wear it here tonight. I never wear it during the (NBA) season," said Jackson, who was guest on the halftime KU radio network broadcast of the game and also met the media afterward.
Injuries
Freshman Thomas Robinson took an elbow at practice Thursday and suffered a concussion. Self said Robinson still had some symptoms Saturday, so he wasn't cleared to play. He's listed as day-to-day. ... C.J. Henry is just 60 percent recovered from his severely bruised tailbone that has kept him out of several games, Self said.
Selby in the house
Josh Selby, a 6-foot-2 senior point guard from Baltimore's Lake Clifton High, attended with his mom, Maeshon, on his recruiting visit. Selby, who is rated No. 4 nationally by Rivals.com, made an unofficial visit to KU for Late Night in the Phog. He has a final list of KU, Kentucky, Arizona, UConn, Indiana and Syracuse. He is slated to visit Kentucky the weekend of March 7. His mom said no decision was on the immediate horizon with other visits to make.
Running on
Marcus Morris, on KU's 14-0 run against Iowa State and similar run that busted open the Nebraska game: "It might just be something that coach is saying because every time there's a timeout, and then we're coming out with a different spark. I'm not saying coach is sparking us out in the huddle, but the words are not good. He actually referred back to the Nebraska game about how they went up four. I guess we just came out of that timeout and started playing."
Stats, facts
Former KU players Calvin Thompson, Jeff Carey and Jeff Hawkins attended. ... Aldrich blocked three shots. He has 93, good for third on KU's all-time single season block list. Greg Ostertag had 97 (1994) and Aldrich 94 last season. ... KU, which won its 56th straight game in Allen, has won 10 in a row versus ISU.
More like this story on KUsports.com