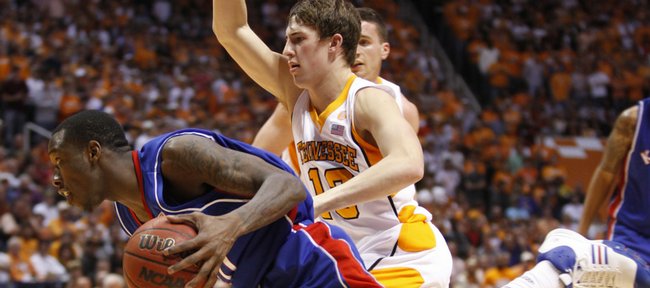 Knoxville, Tenn. — Tennessee guard Skylar McBee heard the crowd growing louder, and he knew it was time to look up at the shot clock.
Three seconds remaining. The 6-foot-3, 190-pound freshman told himself there was only one option left in UT's 76-68 victory over Kansas: shoot it.
He pump-faked to get KU's Tyshawn Taylor in the air, then leaned forward to push a leaning shot toward the rim.
The circus shot swished through with 36 seconds left, giving UT a six-point lead.
And any chance of KU staging a comeback was buried by a freshman walk-on.
"You don't get to play the No. 1 team in the country many times in your life," McBee said, "so that definitely had to be the biggest shot of my career."
UT coach Bruce Pearl would put it another way: "The stars have got to be aligned a little bit in order to beat the No. 1 team in the country."
While the stars were aligned for McBee's shot, the stars also were aligned for Pearl to have McBee at Tennessee in the first place.
The combo guard became a walk-on at Tennessee because he didn't want any regrets.
He visited Santa Clara last year as a high school senior. He also had scholarship offers from East Carolina, Marshall and Winthrop.
But he'd always been a Tennessee basketball fan. He grew up just 34 minutes away in Rutledge, Tenn. — a straight shot to Knoxville by driving southwest on Highway 1.
A scholarship was nice. But the question was, if he went to those schools, would he regret not giving Tennessee a shot?
"It's a lifelong dream," Skylar's father, Doug, said after the game. "For him to play on the floor (at Tennessee) continues to be a dream come true."
McBee isn't your typical walk-on, though. He averaged 24 points per game in high school. He was an all-state selection. He scored 2,362 points in his career.
After watching McBee play at Grainger County High School in Rutledge, Pearl came away with this impression: He wasn't sure the guard even knew how to pass.
McBee had stepped right in as a contributor at Tennessee this season, averaging 4.5 points per game while also playing double-digit minutes in 12 of 13 contests.
He couldn't help but feel nervous before the game against KU.
"It was definitely hard to sleep," Skylar McBee said. "You couldn't help but think about what could happen in the game and the different situations you could be in."
But he still never pictured this situation: hitting the biggest shot of the game on national television in front of nearly 30 family members, including his parents, brother, aunts, uncle, cousins and his "papaw."
Suddenly, the walk-on with just 185 minutes of college experience in his first 13 games became one of the top 50 Google searches in the United States late Sunday night.
"It's an opportunity," Skylar said, "and an opportunity that not many people get to have in their lifetime."
More like this story on KUsports.com