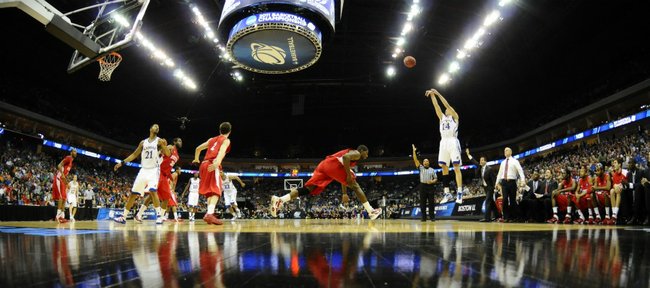 Tulsa, Okla. — Bill Self swung open the BOK Center locker room doors at halftime Friday night and immediately lit into his top-seeded, yet extremely tentative, Kansas University basketball team.
"He said, 'I thought you guys said you were loose. You guys are tight as a drum,''' KU junior Tyshawn Taylor said of Self's assessment of the Jayhawks, who led No. 16-seeded Boston University by just four points at halftime.
"We wanted to be loose, but we had the first-game jitters," Taylor added after a strong second half propelled KU to a resounding 72-53 victory and spot in Sunday's Round of 32 game against Illinois. "You want to be loose, but you understand the stakes are so high."
Self, who had tried a lot of things this week to motivate his team — an assistant pasted a Sports Illustrated article about last year's second-round loss to Northern Iowa in the Jayhawks' lockers Tuesday — insisted he wasn't surprised the Jayhawks were a bit nervous.
Yet enough was enough after a half in which Boston's John Holland exploded for 15 points off 6-of-10 shooting as the Terriers trailed just 33-29.
"I said, 'Guys, relax, have fun,''' Self said of the halftime message.
The Jayhawks, who put the game away thanks to a 21-4 run that upped a 47-41 lead (with 9:59 left) to 68-45 (at 4:10) were in much better spirits after the game than they were at halftime.
"Coach said we were tight as a drum. I was thinking he'd say tight as a calf or tight as a thigh," joked KU junior Marcus Morris, who scored 16 points with nine rebounds and took a turn the first half defensively on Holland. Brother Markieff had 15 points (with eight boards), 12 points the second half.
"We were tight. It felt the same as last year against Lehigh (when No. 1 seed KU shook off a slow start to prevail, 90-74, in Oklahoma City). "We had to get the jitters out, but I thought they played well."
"Coach said we were tight as a drum. I said we were tight as a belt," kidded senior Brady Morningstar.
Morningstar had some serious things to say after 20 minutes as well.
"Brady was like, 'Guys, it starts defensively and especially myself because he (Holland) got some good looks on me,'" Taylor said. "That's all he said, and he (Morningstar) came out and did a good job in the second half."
Morningstar knew KU couldn't afford to give up 30 points or so to America East Player of the Year Holland if the Jayhawks (33-2) hoped to play another day.
"I came in here and called myself out, saying, I think it (bad defense) started with me," Morningstar said. Boston (21-14) hit six of 13 threes the first half and three of seven the second.
"It started with me, and I felt like guarding Holland, their best player, was going to end with me. So I just took a challenge the second half to really focus in and understand that, hey, he's going to hit tough shots, but don't get frustrated. It turned out OK. I tried to make him a driver and hit contested shots."
Self loved his squad's defense the second half. KU held BU to 26.9 percent shooting (seven of 26) for the half and 35.3 for the game.
"I was concerned. Every coach would be lying if they said they were not concerned. We were up four at half and had not played a lick yet by our standards, and (Boston) played well," Self said. "The second half we played well. We were able to grind it out. It reminded me of the Oklahoma State game (63-62 in first round of Big 12 tournament). The big thing is, we got stops. They didn't score."
The Jayhawks are hoping to return to playing carefree basketball Sunday. Playing tight is not a lot of fun.
"You can tell yourself not to be tight. If you are tight, you are tight," said senior Mario Little, who was burned by Holland for two threes the first half. "A lot of things go through guys' minds — last year, seeing Villanova lose (to George Mason on Friday). I think we'll be loose next game."
Marcus Morris didn't consider this an especially huge scare. He's ready for Sunday.
"I wouldn't say this is a relief. I feel a relief is a last-second heave (misses) and you win. To me, it's a game we played well the second half and won. We'll play better," Morris insisted.
• A previous version of this story was updated.
More like this story on KUsports.com